The NASCAR Sprint Cup Series makes its next stop at New Hampshire for the Camping World RV 301, where NASCAR's best drivers will once again be scrambling to qualify for the Chase for the Sprint Cup. Can the older drivers use their experience to stay ahead of the pack? Or will the young rookies make a case for themselves en route to the Sprint Cup Championship?
Some of the best soccer players in the world are chasing their own cup. You can catch the previews for the World Cup Final and 3-4 games here. In the meantime, don't miss out on your NASCAR needs. Read on for the favorites, high-value picks and long shots to win the race at New Hampshire.
[sc:MultiSportArticles ]
NASCAR Camping World RV 301 Preview
Favorites – Jimmie Johnson, Brad Keselowski and Jeff Gordon
Jimmie Johnson (+500) is set for another good performance in the Sprint Cup Series Camping World RV 301 at New Hampshire, a track where he has claimed three victories in his career. Johnson has been great at flat race tracks in his career, and is almost always the favorite at this track.
[sc:NASCAR240banner ]Brad Keselowski (+700) has been impressive this year with eight top 10 finishes, seven top-fives, and two wins. He was at his best two weeks ago at the Kentucky Speedway where he led for 199 laps and won. However, Keselowski has never won a race at New Hampshire.
Like Johnson, Jeff Gordon (+700) has three wins at New Hampshire, but his last win at the track was back in 1998. Despite his long winning drought, Gordon continues to perform well at the track as he has finished six of his last eight races there inside the top 10. He is the current Sprint Cup Series points leader with 11 top 10 finishes and one win.
High-Value – Kurt Busch and Brian Vickers
Kurth Busch's (+2,500) best days may be already behind him as he has ranked outside the top 20 in nine of his 18 races this year. However, he won at Martinsville in March and has finished third twice in his last five races. Busch can also draw from his experience to help him in the upcoming race. In his Sprint Cup Series career, he has 25 wins and 194 top-10 finishes.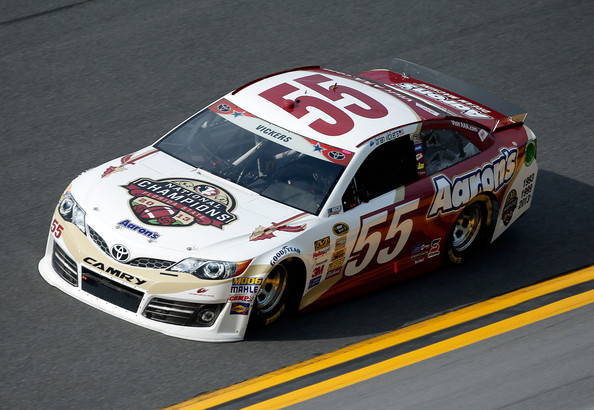 Brian Vickers (+2,500) only has three Sprint Cup Series wins in his career. However, one of those wins was at last year's Camping World RV 301 in New Hampshire. Vickers had gone weeks without a top-ten finish before he came second at Daytona on Saturday. The second place finish may be a good sign that Vickers can recreate his 2013 win at this event.
Kyle Larson (+3,000) is just a rookie in the Sprint Cup Series this year, but has managed to get some decent results. The 2013 Nationwide Series Rookie of the Year has gathered six top 10 and three top five finishes. Larson's best may still be ahead of him, but that doesn't mean he can't excel now.
Long Shots – Austin Dillon and Marcos Ambrose
Austin Dillon (+8,000) is another rookie making waves in the Sprint Cup Series. Dillon was the top rookie finisher at Daytona at fifth place, the best among Rookie of the Year contenders in the event. To further boost his confidence racing at the Camping World RV 301, Dillon also has two top three finishes at New Hampshire for the Nationwide Series.
As per routine, Marcos Ambrose (+15,000) has missed the top ten in 14 out of 18 races in the Sprint Cup Series. His best results came in fifth-place finishes at Martinsville and Bristol in March. However, Ambrose may steal the spotlight at the Camping World RV 301 after recently finishing in the top 10 at Daytona and Sonoma.
Writer's Prediction
Jeff Gordon gets over his dry spell in New Hapshire. Take him at +700 to win the race and separate himself further from the pack in the Sprint Cup Series.
There are just eight races left before the Chase. Don't miss out as the series starts to become even more exciting. Create a betting account now and satisfy your high-octane needs.
[sc:Nascar490banner ]
1,947 total views, 1 views today
Comments
comments