We're just a few days away from the 141st staging of the Kentucky Derby and excitement is slowly building for the biggest horse race of the year. A competitive field of 20 horses will take part in this year's event with the winner grabbing not only that coveted blanket of roses but also the opportunity to complete the Triple Crown.
Who will emerge victorious at Churchill Downs? Read on below as we break down the favorites, sleepers and long shots for this prestigious tournament. While you're at it, you can check out the experts' picks for The Run for the Roses here.
[sc:MultiSportArticles ]
2015 Kentucky Derby Betting Preview
Favorites – American Pharoah and Dortmund
It's great to be Bob Baffert nowadays. The esteemed Hall of Fame trainer will head into the Kentucky Derby with two of the favorites right in his own stable. Of course, we're talking about American Pharoah and Dortmund, two horses who have taken the racing circuit by storm this year.
[sc:horses240banner ]It's no surprise that American Pharoah has been installed as the overwhelming favorite for this event. The three-year-old has been in excellent form heading into the Run for the Roses, grabbing a dominant eight-length win at the Arkansas Derby on April 11. It was his fourth straight graded stakes victory in a streak that started last September when he won the Grade 1 Del Mar Futurity.
His victory in the Arkansas Derby was impressive, given that he came in first ahead of Far Right and Mr. Z, two horses who will also run in the Kentucky Derby. To win by a massive eight lengths against this strong field is proof that American Pharoah is hitting top form heading into the Run for the Roses. He is pegged at +250 to win the Kentucky Derby this coming Sunday.
Following closely behind in the betting stakes is Dortmund. He has proven to be a habitual front-runner with six victories in six career races. What makes Dortmund such an appealing pick for this week is that one of his wins came at Churchill Downs last November 29. That experience will prove vital in such a big and historic race.
Also working in Dortmund's favor is his great bloodline. He is the son of Big Brown who won the first two legs of the Triple Crown back in 2008. His odds of winning the Kentucky Derby are set at +400.
High-Value Sleepers – Materiality and Mubtaahij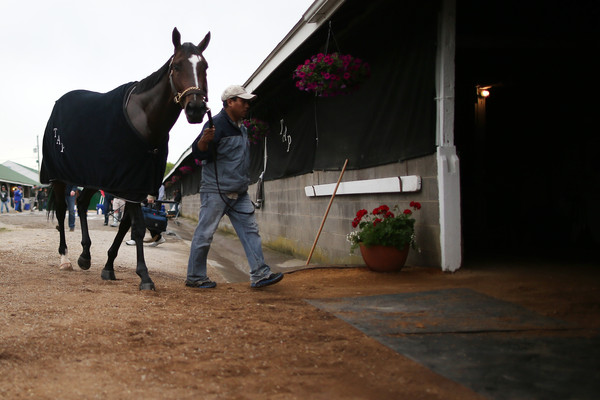 For all the accolades of trainer Tom Pletcher, the one race he's struggled with has been the Kentucky Derby. He has a 1-for-40 record in this event with his lone win coming back in 2010 with WinStar Farm's Super Saver.
Five years after that historic win, Pletcher has an opportunity to win the Derby once again with his entry Materiality. The three-year-old won the Florida Derby (G1) in his last start, his third win in as many races. He defeated the more seasoned Upstart who had just won the Holy Bull (G2).
If Materiality pulls off the victory, it will be one for the record books. He would be the first horse to win the Kentucky Derby without running as a juvenile since Apollo accomplished the feat back in 1882. He is pegged at +1,000 to win the Run for the Roses.
Another entry who's taking plenty of betting action recently is Mubtaahij. The three-year-old will be making his U.S. debut at the Kentucky Derby this week and has been in fine form of late. The colt sealed his place at Churchill Downs with a victory at the UAE Derby (G2) in Dubai, his fourth win in seven career starts.
Also working in Mubtaahij's favor is that he is trained by one of the world's top trainers in Michael de Kock. His odds of winning the Kentucky Derby are priced at +800.
Create a betting account now and put your Kentucky Derby predictions to the test!
Long Shots – Itsaknockout and Mr. Z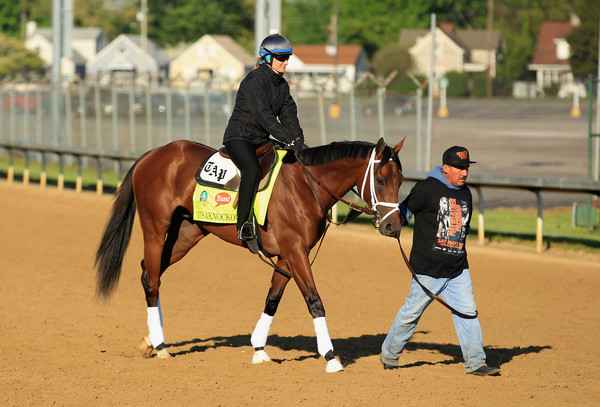 May 2 is going to be a huge day not only for sports fans but for bettors everywhere. Not only is the Kentucky Derby happening on that day but also the much-anticipated boxing showdown between superstars Floyd Mayweather Jr. and Manny Pacquiao.
The Mayweather-Pacquiao promotion found a way to utilize this sporting extravaganza as it has signed a sponsorship deal with Starlight Racing for Itsaknockout in the upcoming Kentucky Derby. Itsaknockout ranks 11th among qualified horses for the Kentucky Derby this year.
Itsaknockout won its first three races then finished fourth in the Florida Derby on March 28. He is pegged at +2,500 to grab a shock win this coming weekend.
Another horse who stands a good chance of causing an upset this Sunday is Mr. Z. Although he has won just once in 12 tries, he has landed in the money in eight stakes races. Owned by Ahmed Zayat, Mr. Z is listed at +2,500 to win the Run for the Roses.
Writer's Prediction
American Pharoah (+250) runs away with the Kentucky Derby title.
[sc:Horses490baner ]
1,882 total views, 1 views today
Comments
comments