It's about time for the last major tournament of the PGA season, which means the best golfers on the planet will converge in Scotland for the 144th edition of the British Open. And for the first time in 10 years, the tournament will be held at the storied St. Andrews Field, the 29th time it will happen in the event's history.
Among the top storylines heading into the tournament is Jordan Spieth's chase to become one of the sport's immortals. Will Spieth extend his streak of wins in major tournaments? Or will another player spoil his Grand Slam dreams? Read on below for an overview of the event's favorites, sleepers, and long shots.
[sc:MultiSportArticles ]
2015 British Open Preview
Where: Old Course at St Andrews, Fife, Scotland
When: July 16-19, 2015
Line: view all British Open lines
Favorites: Jordan Spieth, Dustin Johnson
[sc:Golf240banner ]No thanks to an ill-advised decision to play a meaningless game of soccer, Rory McIlroy will not be able to defend the title he won back in 2014 at Royal Liverpool Golf Club. The absence of the soon-to-be dethroned champion, however, shouldn't significantly diminish the glitter of this year's edition of The Open. Not with the presence of the likes of the surging Jordan Spieth and Dustin Johnson, who are priced +350 and +900, respectively, to take home the Claret Jug.
Spieth enters The Open aiming to keep his hopes of becoming the first Masters-Era player to sweep all major tournaments in the same year alive. And based on his performance thus far this season, it's easy to understand why the current FedEx Cup points leader is poised to win the 2015 British Open title. Excluding the ongoing John Deere Classic—where Spieth is currently No. 1 in the leaderboard—Spieth has played in 17 PGA Tour events this season, finishing no worse than 10th place 10 times. That includes his first place finishes in the US Open (June) and in the Masters (April).
The Open, though, is to golf as to what Belmont Stakes is to horseracing—it's where Grand Slam dreams usually die. And Johnson is hoping that'll be the case for Spieth, as he looks to recover from his colossal choke job in last month's US Open. Despite the meltdown, Johnson will be a formidable presence at St, Andrews once The Open starts. Of the 14 events he's played on the PGA Tour season, Johnson has managed to finish in the Top 10 seven times, including  his championship-winning performance in last March's World Golf Championships-Cadillac Championship tournament. Johnson is tops in the PGA in driving distance (319.0), fifth in birdie average (4.36), and third in scoring average (69.487).
Want to make some money on the PGA Tour? Create a betting account now and cash in on all the golfing action.
Value Picks: Tiger Woods, Adam Scott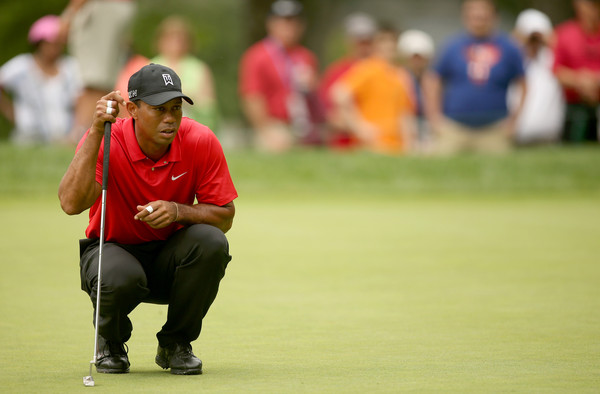 Tiger Woods may no longer be the God of Golf of yesteryears, but at a price of +1,800, it's not really a bad idea to take a punt on a player that has won The Open three times before. Woods, who last won the event in 2006, was humbled in his last major tournament, failing to make the cut in June's US Open. That being said, showed he's still got it in the recent 2015 Greenbrier Classic, where he shot 7-under-par to finish tied for 32nd place. Although Woods has yet to have a Top 10 finish this season, his improved play in the Greenbrier Classic may just be a sign that he's about to make a splash at St. Andrews. After all, it's in that field where Woods won the Claret Jug back in 2000 and 2005.
Like Woods, Adam Scott (+1,500) is also looking for his first win of the PGA Tour season. Scott is hoping that he can finally exorcise the demons of his painful loss to Ernie Els in the 2012 edition of the Open, where the Aussie held a four-stroke lead with only four holes left to play at Royal Lytham & St Annes. Unfortunately for Scott, he bogeyed the rest of them, paving the way for Els' dramatic come-from-behind victory. Nevertheless, Scott has been a strong player in The Open over the last three years, which is a big reason why he's viewed as a top contender again this year. After finishing second to Els, Scott had a T3 in 2013 and a T5 in 2014. With Steve Williams back as his caddy, Scott is clearly a man to watch in The Open.
Long shots: Kevin Na, Tom Watson

For those looking to lay money on severe underdogs, Kevin Na is one who certainly deserves a long and hard look from bettors. Na, labelled as a +10,000 long shot, is currently ranked 27th in the FedEx Cup leaderboard with 994 points. Prior to a disappointing T46 finish in the US Open, Na ha stitched together three-straight Top 10 finishes, placing tied for sixth in THE PLAYERS Championship (May), tied for 10th in the Crowne Plaza Invitational (May), and tied for 13th in the Memorial Tournament (June). Na, however, followed up his US Open outing with a missed cut in the Travelers Championship (June) before a T32 in last week's Greenbrier Classic.
If you're the mawkish type of bettor, one that loves to put money on stars of a different era, then Tom Watson fits your bill. The 65-year-old Watson has been granted an exemption by the British Open organizers to strut his stuff in the tournament for likely the last time of his storied career.  But don't tell Watson, priced +25,000, that he's just going to play at St. Andrews for the sake of romanticizing the senses of golf fans. He's there to win it and become a six-time British Open champion.
Old man Watson, who won The Open in 1975, 1977, 1980, 1982,  and 1983, came extremely close to snaring his sixth title at The Open in 2009, when, as a 59-year-old, he finished tied for second at Turnberry.
Writer's Prediction
Dustin Johnson (+900) rebounds from his US Open debacle and wins the 2015 British Open.
[sc:Golf490baner ]
1,946 total views, 2 views today
Comments
comments