Andy Murray's quest for a second Wimbledon title officially begins today, when he goes mano-a-mano with Liam Broady in the first round. Can the World No. 2 quickly dispose of his fellow young Brit, or will things surprisingly unfold the other way around? Read on below for more about this matchup.
Starving for some golf action as well? Well, you can check out preview or our expert picks for the 2016 WGC Bridgestone Invitational.
Cash In on the Best Online Sportsbook Offers Now at TopBet!
---
Andy Murray vs. Liam Broady Betting Preview
Where: All England Club, Wimbledon, London
When: Tuesday, June 28, 2016, 10:00 AM ET
Line: Andy Murray (-15,000) vs. Liam Broady (+5,000) – view all Wimbledon Men's Singles lines
---
Betting on Andy Murray (-15,000)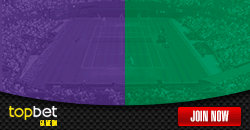 If there's anyone who could pose as the toughest challenge to Novak Djokovic's reign in Wimbledon, that man's name is Andy Murray.
Murray, who is priced at +300 to win it all in this week's tournament, heads into the All England Club at arguably his finest form. He's coming off a confidence-boosting victory at the Queen's Club Championships, where he successfully trounced Milos Raonic in the final, 6-7(5), 6-4, 6-3, to capture a historic fifth title. Prior to this, the Scotsman also managed to reach the finals in his previous three events (French Open, Rome Masters and Madrid Masters).
With all that success, it's extremely hard to not see Murray dominate his first-round opponent, Liam Broady, later today. Other than having all the momentum on his side, the former Wimbledon champion has the overall advantage in skill, experience and power. The only that should worry him slightly is the fact that he has yet to go head-to-head with Broady throughout his career.
Murray has never lost in the opening round at Wimbledon. He is also 5-0 on grass this year.
Betting on Liam Broady (+5,000)
Whatever happens, Liam Broady ought to relish this moment. Yes, almost everyone is expecting him to lose in the opening round versus World No. 2 Andy Murray, but the young, talented Brit can look at this encounter as a perfect opportunity to learn and enhance his experience.
Broady, who turned just 22 years old last January, still has a long way to go before he can hang with the best of the bests. The World No. 235 has had a uninspiring year thus far, which is solely highlighted by a semifinals appearance in the Taipei Challenger. Nevertheless, that shouldn't stop him from giving it his all in trying to earn the respect of Murray, and hopefully all of the 15,000 spectators that will be watching their bout as well.
Broady, who made it up to the second round in last year's Wimbledon, has lost four of his previous five matches on grass.
Writer's Prediction
Murray (-15,000) wins it, 6-2, 6-4, 6-3.
Create a betting account now and score a Grand Slam of your own.

Comments
comments