The NL East champion Atlanta Braves begin their season on March 31 in Miller Park against the Milwaukee Brewers, who are pegged as a team that could surprise in the National League. Can the Braves' injury-ridden pitching staff spoil the return of Ryan Braun, or will the Brewers make Atlanta realize how hard life is without their top three starters?
Baseball is back, and Top Bet has you covered for all your betting needs all season long. Read on for everything you could want to bet on this season-opening series.
[sc:MLBArticles ]
Atlanta Braves vs. Milwaukee Brewers Series Preview
Where: Miller Park, Milwaukee
When: March 31- April 2, 2014
Keys to the Series
[sc:MLB240banner ]The Atlanta Braves, who flamed out of last season's divisional series against the Los Angeles Dodgers, open their major league season on the road against the Milwaukee Brewers. Over the past three years, the Braves have definitely been the better hitting and pitching team than the Brewers, but those advantages may not show themselves in this series.
Atlanta finished last year's regular season as the overall no. 1 in ERA (3.18), while the Brewers 3.84 ERA was a respectable 16th. The Braves, though, have taken a series of blows to their rotation in the offseason.  Injuries to three of their top four starters have forced manager Fredi González to put Julio Teheran, Alex Wood, and Aaron Harang to work against the Brewers instead of Mike Minor (left shoulder tendinitis), Kris Medlen (elbow), and Brandon Beachy (elbow).
When it comes to hitting, the Braves have the edge but not by a wide margin.  The Braves will be able to gauge where they are offensively without Brian McCann, starting with this series. They still wield a core of four players who hit at least 21 homers last season in Freddie Freeman, Justin Upton, Dan Uggla, and Evan Gattis.
The Brewers, in the meantime, had decent overall performance from the plate last season despite missing Ryan Braun. With Braun and a supposedly-healthy Aramis Ramirez back in the fold, the Brewers should have their power fully charged for this season.
The Braves had more runs last season with 688, but Milwaukee still finished with 640 runs and ranked 16th in batting average (.252) without Braun and with Ramirez playing only 92 games.
Milwaukee seems to have Atlanta's number when the two teams meet at Miller Park. Since 2011, Atlanta has only won there twice in 11 visits.
Pitching Match-ups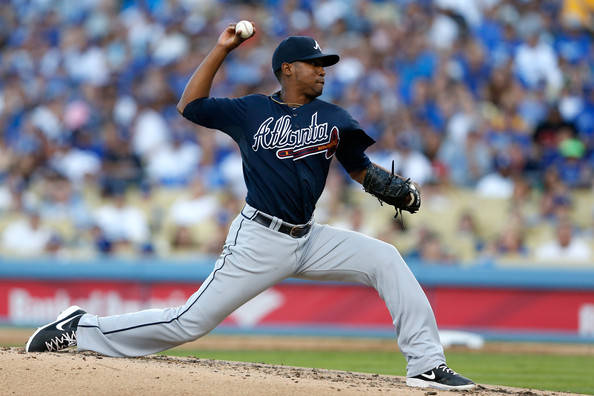 Game 1: ATL – Julio Teheran (2013: 3.44 ERA, 14-8 W-L) vs. MIL -Yovani Gallardo (2013: 4.18 ERA, 12-10 W-L)
Trends:
The Braves are 5-2 in Teheran's last 7 road starts.
The Brewers are 3-1 in Gallardo's last 4 home starts.
Game 2: ATL – Alex Wood (2013: 3.13 ERA, 3-3 W-L) vs. MIL – Kyle Lohse (2013: 3.35 ERA, 11-10 W-L)
Trends:
The Braves went Under in 6 of Wood's last 8 starts.
Lohse's teams (Brewers and Cardinals) are 4-1 in his last 5 starts against Atlanta.
Game 3: ATL – Aaron Harang (2013: 3.52 ERA, 5-12 W-L) vs. MIL – Wily Peralta (2013: 4.37 ERA, 11-15 W-L)
Trends:
Harang's teams (Mets, Dodgers, Padres, Reds) are 5-0 Under in his last 5 starts against Milwaukee.
The Brewers are 3-0 in Peralta's last 3 home starts.
Prediction
The quagmire the Braves' pitching staff is in will cost Atlanta at least two games in their series against the Brewers. Milwaukee's strengthened batting order with Braun and Ramirez working together will definitely be a challenge for the likes of Teheran, Wood, and Harang, all of whom are supposedly no. 3-5 guys in the rotation. Take Milwaukee to win at least two and take the series overall.
[sc:MLB490banner ]
1,923 total views, 1 views today
Comments
comments