Sports fans are in for a treat later tonight as we've served up a pair of mouth-watering games that will definitely whet your baseball appetite. Kicking things off tonight is the much-anticipated National League showdown between the Washington Nationals and the Milwaukee Brewers. Then, the Houston Astros square off with the Kansas City Royals in a marquee American League matchup.
Read on below for a quick breakdown of these two blockbuster games and while you're at it, you can check out our preview of the game between the Boston Red Sox and Texas Rangers.
Cash In on the Best Online Sportsbook Offers Now at TopBet!
---
Washington Nationals vs. Milwaukee Brewers (8:10 PM ET)
Line: Washington Nationals (-175) at Milwaukee Brewers (+155); total: 7.5 – view all MLB lines
Things are going from bad to worse for the Washington Nationals as they suffered their fifth consecutive defeat on Wednesday, a 4-3 loss at the hands of the Los Angeles Dodgers. Michael Taylor's three-base error allowed Yasiel Puig to score the winning run as the Nats dropped down to 43-30 in the NL East standings.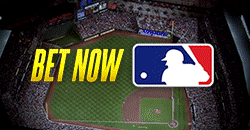 They will look to get their season back on track when they take on the Milwaukee Brewers tonight. Starting for the Nationals in the series opener is Max Scherzer (8-4, 3.29 ERA). He was solid in his last start, allowing just one run on four hits in six innings of action in Washington's 7-3 loss to the San Diego Padres. Washington is 3-1 in Scherzer's last four starts.
The Brewers, on the other hand, will counter with right-hander Zach Davies (5-3, 3.62 ERA). The 23-year-old has been on a roll over his last four starts, posting a minuscule 0.96 ERA over 28 innings during that span. The Brewers have won four of their last five games with Davies as their starter.
The Brewers are 3-2 in their last five home games against the Nationals.
Writer's Prediction
Washington (-175) edges past Milwaukee, 3-1.
Houston Astros vs. Kansas City Royals (8:15 PM ET)
Line: Houston Astros (-117) at Kansas City Royals (+107); total: 8.5 – view all MLB lines
The Houston Astros extended their winning streak to five games with a thrilling 3-2 victory over the Kansas City Royals on Wednesday. Marwin Gonzalez hit a tie-breaking RBI triple in the eighth inning to help the Astros complete the three-game sweep. The Astros will look to sustain the momentum of that huge win when they take on the Kansas City Royals in the opening game of their three-game set tonight.
Pitching for the Astros this evening is Dallas Keuchel (3-9, 5.32 ERA). He has won just once in his past 12 starts but is coming off a strong performance against the Cincinnati Reds. The lefty allowed just two runs on five hits in seven innings of action in a nerve-wracking 5-4 win. The Royals, on the other hand, will have Edinson Volquez (7-6, 4.12 ERA) as their starting pitcher tonight. He is 6-0 with a 2.70 ERA in nine career starts against the Astros.
The Royals are 4-1 in their last five home games against the Astros.
Writer's Prediction
Kansas City (+107) wins, 5-3.
Create a betting account now and bet on the best games for tonight.

Comments
comments