Arguably no team in the NHL today is playing better than the Boston Bruins. Having won 15 of their last 16 games, David Krejci and company are looking to add another win to their current run.
Read on for everything you need to bet on this major game.
Boston Bruins vs. Detroit Red Wings Betting Preview
When: Wednesday, April 2, 2014, 8 PM ET
Where:  Joe Louis Arena, Detroit
Betting on the Boston Bruins
[sc:NHL240 ]With an outstanding 52-17 record, the Bruins have managed to stay atop the Atlantic Division, where they lead second-place Montreal by a whopping 17 points. In the month of March, the guys from Beantown lost only twice, and are hoping their current momentum will continue as they aim to close the regular season strong in April.
However, the Bruins have had their share of troubles against division rival Detroit, who have won their last two matchups against Boston. Without a doubt, bettors can expect Krejci, Jarome Iginla, Patrice Bergeron, and the rest of the Bruins to bring their A-game as they try to even the season series against a club they could potentially face in the postseason.
The Bruins are 23-10-3 on the road this season.
With Tuukka Rask between the pipes, the Bruins have allowed just 1.8 goals a game over his last five outings.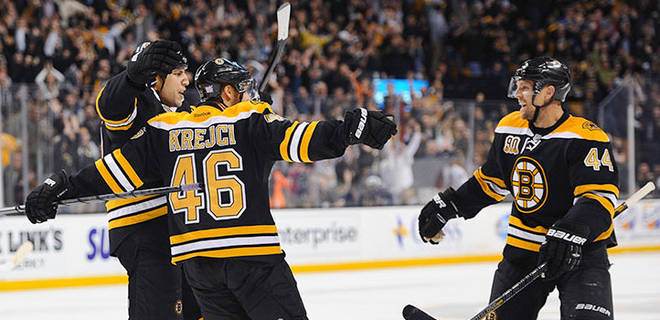 Betting on the Detroit Red Wings
Detroit is only 2-3 in its last five games, although one of those victories was a tightly-fought affair against the playoff-bound Tampa Bay Lightning, 3-2, which served as a great warm-up for Boston. The Red Wings have a 16-12-10 record at home this season.
If anyone can step to the Bruins, it's the Red Wings, who have two wins against Boston from earlier in the year. In Detroit's 3-2 victory back on October 14, Jonas Gustavsson's 28 saves helped his squad come up with stops to hold off the Bruins. A few weeks later on November 27, goals from Niklas Kronwall, Henrik Zetterberg, Gustav Nyquist and Tomas Tatar spearheaded Detroit's 6-1 win.
Prediction
While Detroit had Boston's number earlier in the season, the Bruins are simply playing much better right now, and will prevail in this contest. Take Boston for the win.
[sc:NHL490 ]
2,144 total views, 1 views today
Comments
comments