Last season was a sad one for the Detroit Pistons, as they missed the playoffs for the sixth-straight time, while finishing with a head-shaking 32-50 regular season record. Pistons fans, however, have reasons to feel optimistic, largely because of the changes on the team's roster. The Atlanta Hawks, meanwhile, will start their 2015-2016 campaign with chips on their shoulders, as they will have to prove that last season's 60-win record was no fluke.  Which Eastern Conference team will open the new season on a positive note?
For more NBA game breakdowns, you can check out our Pelicans vs. Warriors preview.
[sc:NBAArticles ]
Detroit Pistons vs. Atlanta Hawks Betting Preview
Where: Philips Arena, Atlanta
When: Tuesday, October 27, 2014, 8:00 PM ET
Line: Detroit Pistons (+6.5) vs. Atlanta Hawks (-6.5) – view all NBA lines
Betting on the Detroit Pistons
[sc:NBA240banner ]For the first time since 2012, the Pistons are Josh Smith-free, signifying a new dawn in Motor City basketball. It all begins later tonight for the new-look Pistons, who'll open the season in Atlanta, where they are just 1-9 SU and 5-5 ATS in 10 games.
There have been major changes on the Pistons' roster during the offseason, perhaps none bigger than the departure of center/forward Greg Monroe, who left via free agency for the Milwaukee Bucks. With Monroe gone, most of the big man duties will now be on the shoulders of Andre Drummond, who led the team last season in rebounds (13.5 per game) and in blocks (1.9), while scoring 13.8 points a game.
Drummond will draw attention from Atlanta's bigs all night long, but he'll have no shortage of weapons to kick the ball out to anytime he's doubled. For one there's newcomer and stretch-four Ersan Ilyasova, who'll give Detroit several options on offense because of his size and range. Ilyasova averaged 11.5 points and 4.8 rebounds and hit 74 three-pointers in 58 games for Milwaukee last season.
Detroit's backcourt, however, deserves lots of attention with Reggie Jackson looking to continue what he started last season, when he finally broke loose from Russell Westbrook's shadow. Jackson split time with Oklahoma City and Detroit last season, wherein he played 77 games and averaged 14.5 points and 6.0 assists per contest. Jackson should form a backcourt tandem with Kentavious Caldwell-Pope, who is poised to better his 2014-2015 average of 12.7 points per game.
Create a betting account now and cash in on all the NBA regular season action.
Betting on the Atlanta Hawks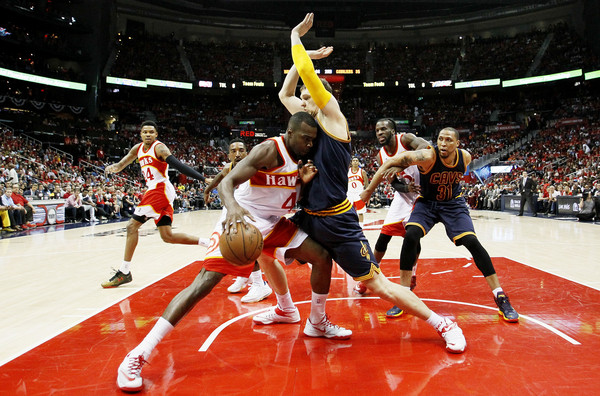 Atlanta reached the conference final last season only to be dropped like a bad habit by Cleveland. With that disappointing exit now behind the Hawks, they'll now concentrate on regaining their foothold in the relatively weak Eastern Conference starting tonight at Philips Arena.
While Atlanta was near unbeatable at home last season (35-6), it wasn't location that made the Hawks such a force in the league. Rather, it was the Hawks' incredible chemistry that resulted to them ranking 10th in points (102.5 points per game), second in assists (25.7), and fourth in defense (97.1 points allowed per game) last season.
That chemistry, however, is now in question following DeMarre Carroll's decision to leave A-Town to join forces with Kyle Lowry and DeMar DeRozan up north. Carroll is a do-it-all forward, whose numbers will now have to be covered by the pair of Kent Bazemore and Thabo Sefolosha. In any case, the core four of Al Horford, Paul Millsap, Kyle Korver, and Jeff Teague—all of whom averaged in double figures in scoring last season—should be a big challenge for Detroit.
Horford and Millsap form a frontcourt duo that should be able to trouble Detroit's interior defense that allowed 43.0 points in the paint per game last season. Korver, on the other hand, is the main outside gunner of the Hawks, who shot 10.0 three-pointers per game a season ago.
Korver is coming off a 2014-2015 campaign in which he lit up the scoreboards for 12.1 points per game on 48.7 shooting percentage. He also posted 2.9 threes per game on an astounding 49.2% shooting.
Writer's Prediction
Detroit (+6.5) wins, 103-101.
Create a betting account now and create a winning NBA parlay.
[sc:NBA490banner ]
2,017 total views, 1 views today
Comments
comments