This year's Wimbledon tournament brings a solid field of competitors looking to emerge as the next superstars of the ATP. However, the All England Club has been dominated by the "Big Four" of Novak Djokovic, Rafael Nadal, Roger Federer and Andy Murray for the longest time. These four gentlemen happen to be the tournament's only winners for the past 12 years.
If the 2015 French Open (won by World No. 8 Stan Wawrinka) served as the beginning of the changing of the guard, then the players listed below are certainly up to the task of being the next fresh face to win it all at London's famed Majors tournament. Read on as we examine five sleeper candidates vying for a monumental Grand Slam victory at the lofty lawns of Wimbledon.
Don't forget to check out on our other in-depth coverage of Wimbledon 2015 as well. Head on over to our previews of the Men's and Women's Singles competitions.
[sc:TennisArticles ]
2015 Wimbledon Sleeper Picks and Predictions
Kei Nishikori
Kei Nishikori is right on the cusp of becoming the next household name in tennis. The World No. 5 is having a remarkable 2015 with his 37-9 record and two titles already under his belt. He has impressively made the quarterfinal round or better in his past six events, including winning the Barcelona Open title back in April.
[sc:Other240banner ]However, the 25-year old hobbled his way to London after retiring from his quarterfinals match against Andreas Seppi at the Gerry Weber Open earlier this June. Nishikori tried to fight through a left calf injury in that match against Seppi before bowing out and opting to rest in preparation for Wimbledon.
Luckily for Nishikori, he may have gotten just enough of a tune-up playing on the lawns of Halle before his abrupt exit from the tournament. The Japanese sensation managed to get three victories at the Gerry Weber Open and got an early feel of the grassy turf. Those three wins boosted his career record on grass to 23-18. Even though Nishikori's record on the verdant turf isn't really flattering, he is still at +2,500 to win his first career Grand Slam title at Wimbledon.
Tomas Berdych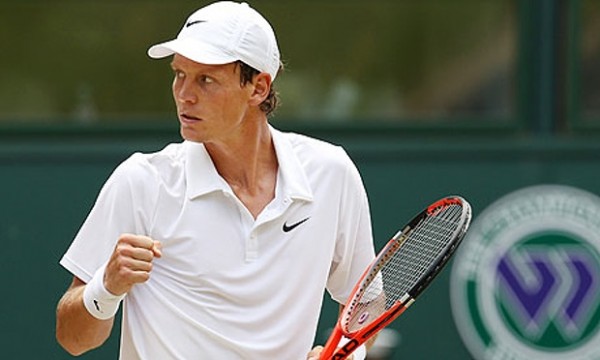 Always a groomsman, but never a groom. That's 29-year old Tomas Berdych (+2,500), who is also looking for his first career Grand Slam title. The Czech is having a great 2015 himself with his 37-11 record, and also managed to progress deep into most of his tournaments this season. He's been to the quarterfinal round or better in 10 of his 11 tournaments in 2015, including three finals appearances.
However, Berdych's road to a title this season has been blocked mostly by elite competition. Nine of Berdych's 11 losses this season have come from top 10 players, with seven of those loses coming from the "Big Four". Furthermore, two out of Berdych's three final round losses came at the hands of World No. 1 Novak Djokovic.
Working in Berdych's favor, though, is his record on the lawn, as he is 50-22 lifetime playing on grass. The World No. 6 has even reached the final round of Wimbledon back in 2010, and made the quarterfinal rounds twice in 2007 and 2013.
Jo-Wilfried Tsonga 
Another player who excels on grass is World No. 12 Jo-Wilfried Tsonga. The Frenchman is 38-15 in his career playing on the green turf. He also fares rather well in Wimbledon as he is 22-7 lifetime at the All England Club.
Having the same odds of winning Wimbledon at +2,500 just like fellow top 10 players Nishikori and Berdych shows that Tsonga is about to have a breakout season. He's got to be more active and compete in more tournaments, though, as he has been to just six events this year.
But if Tsonga could relive his superb outing at the French Open — where he reached the semifinal round but lost to the eventual Roland Garros champion in Stan Wawrinka – he might just have enough to win it all in London.
Which of these sleepers caught your eye? Create a betting account now to put your best bet to the test.
Milos Raonic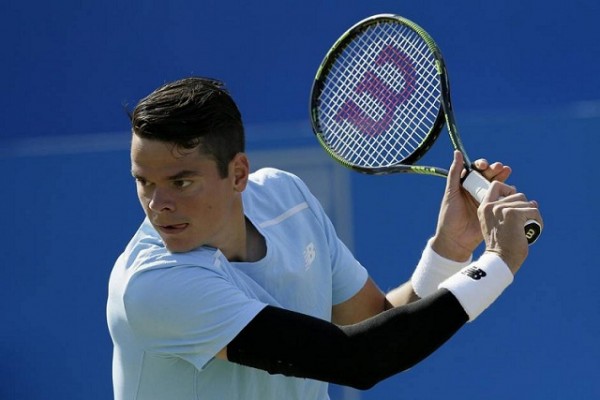 World No. 8 Milos Raonic is another player who has yet to nab his first career Grand Slam title. Wimbledon could very well be his best shot this season, as he managed to reach the semifinals round of the historic event just last year.
The Canadian is having a solid year with his current record of 23-10. He has reached the quarterfinals round in all three of his last events, and the quarterfinals round or better in seven of the ten tournaments he joined. He did reach the finals at the Brisbane International, but fell to World No. 2 Roger Federer in straight sets.
And just like most of the players on this list, the top-rankers have gotten the best of Raonic time and again. The 24-year old is 17-40 against top 10 players, and is 2-7 for the year against them so far this season. Raonic has got to get an early statement victory over an elite player at the All England Club to boost his confidence and defy the +3,300 odds of winning his first ATP Majors tournament.
Nick Kyrgios
At the tender age of 20, Nick Kyrgios (+4,000) is looking to become the ATP's next Australian sensation. Although his career record of 25-21 playing in the professional level may not be that impressive, he certainly has played well on grass. He is 6-2 in his career playing on lawns, with one of his two losses coming just earlier this month to Stan Wawrinka at the AEGON Championships.
Consistent production is still an issue for Kyrgios, though, as he has failed to advance beyond the Round of 16 in eight of his ten tournaments this season. His best chance at getting his first career ATP title came during the Millennium Estoril Open in Portugal this April, but ultimately fell to World No. 28 Richard Gasquet in straight sets.
But when the spotlight is at its brightest, that's when Kyrgios puts on his best show. He is 13-8 in his career at Grand Slam events, and 5-2 in this year's Majors. Expect Kyrgios to make a good run in London, and maybe even shock the world with a win at Wimbledon early in his young professional career.
[sc:Other490banner ]
1,665 total views, 1 views today
Comments
comments