After a scintillating victory against Brandon Rios in Macau, Manny Pacquiao seemed to have recovered from the devastating knockout loss against Juan Manuel Marquez. Up next for the Filipino icon is a rematch against Timothy Bradley, who's gone on to defend his WBO welterweight belt twice since pulling out a controversial win against Pacquiao nearly two years ago.
On April 12, at MGM Grand in Las Vegas, Bradley looks to set the record straight as he takes aim to beating Pacquiao in a more convincing fashion. Pacquiao has some convincing to do of his own, as he looks to make it clear he's still at the top of his game by avenging his loss to Bradley in what should be an excellent fight.
Pacquiao vs. Bradley 2 – Betting Preview and Prediction
Where: MGM Grand, Las Vegas
When: April 12, 11:00PM ET
Line: Timothy Bradley (+185) vs. Manny Pacquiao (-225) – view these lines
Betting on Manny Pacquiao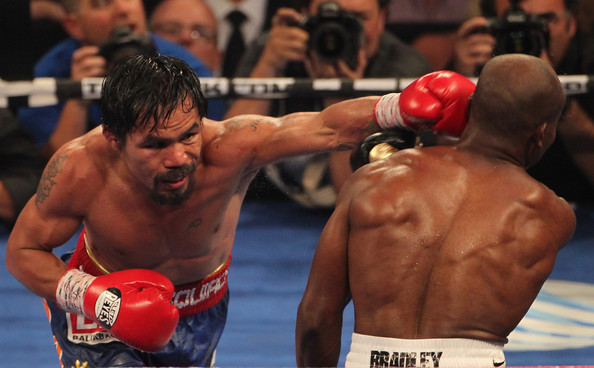 [sc:Other240banner ]In the last fight between Pacquiao (55-5-2, 38 KO) and Bradley, the Pacman was thought by many to have won the fight. Pacquiao controlled much of the action with his left, wobbling Bradley on a couple of occasions early. While Bradley took control of the latter parts of the match, it still seemed as though Pacquiao would leave with the decision. Not so.
Since then, Pacquiao has not exactly run the table. In a fourth rematch with Juan Manuel Marquez (55-7-1, 40 KO) in December of 2012, Pacquiao was knocked out by his rival after putting in a strong fight. In November 2013, Pacquiao returned to the ring and had his way with Brandon Rius (31-2-1, 23 KO).
Nonetheless, all told Pacquiao's record is more checkered than it's ever been: this is a man who likely left his best form back in 2008, 2009. He still carries elite power, blazing hand speed, and disorienting footwork.
But he also seemed to have curbed his once-feared killer instinct. Earlier in his career, seeing blood wasn't enough for him. He wanted to beat the other fighter to a pulp, not stopping until the bell rung or the fighter either went down or surrendered. But that has changed recently.
Pacquiao has grown more considerate in the ring. This was evident when he fought Antonio Margarito and Shane Mosley. The last time we've seen Pacquiao in his ruthless self was nearly five years ago, when he absolutely destroyed Ricky Hatton.
Another weakness, a more technical one, is his vulnerability to well-thrown counters. Marquez laid the blueprint for beating Pacquiao in their last fight, having caught the Filipino star walking straight into his right hand for the knockout. With Pacquiao's 35-year old body beginning to wear down, Bradley may not struggle to the same degree almost two full years from his win by decision.
Betting on Timothy Bradley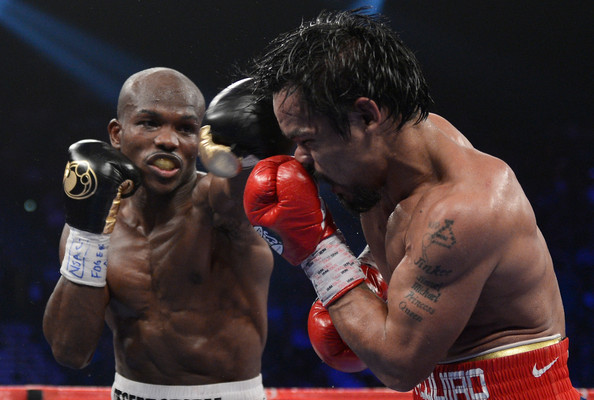 For a fighter to go undefeated through 31 fights, he has to be doing some things right over and over again. For Timothy Bradley, it's his aggressive attitude inside the ring that has earned him success. He charges all the time, wearing his opponents down by bullying them with a flurry of jabs and punches. To be able to do that for 12 rounds (Bradley rarely wins via KO's), he has to be in tiptop shape, which he's been seemingly since he was born.
Another major strength for Bradley is his hand speed. Pacquiao has lightning-fast fists but Bradley is on par with him in this respect. Pacquiao had never seen a fighter like Bradley before their first tussle. Unlike Pacquiao, however, Bradley doesn't pack a bomb in either hand. He only has 12 knockout out of his 31 wins, with the last one scored against a past-his-prime Joel Casamayor.
Bradley's lack of power makes him very vulnerable in exchanges, especially against a knockout artist like Pacquiao. Pacquiao would take two to land one strong punch, which could spell the end for Bradley. That said, if Bradley can come out flying and get in front of an aging Pacquiao, this may be the fight he proves he is fully the superior fighter to the twilight of Pacman.
Prediction
We saw Bradley get knocked down by Ruslan Provodnikov last March, his first fight after beating Pacquiao. Though he eventually won that fight, Bradley evidently had trouble against a strong puncher. If Pacquiao can summon his relentless, unforgiving fight we used to see, then Bradley is going to be in a world of trouble.
It's tight, but we like a Pacquiao knockout after several rounds of Bradley having the edge. Grab the -225 odds while you can.
[sc:Other490banner ]
1,888 total views, 1 views today
Comments
comments