Clayton Kershaw is set to pitch today against the 40-51 San Diego Padres. Just saying. Here are five of the best baseball games to bet on today.
Clayton Kershaw is on a mission to prolong his extraordinary streak of scoreless innings as the Los Angeles Dodgers take on the San Diego Padres later. But Kershaw isn't alone in his quest to improve such streak. Like the Cy Young winner, Washington Nationals' ace Gio Gonzalez is also on an amazing scoreless-inning run, and he'll have his hands full tonight against the potent Baltimore Orioles. Read more about the best games to bet on today below.
Meanwhile, the soccer action in Brazil is now down to two games. See our full preview of the World Cup final between Germany and Argentina here, and the third place match, which features host Brazil and Netherlands here.
[sc:MultiSportArticles ]
MLB Picks and Predictions for Thursday, July 10, 2014
New York Yankees vs. Cleveland Indians (7:00 PM ET)
Line: New York Yankees (+112) at Cleveland Indians (-122); total: 8.5 –  see all MLB lines
David Phelps (3-4, 4.01 ERA) has received a no-decision three starts in a row, but was spectacular in his last time out, surrendering just three hits and an earned run in seven innings of pitching duty in New York's 2-1 loss to the Minnesota Twins. The Yankees are 6-2 in their last eight road games. Meanwhile, the Cleveland Indians will counter with left-handed pitcher T.J. House (1-2, 4.24 ERA). The Indians are 4-1 in House's last five appearances on the mound.
Writer's Prediction:  The Yankees close the series with a victory.
Washington Nationals vs. Baltimore Orioles (7:05 PM ET)
Line: Washington Nationals (-110) at Baltimore Orioles (EVEN); total: 8.5 –  see all MLB lines
[sc:MLB240banner ]After Doug Fister cooled off the offense of the Baltimore Orioles in the Washington Nationals' 6-2 win on Tuesday night, it's now Gio Gonzalez's (6-4, 3.52 ERA) turn to face the host's batting lineup. The Nationals are 4-0 in Gonzalez's last four starts overall.
The left-handed pitcher hasn't allowed a runner in 22 straight innings of work, spanning three games. In contrast, O's starter Wei-Yin Chen (8-3, 4.12 ERA) has given up 10 earned runs over his last three starts, with Baltimore taking two of those games, nonetheless.
Writer's Prediction:  Washington shoots down O's.
Create a betting account now and start making baseball betting a source of extra cash.
Los Angeles Angels at Texas Rangers (8:05 PM ET)
Line: Los Angeles Angels (-125) at Texas Rangers (+115); total: 10.0 –  see all MLB lines
The high-powered Los Angeles Angels bring their big bats to Texas after an 8-7 win over the Toronto Blue Jays to record their eighth win in 10 games. The Angels now have 59 runs in total this month, the most in the majors, and are now poised to break their dry spell in the Lone Star state. Though the Rangers are in some kind of funk, going 1-10 in their last 11 games, they are nevertheless 8-0 in their last eight home games against Los Angeles. The Rangers are also 3-1 in Colby Lewis' (6-5, 5.51 ERA) last four starts against the Halos.
Writer's Prediction: The Angels break losing streak at Texas.
Detroit Tigers vs. Kansas City Royals (8:10 PM ET)
Line: Detroit Tigers (-103) at Kansas City Royals (-107); total: 8.5 –  see all MLB lines
The Detroit Tigers can pad their lead in the American League Central division when they barge into Kauffman Stadium to start a four-game series against the Kansas City Royals. The Tigers are 3-0 in their last three games there. Tigers' starter Drew Smyly (4-8, 3.89 ERA) pitched in one of those games, tossing seven scoreless innings to lead Detroit in a 7-0 romp.
Detroit will be met by Jeremy Guthrie (5-7, 4.02 ERA), who has been phenomenal for the Royals when throwing against the Tigers at home. Guthrie is 4-0 with a 3.51 ERA in last four home starts against Detroit.
Writer's Prediction:  Kansas City beats Tigers.
San Diego Padres vs. Los Angeles Dodgers (10:10 PM ET)
Line: San Diego Padres (+240) at Los Angeles Dodgers (-280); total: 6.0 –  see all MLB lines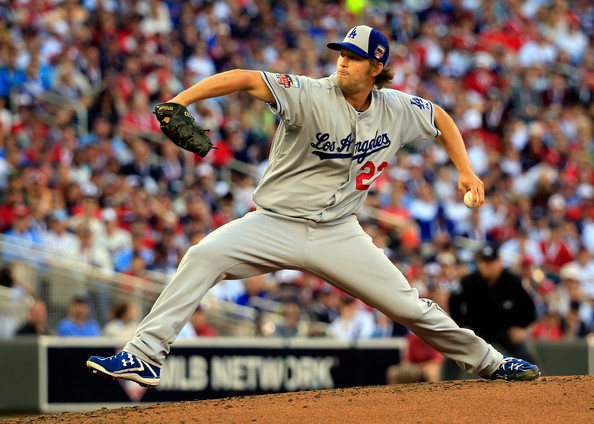 Odrisamer Despaigne (2-0, 0.92 ERA) has a tall order tonight, and that is to outduel Clayton Kershaw. However, the Cuban has been fantastic since being called up. Despaigne is 2-0 with a 0.92 ERA in three starts thus far on the season. But as good as Despaigne has been, the Padres' batters still need to solve Kershaw, whose current run of scoreless innings stand at 36. The Dodgers are 7-0 in Kershaw's last seven starts.
Writer's Prediction:  The Dodgers crush San Diego.
[sc:MLB490banner ]
1,705 total views, 1 views today
Comments
comments