Thanks to some a-hole in Wuhan who thought eating a bat was a good idea we're stuck with no NBA season for the time being. But after witnessing the success of the NASCAR Cup Series going online to offer hungry fans and bettors something to consume with the iRacing Pro Invitational Series, the NBA has decided to follow suit. The NBA 2K Players Tournament premieres live on ESPN and ESPN2 this April 3, featuring NBA 2K20 gameplay tournament between 16 current NBA players – including a few all-stars such as Kevin Durant and Zach Lavine. The sportsbook is offering actionable betting lines for real money, so be sure to tune in and register to play.
Click here to make your NBA 2K picks

Betting Preview for the NBA 2K Players Tournament on April 3 2020
Where: At home (NBA players, and you)
When: Friday, April 3, 7 PM ET
Live Broadcast: ESPN, ESPN2
Lines:
---
THE BRACKET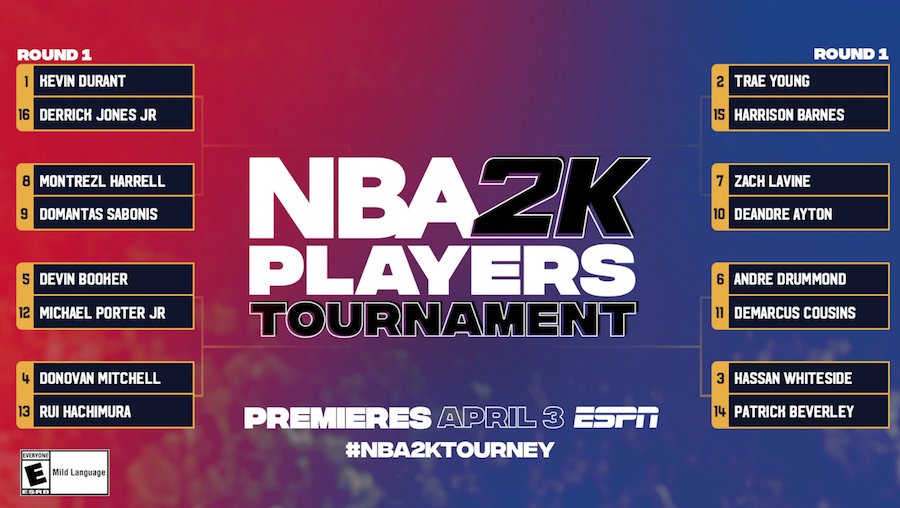 ---
FIRST ROUND ODDS
Kevin Durant (-128) vs Derrick Jones Jr (-101)
NBA 2K Overall Ratings:
Kevin Durant (86)
Derrick Jones Jr (78)
Although Kevin Durant is COVID 19 symptom-free along with the rest of the NBA (time to restart?) he had already been ruled out for the duration of the 2019-20 season due to his achilles injury, which makes him hungrier than all other NBA 2K participants. For this reason he is favored at -128 over his first round opponent Derrick Jones Jr who is listed at -101.
Montrezl Harrell (-187) vs Domantas Sabonis (+142)
NBA 2K Overall Ratings:
Montrezl Harrell (85)
Domantas Sabonis (85)
Harrell is a solid favorite at -187 even though he and Sabonis (+142) share an equal 85 rating. Harrell has a strength is his Driving Dunk attribute which is 85, while Sabonis boasts a 3-Point attribute of 64.
Devin Booker (-220) vs Michael Porter Jr (+166)
NBA 2K Overall Ratings:
Devin Booker (86)
Michael Porter Jr (81)
The sportsbook likes Booker at -220 over Porter Jr who is priced at +166. The young Sun (Booker) is a Scoring Machine Archetype, while the Denver Nugget is a 3-Level Scorer.
Donovan Mitchell (-197) vs Rui Hachimura (+150)
NBA 2K Overall Ratings:
Donovan Mitchell (87)
Rui Hachimura (79)
Another fully recovered COVID 19 alum Donovan Mitchell of the Utah Jazz is favored at -197 over the Washington Wizards' Hachimura who is priced at +150. Mitchell has a strong 3-Point Rating and Dunk Rating, listed at 80 and 90 respectively, which makes him a likely winner over the Rui the Mid-Range Specialist.
Trae Young (-170) vs Harrison Barnes (+130)
NBA 2K Overall Ratings:
Trae Young (90)
Harrison Barnes (78)
According to NBA 2K rankings Trae Young should run away with this one, but the sportsbook is a bit tighter, listing Young at -170 versus Barnes who is priced at +130.
Zach LaVine (+128) vs Deandre Ayton (-167)
NBA 2K Overall Ratings:
Zach LaVine (85)
Deandre Ayton (85)
Equally ranked at 85, Chicago Bulls' Zach LaVine is the underdog at +128 to the Phoenix Suns Deandre Ayton who is priced at +167. Still, LaVine has a 3-Point and Dunk Rating of 82 and 95 respectively, while Ayton the Glass Cleaning Finisher has a much weaker offensive arsenal.
Andre Drummond (+106) vs DeMarcus Cousins (-138)
NBA 2K Overall Ratings:
Andre Drummond (85)
DeMarcus Cousins (81)
This will be a close one according to the sportsbook, with the Cleveland Cavaliers' Andre Drummond listed at +106 while the soon-to-be free agent DeMarcus Cousins is priced at -138. Drummond is labelled as a Paint Beast on NBA 2K while Cousins has a Slashing Five archetype. Both of these guys are long shots to win this Friday's Tournament.
Hassan Whiteside (-114) vs Patrick Beverley (-114)
NBA 2K Overall Ratings:
Hassan Whiteside (87)
Patrick Beverley (78)
These two are in a lock at the sportsbook, both priced at -114 even though they have very different NBA 2K 2020 ratings. Portland Trail Blazers' Whiteside has a lopsided 3-Point (39) and Dunk Rating (71), while LA Clippers' Beverley is a near reverse of his opponent, with a 3-Point rating of 79 to a Dunk rating of just 30. These two are also long shots to win the Tournament.
---
TOURNAMENT ODDS
With the first round odds out of the way we now look to the overall player odds to win the eSports tournament:
Devin Booker, Phoenix Suns +300
Kevin Durant, Brooklyn Nets +325
Deandre Ayton, Phoenix Suns +600
Trae Young, Atlanta Hawks +650
Donovan Mitchell, Utah Jazz +700
Hassan Whiteside, Portland Trail Blazers +800
Andre Drummond, Cleveland Cavaliers +2000
Zach LaVine, Chicago Bulls +2500
Montrezl Harrell, LA Clippers +2500
DeMarcus Cousins +2500
Michael Porter Jr., Denver Nuggets +2500
Patrick Beverley, LA Clippers +2800
Domantas Sabonis, Indiana Pacers +3000
Derrick Jones Jr., Miami Heat +3000
Rui Hachimura, Washington Wizards +3500
Harrison Barnes, Sacramento Kings +3500
---
TOURNAMENT WINNER PREDICTION
Underrated on the court but not in NBA 2K 2020, favorite Devin Booker (+300) wins the first NBA 2K Players Tournament.
Click here to make your NBA 2K picks

2,170 total views, 1 views today
Comments
comments