The 2015 World Series has been painted blue, with the New York Mets and the Kansas City Royals set to duel for the MLB crown beginning this Tuesday. Both New York and Kansas City were considered underdogs in their respective Championship Series, but proved all their detractors wrong by punching their ticket to the big dance is relatively swift fashion.
Which of these two clubs that hasn't had a taste of MLB gold since the mid-80's will draw first blood in Game 1? Let's take a closer look at this spectacular matchup below. And while there are still quite a few days left before this bout gets underway, let's take a moment to look back at what has been a "hair-raising" buildup for the Fall Classic thus far with our special feature on the best beards of the postseason.
[sc:MLBArticles ]
New York Mets vs. Kansas City Royals World Series Game 1 Preview
Where: Kauffman Stadium, Kansas City
When: Tuesday, October 27, 8:07 PM ET
Line: New York Mets at Kansas City Royals – view all MLB lines
TV Broadcast: FOX
Betting on the New York Mets
The success of the New York Mets can be attributed to one crucial aspect of the game: starting pitching. The team arguably has one of the best postseason rotations that we've seen in a while, one that combines power with command. As such, manager Terry Collins declared his season-long ace in Matt Harvey to take to the mound in Game 1.
[sc:MLB240banner ]New York won both of the games that Harvey had started in these playoffs, and his .229 batting average against opposing hitters could very well prove troublesome for the precision-hitting Royals. In 12.2 innings of work this postseason, the 26-year-old righty allowed just 11 hits and four runs while racking up 16 strikeouts in the process.
And to complement the team's stellar starting pitchers, David Murphy has been a one man wrecking crew with his bat on offense. Murphy is the only player in MLB postseason history to hit a home run in six consecutive games, including long balls against some of the league's elite arms in Clayton Kershaw (twice), Zach Greinke, and Jake Arrieta.
With the Royals lacking talent in their own starting rotation, Murphy – who's batting .421 and has seven total home runs and 11 RBIs in the playoffs – could very well tee off with ease right away in Game 1. The rest of New York's marquee batters are hitting well just the same, with Curtis Granderson and Yoenis Cespedes each having seven RBIs apiece and Travis d'Arnaud also chipping-in six of his own from the NLDS and NLCS combined.
The Mets have won four of their five games that were played on the road this postseason.
Create a betting account now while there's still enough time to place your stakes on all the World Series betting action that we have to offer.
Betting on the Kansas City Royals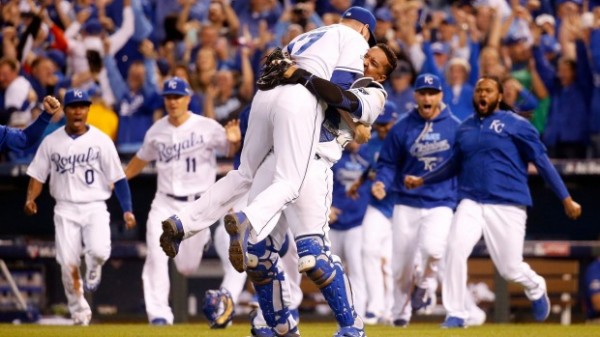 The Kansas City Royals demonstrated that good hitting trumps power slugging when it matters most, as the team prevailed in six games in the ALCS over the brawny Toronto Blue Jays.
Yes, the Royals' starting rotation has a huge question mark stamped all over it (heck, manager Ned Yost has yet to declare his starter for Game 1 on Tuesday), but what they lack in that department, the team more than makes up for by way of solid contact hitting and base running. Kansas City is hitting .271 this postseason, and while that doesn't sound too gaudy on paper, in comparison: the Mets are hitting just .235 in the playoffs.
Furthermore, not one player stands out as superior in the Royals' batting order, leaving opposing pitchers very little room for error from top to bottom. Alcides Escobar, Alex Rios and Ben Zobrist are all hitting over .320 in the playoffs, with Escobar batting an absurd .386 himself.
And surprisingly, none of those three guys are the team's top run producers at all. Those happen to be Eric Hosmer (11 RBIs) and Kendrys Morales (10). With danger lurking in each Kansas City at-bat, the Mets' starters and bullpen are in for a grueling series indeed.
Not only are the Royals fundamentally sound on offense, their fielding prowess has been bar none to boot as well, coughing up just one measly error through 11 postseason games. With that said, the team should be in good shape once New York opts to go small ball in tightly-contested innings.
After losing Game 1 of the ALCS, Kansas City has since then won all five of its playoff games at home.
Writer's Prediction
The Mets strike first with a narrow 3-2 road victory over the Royals.
[sc:MLB490banner ]
1,851 total views, 1 views today
Comments
comments