Don't look now but the New York Yankees are atop AL East behind sterling pitching. But can they keep up their excellent performances on the mound? They have the Tampa Bay Rays, who trail them by three games, to deal with on the road tonight. The Rays could find themselves threatening atop the division with just a couple of timely wins against the first-placed Yankees.
What better way to start of the week than with a couple of big baseball games? Check out our complete previews for the Marlins vs. Dodgers and Red Sox vs. Athletics.
[sc:MLBArticles ]
New York Yankees vs. Tampa Bay Rays Preview
Where: Tropicana Field, St. Petersburg, FL
When: Monday, May 11, 7:10 PM ET
Line: New York Yankees (+108) at Tampa Bay Rays (-118); total 7.0 – view all MLB lines
Betting on the New York Yankees
Michael Pineda had a whopping 16 strikeouts in seven innings Sunday night to beat the Orioles. Sadly, tonight's starter CC Sabathia (0-5, 5.45 ERA) might have difficulty matching even a fraction of that stellar performance with the way he's been pitching. Sabathia is the only New York starter yet to record a win this season.
[sc:MLB240banner ]Sabathia doesn't even have 16 strikeouts in six starts this year; he has 14. He is one of the most hittable pitchers in the majors with 11.13 hits per nine innings. The New York southpaw had lost nine straight at Tampa Bay before allowing just one run in seven innings of a 10-2 win on April 2014.
But if Sabathia can limit Tampa Bay just enough, then the New York bullpen could do a swell job in keeping the Rays' bats quiet in the late innings. Dellin Betances and Andrew Miller are yet to allow an earned run in a combined 35 innings this season.
New York also looks to ride some solid batting into Tropicana Field. Brian McCann and Carlos Beltran each homered in Sunday's 6-2 victory against Baltimore. Jacoby Ellsbury and Didi Gregorious each had two RBIs.
But all eyes will yet again be on Alex Rodriguez. A-Rod now has 661 home runs in his career, fourth-most all-time in the majors. He went 4-for-10 with two homers and six runs scored in a three-game sweep of Tampa Bay at Yankee Stadium back in mid-April.
The Yankees have won seven of their last 10 on the road.
There's plenty of baseball to go around. Create a betting account now and score your own home runs with America's pastime.
Betting on the Tampa Bay Rays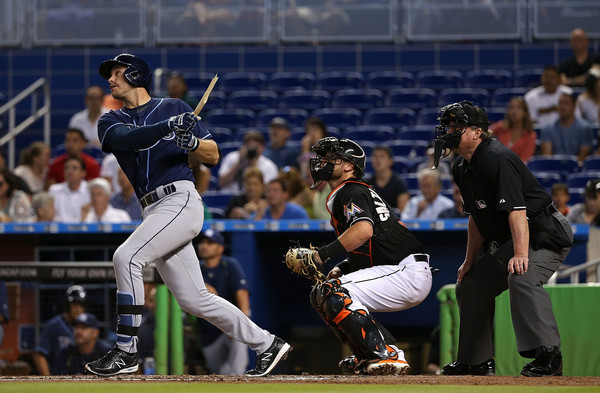 The Tampa Bay Rays start a very solid pitcher in Alex Colome (2-0, 1.80 ERA) tonight. He owns a 0.94 ERA while baffling opposing batters to hit .186 over his last five career starts. But Colome looked mortal in his last outing, surrendering two earned runs on four hits in five innings in a 5-3 win at Boston on May 6. He has held Yankees batters to hit just .136 against him, but is yet to face their home run machine Rodriguez.
Tampa Bay's bullpen has also had its fair share of success against the Yankees, pitching 15.1 innings while allowing just one run. Closer Brad Boxberger has three straight saves in his last three appearances. He has not allowed an earned run in his last seven appearances, including one against the Yankees.
The Rays can flex their muscle at the plate considering their success against Yankees starter Sabathia. Evan Longoria has owned the New York starter in his career, hitting .414 with six homers, eight doubles and 14 RBIs. Logan Forsythe has also had success in his career against the Yankees' lefty, going 4-for-9 with a double, a homer and an RBI.
Brandon Guyer, who has led off in his last two games, has hit safely in his last four but is just 1-for-15 lifetime against Sabathia.
Writer's Prediction
The Rays batter Sabathia while the Yankees manage to drive home a couple of runs. Take the total to go over 7.0.
[sc:MLB490banner ]
2,162 total views, 1 views today
Comments
comments