There are only two kinds of fantasy football owners after Week 1: those who are happy and those who are still drunk after seeing their first round pick either put up measly numbers or suffer a long-term injury. It's not the end of the world, though, especially for the latter group. Let the experts from NFL.com, Sports Illustrated, and Scout.com help you pick up the pieces with some advice for Week 2.
[sc:Football ]
Fantasy Football Expert Guide Pickups for Week 2 of the 2015 NFL Season
NFL.com
| Position | Pick 1 | Pick 2 | Pick 3 | Pick 4 |
| --- | --- | --- | --- | --- |
| Quarterback | Marcus Mariota | Alex Smith | | |
| Running Back |  Bishop Sankey | Danny Woodhead | | |
| Wide Receiver | Terrance Williams | Donte Moncrief | Stevie Johnson | James Jones |
| Tight End | Tyler Eifert | Jordan Reed | Austin Seferian-Jenkins | |
[sc:NFL240banner ]If you're the type that don't usually trust rookie quarterbacks, then Marcus Mariota may have something to change your mind. Right in his very first game as a pro, the former Oregon hotshot threw for 209 yards and four touchdowns in the Titans' 42-14 demolition of the Tampa Bay Buccaneers on Sunday. That spectacular debut by Mariota caught the eyes of many, including that of NFL writer Alex Gelhar, who advises owners looking for a quarterback replacement to consider scooping up the Titans' quarterback from the waiver wire. Tennessee has a matchup against the susceptible Cleveland defense up ahead and it's not a stretch to expect Mariota put up tremendous numbers again.
Another Titan Gelhar is very big on is Bishop Sankey. Sankey, who had a disappointing 2014 season, sure enjoyed getting less defensive pressure with Mariota playing well in Week 1. Against the Bucs, the former Washington Husky bell cow, racked up 86 total yards and three touchdowns (two rushing, one receiving). With David Cobb still nursing an injury, Gelhar expects Sankey to continue getting lots of touches and a few more looks in the passing game.
Speaking of the passing attack, Gelhar has also taken notice of the wide receivers like Terrance Williams of the Cowboys. Williams' role in Dallas offense is about to get bigger moving forward with Dez Bryant reportedly out for at least six weeks so if he's still collecting cobwebs in your  league's waiver wire, it's high time for you to pick him up before somebody else does. Like Williams, Indianapolis receiver Donte Moncrief is also set to experience an uptick in his production with T.Y. Hilton out with a knee injury.
Moving over to the tight end group, Gelhar expresses his confidence on Tyler Eifert, who had monster numbers against Oakland in Week 1. Eifert terrorized the Raiders' defense on his way to amassing 112 receiving yards and two receiving scores on nine catches.
Sports Illustrated
| Position | Pick 1 | Pick 2 | Pick 3 | Pick 4 |
| --- | --- | --- | --- | --- |
| Quarterback | Andy Dalton | Marcus Mariota | | |
| Running Back |  Bishop Sankey | David Johnson | Ronnie Hillman | Dion Lewis |
| Wide Receiver | Donte Moncrief | James Jones | | |
| Tight End | Ladarius Green | Jordan Reed | | |
Michael Beller of Sports Illustrated, meanwhile, also mentions some of the names Gelhar has on his list like Marcus Mariota, Bishop Sankey, and Jordan Reed. As for Beller's unique picks, he has Andy Dalton at quarterback and David Johnson at running back to name a few. For Beller, Dalton not being owned in most leagues is a surprise. He sees few reasons to leave Cincy's quarterback on the waiver wire. For one, Dalton is now given a full season of Tyler Eifert as an added target besides A.J. Green and Marvin Jones.  Dalton may disappoint at times, but with all the weapons surrounding him, he'll have games like that against the Raiders in Week 1 ahead of him. Dalton passed for 269 and two touchdowns with no interceptions in the Bengals' season opener.
Johnson, on the other hand, is set to benefit from the absence of Andre Ellington.  With Ellington out, Johnson could see a rise in his touches. In the Cardinals' 31-19 win over New Orleans on Sunday, Johnson didn't see the field in Week 1 until Ellington was hurt, and he wasted little time to show what he can do. The rookie out of Northern Iowa caught a pass and scored a touchdown—a game-winning one.
Another notable pick of Beller is James Jones of the Packers. After spending the 2014 season with the Raiders, Jones was brought back by Green Bay and if his Week 1 performance is any indication, it's that his chemistry with Aaron Rodgers is still there. Jones caught four passes for 51 yards and two touchdowns against Chicago last Sunday. Jones won't have the same production on a weekly basis, but the fact that Rodgers still considers the 31-year-old wideout as a reliable target speaks volumes about Jones' potential moving forward.
Scout.com
| Position | Main Header 2 | Main Header 3 |
| --- | --- | --- |
| Quarterback | Marcus Mariota | Text 3 |
| Running Back | Dion Lewis | David Johnson |
| Wide Receiver | James Jones | Travis Benjamin |
| Tight End | Darren Fells | |
Count Scout.com's fantasy expert Jimmy Dinsmore as among those whose jaws dropped at the sight of Marcus Mariota's numbers in the Titans' win over Tampa in Week 1. As mentioned earlier, Mariota had an explosive NFL debut Jameis Winston could only wish he had. If Ryan Fitzpatrick can throw for 179 passing yards and two touchdowns against Cleveland, then who's to say that Mariota can't do the same (or even more) against the Browns in Week 2? For Dinsmore, Mariota is a "must grab" this week.
Over at the backfield, Dinsmore likes the idea of nabbing New England running back Dion Lewis from the waiver wire. And that's even with LeGarrette Blount returning this coming Sunday. Lewis had 69 rushing yards on 15 carries in New England's win over the Steelers in Week 1, and while his touches will likely dip because of Blount' presence, he still can be a factor in the Pats' offense. After all, Lewis flashed some of his skills in the passing game when he registered 51 receiving yards on four receptions in the Pittsburgh game.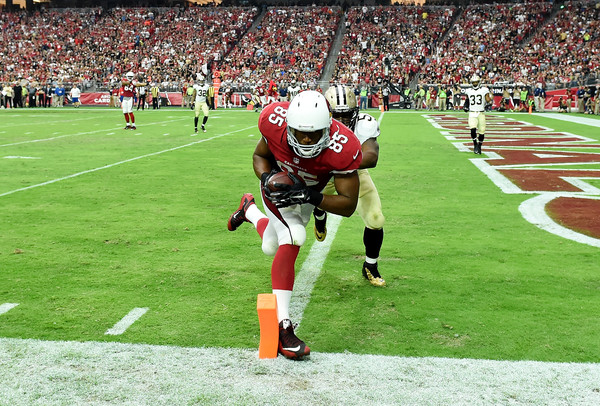 The tight end group, meanwhile, is beginning to look like a deep one. Eifert, Travis Kelce, Heath Miller, and Eric Ebron all had solid to terrific performances in Week 1, but there are still talents left for the picking. Take for example Darren Fells of the Arizona Cardinals. Fells is next to Jermaine Gresham in the Cards' depth chart, but had a far better game versus the Saints. Fells had 84 receiving yards on four catches in that game, while Gresham only had microscopic numbers of four receiving yards on a single catch. Fells is just owned 0.2 percent in ESPN leagues, so he should be there for owners looking for tight end or flex help.
[sc:NFL490Banner ]
1,752 total views, 2 views today
Comments
comments