On Tuesday night, the Oklahoma City Thunder used a torrid offensive attack in Game 4 led by spitfire guard Russell Westbrook to beat the San Antonio Spurs, 105-92, squaring the series at two a piece after San Antonio led 2-0.
San Antonio arguably is the team that has its back set against the wall heading into Game 5 back to Texas. Gregg Popovich, one of the five keys we named in our preview of this series, has adjustments to make before the Thunder run away with the series.
With the way Oklahoma City has played in its last two games, do you see the Spurs still winning the series? Or are you totally sold on the Thunder? Create a betting account now to get in on the action and read on for everything you need to know about this pivotal Game 5.
[sc:NBAArticles ]
San Antonio Spurs vs. Oklahoma City Thunder Western Conference Finals, Game 5 Betting Preview
Series Scores & Schedule
Game 1 – May 19, Oklahoma City 105 at San Antonio 122
Game 2 – May 21, Oklahoma City 77 at San Antonio 112
Game 3 – May 25, San Antonio 97 at Oklahoma City 106
Game 4 – May 27, San Antonio 92 at Oklahoma City 105
Game 5 – May 29, 9:00 PM ET, Oklahoma City (+4.5) at San Antonio (-4.5); total 206.0 – view all NBA lines
Game 6 – May 31, 8:30 PM ET, San Antonio at Oklahoma City
Game 7 (if necessary) – June 2, 9:00 PM ET, Oklahoma City at San Antonio
Betting on the San Antonio Spurs
After failing to snap their losing streak at Chesapeake Energy Arena and blowing their 2-0 series lead, the San Antonio Spurs will return to their safe haven that is the AT&T Center, where they seem to have left their offense.
The Spurs opened the series on fire, putting up 117 PPG in the first two games in which they won by an average margin of 26 PPG. But things changed as soon as San Antonio found itself in a different arena; the Spurs only scored 94.5 PPG in Oklahoma City. So far in the postseason, the Spurs are averaging just 101.6 PPG on the road, seven points short of the 108.7 PPG they are mustering when playing at home.
[sc:NBA240banner ]The sputtering Spurs offense has a lot to do with the disappearing acts of their Big Three. Tony Parker, Manu Ginobili, and Tim Duncan combined for 106 points in Games 1 and 2, but they only tallied 68 points in their two-game trip to Oklahoma City. Back at home for Game 5, the battle-tested triumvirate is bound for a major bounce back performance.
The Spurs are 7-0 SU in their last seven home games. Moreover, they are 6-0 ATS in their last six at home.
Betting on the Oklahoma City Thunder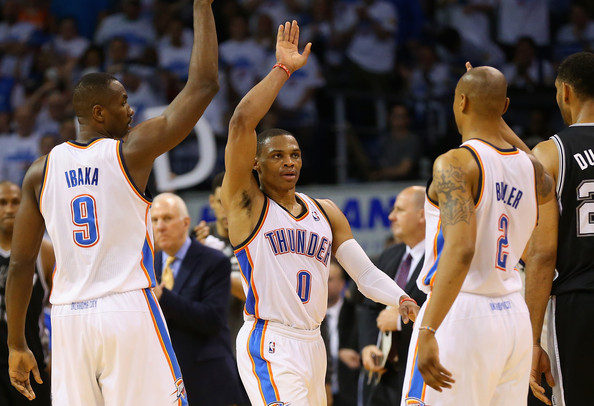 The Thunder got another magnificent game from its tandem of Russell Westbrook and Kevin Durant in Game 5, to pull even in the series against the Spurs. Westbrook in particular played so out of his mind that even the reigning MVP had to take a backseat. The Thunder now leave Oklahoma City for Game 5, carrying a record of 6-4 SU in their last 10 road games.
Westbrook (40 points, five rebounds, 10 assists, and five steals) and Durant (31 points, five rebounds, and five assists) put on a clinic in the first half, where they combined for 39 points with no turnovers.
Now without the worries in its frontline given the return of Serge Ibaka, Oklahoma City goes back to San Antonio as an entirely different team than the one that got beaten black and blue in the first two games of the series.
Ibaka (nine points, eight rebounds) has not only toughened up the interior defense of the Thunder, but he has also sparked the Thunder's dangerous open court game. With Ibaka and Kendrick Perkins (10 rebounds) clearing the boards in Game 5, the Thunder were able to start their running game, outscoring San Antonio on the fast break, 21-0.
The under is 6-1 in the Thunder's last seven road games.
Writer's Prediction
The Spurs will drop their third straight game in the series. Take the Thunder to win straight up at +165.
[sc:NBA490banner ]
2,190 total views, 1 views today
Comments
comments