The Nationals try to spoil the Cardinal's chances while the Rays look to extend their lead in the AL Wild Card race.
Sports Betting Preview for September 24
Top Stories in Sports Today
Football: Broncos Blow By Raiders on Monday Night
Peyton Manning completed 32 of 37 passes for 374 yards and 3 touchdowns as the Broncos defeated the Raiders 37-21 to remain a perfect 3-0 this season.
Baseball: Pirates clinch first playoff berth since 1992
The Pirates are assured their first postseason game in over 21 years with a 2-1 win over the Cubs.
Baseball: Manny Machado suffers leg injury in defeat
The Orioles third baseman's injury added to the insult of a 5-4 loss to the Tampa Bay, which completed a four-game sweep by the Rays.
Top Bet Games to Bet On
Washington Nationals vs St. Louis Cardinals (8:15 PM ET)
Pitching Match-up: Gio Gonzales (11-7, 3.39 ERA) vs Michael Wacha (3-1, 3.21 ERA)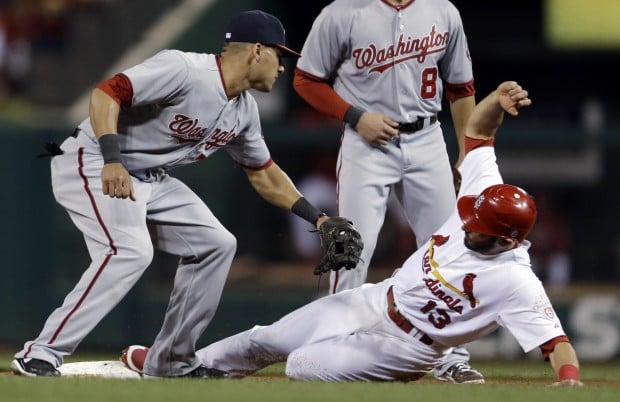 Despite the strong challenges of both Cincinnati and Pittsbugh, the St. Louis Cardinals are inching toward another NL Central Division title. A sweep of their three-game series with Washington will take them one step closer. After winning the series opener, St. Louis is now 7-3 in its last 10 games against the Nationals.
It's a case of too little, too late for the Washington Nationals this season. Not even their great end-of-season run can see them break into the Wild Card. But they can still play spoilers and delay the party for the Cardinals. The Nationals are 15-5 in their last 20 games.
[sc:MLB490banner ]
Tampa Bay Rays vs New York Yankees (7:05 PM ET)
Pitching Match-up: Matt Moore (15-4, 3.34 ERA) vs Hideki Kuroda (11-12, 3.17 ERA)
After a four-game sweep of the Orioles, the Tampa Bay Rays are in the driver's seat in the AL Wild Card. The Rays can extend their cushion between themselves and the Indians and Rangers with victory against the New York Yankees. Matt Moore will be on the mound for the Rays, who are 13-3 in his last 16 road starts.
New York has drifted away from the Wild Card chase after valiantly hanging on despite numerous injuries. With their playoff hopes all but gone, the Yankees can still inflict some damage on their AL East rivals' chances. Hideki Kuroda is set to take the ball for the Yankees, who are 4-0 in his last 4 home starts.
For the most comprehensive list of MLB game odds and betting lines, visit Top Bet Sportsbook.
1,864 total views, 1 views today
Comments
comments