College football is coming, and Top Bet is here to give you a head start on your preparation for the new season. For the entire week, you'll find early outlooks on some select teams after their notable offseasons, as well as the key teams, players and dates to watch out for this year.
The anticipation for the kickoff of the college football season on September 3 is at a fevered pitch, but not before several teams had made the necessary moves to strengthen their grasp in their respective bids to come out on top at the College Football Playoff.
Let's take a look at three teams that made big splashes during the offseason. In need of more NCAA football coverage? Get a better view of the 2015-2016 season's landscape with our coverage of the early favorites and sleepers, as well as the NCAA football schedule that's on tap.
[sc:NCAAFArticles ]
Three Teams that Won the 2015 College Football Offseason
Michigan Wolverines
There are times when the best way to upgrade a team wouldn't not be to start with a player, but rather with a new coach.
[sc:NCAA240banner ]The Michigan Wolverines did just that by making a highly-publicized move in the offseason in signing former San Francisco 49ers head coach Jim Harbaugh. Harbaugh, an alumnus of Michigan himself, looks to turn around a once prolific club that went 46-42 since 2007 back into title contention.
Harbaugh has a knack for revitalizing football clubs during his professional coaching career. In his final year coaching former basement-dweller Stanford, he led the club to a 12-1 record and a victory at the Orange Bowl. After which, Harbaugh made the transition to coach in the NFL and revived the San Francisco 49ers franchise, taking the team to two consecutive NFC championship games and one Super Bowl appearance.
The 51-year old coach already made a key move by flipping four-star Texas quarterback Zach Gentry to lead the Wolverines' offense. And in case Harbaugh's Gentry project doesn't pan out, he also took a flyer on former Houston Cougars quarterback John O'Korn. O'Korn was acquired on signing day earlier this year, but will only be eligible to play for the team in 2016.
With Harbaugh at the helm, the Wolverines – +4,000 favorites to win the national title – are shaping up to make a big roar in the NCAA field and turn the Big House of Ann Arbor to a mad house.
Clemson Tigers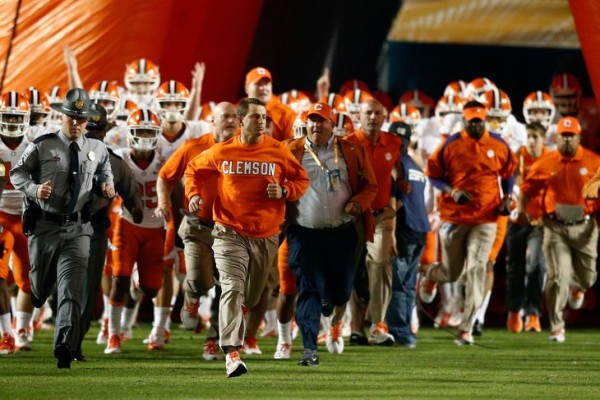 Just when you thought that the Clemson Tigers couldn't get any better, they just did. Not content with having 4 consecutive seasons of 10 or more wins, head coach Dabo Sweeney was insistent in staying on par with the highly competitive field of schools in the ACC.
Clemson hauled in a great pool of talent during National Signing Day by obtaining three five-star recruits – WR Deon Cain, DT Christian Wilkins and OT Mitch Hyatt – to go along with nine four-star recruits among others.
Apart from the stellar signing day acquisitions, Clemson (+2,200) still has arguably the best young quarterback in the NCAA right now in Deshaun Watson. Only time will tell, though, if Watson's recovery from a torn ACL is successful and if Watson's production would not be hampered by such a career-changing injury.
Don't wait until September for the start of another wild football season. Create a betting account now and be a part of all the action in the betting gridiron.
USC Trojans
Perhaps the biggest winners on National Signing Day, the USC Trojans and their superb recruitment program managed to attract four five-star players and a nationwide-best 17 four-star recruits (as per rivals.com).
USC head coach Steve Sarkisian and his staff did a fantastic job of improving their defensive front. Among those defensive selectees from signing day were former Junipero Serra High School teammates in five-star linebacker John Houston and four-star defensive tackle Rasheem Green, five-star cornerback Iman Marshall and five-star linebacker Osa Masina.
And if for one second you thought that last year's Holiday Bowl winners only saw their defense improve, that's because they already have a formidable offense ready to return next season. Star quarterback Cody Kessler – who threw for over 3,800 yards and 39 TDs and just five picks – will lead the Trojan offense. Stellar wideouts Juju Smith and Swiss Army knife-like Adoree' Jackson will also be waiting in the wings to produce big numbers for the Trojans.
Currently priced at +1,600 to win the national title, USC is in tip-top shape to remain an elite football club not just this upcoming season, but for many years to come. There will be no fall for the South Californian Troy anytime soon, that's for sure.
[sc:NCAA490banner ]
1,785 total views, 1 views today
Comments
comments