[sc:NCAA240banner ]
Not all players achieve greatness in their very first college season. But every once in a while, a greenhorn comes in and displays abilities and poise well beyond his age.
Jameis Winston comes to mind as the current college football season wraps up, and Johnny Manziel is another player in recent memory who lit the league up as a novice.
The following players made quite an impression in their freshmen seasons by simply dismantling, outsmarting and embarrassing older, more experienced competition.
Top Freshman Seasons of All Time in College Football
1. Adrian Peterson (2004 – Oklahoma)
Before Peterson became the NFL's Purple Jesus, he was a dazzling college football star for the Oklahoma Sooners. His first year on the team in 2004 saw him tear down several freshman records, including most rushing yards (1,925) and most games with 100 or more rushing yards, surpassing the mark 11 times.
2. Marshall Faulk (1991 – San Diego State)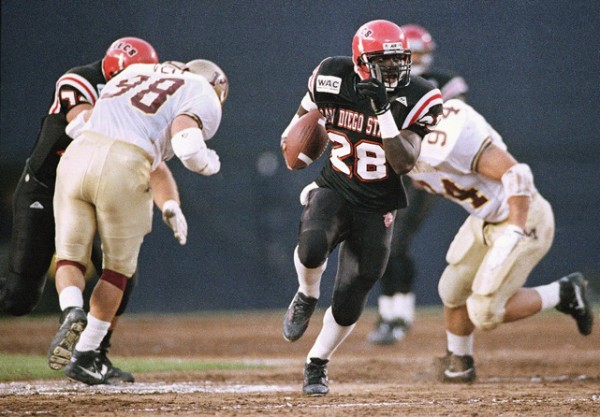 Faulk unleashed his limitless athletic gift in the very second game of his college career when he ran for 386 yards (freshman record) on 37 carries for seven touchdowns (also a freshman record) against the University of the Pacific. That's only a glimpse of how great his freshman year at San Diego State was. He finished that season racking up 1,429 rushing yards and setting another freshman record of 21 rushing touchdowns in a season.
3. Johnny Manziel (2012 – Texas A&M)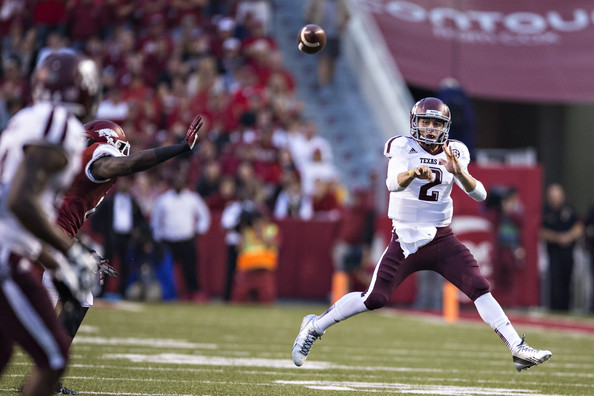 Manziel was all the rage back in the 2012 college football season. Johnny Football collected 3,706 passing yards with a 68.0 completion percentage and 26 passing touchdowns. He also displayed his immense talent on the ground by rushing for 1,181 yards and 19 touchdowns. It helped his credential even further when he lead the Aggies to an unforgettable win over defending champion, Alabama, when he passed for 253 yards and two TDs with no picks.
4. Jameis Winston (2013 – Florida State)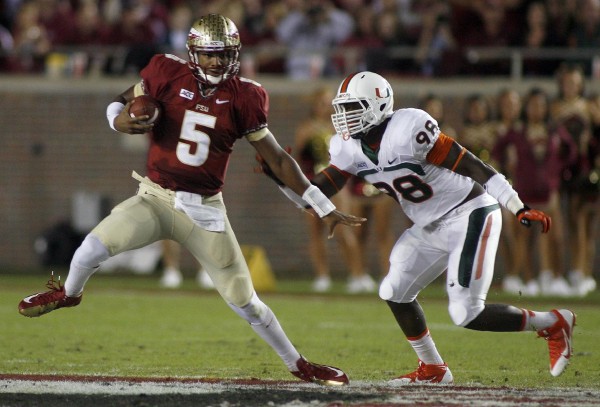 Winston was a tour de force as a freshman, leading the Seminoles to the BCS National Championship with a 13-0 record. Before the championship was played, Winston topped the FBS in passing efficiency with 190.1. In the 2013 ACC Title match against Duke, Winston tied the conference record for a freshman with his 36th touchdown pass. As of writing this, Winston is far and away the favorite to win the Heisman Trophy.
5.  Herschel Walker (1980 – Georgia)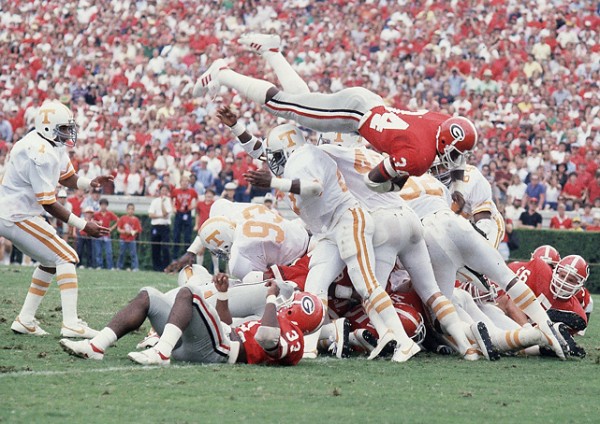 Just like Michael Vick, Walker lead his team all the way to a national championship in his freshman season. But unlike the current Philadelphia Eagles' QB, Walker ended his first college season as a champion. He rushed for 1,616 yards and 15 touchdowns, and although he did not win the Heisman Trophy that year, he will always be regarded as one of the best freshmen to grace the gridiron.
6. Michael Vick (1999 – Virgina Tech)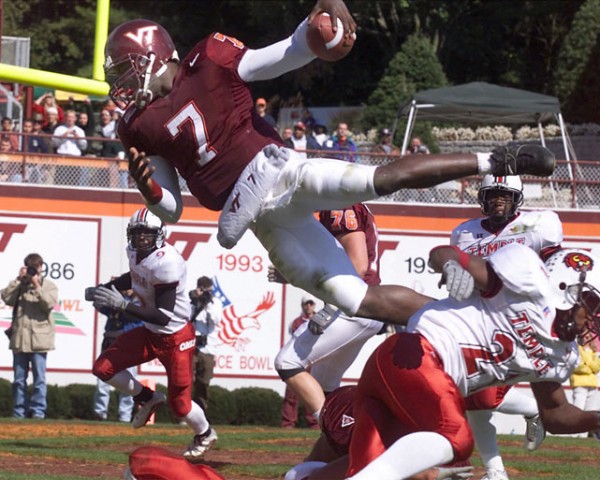 Michael Vick nearly became the first ever freshman to win the Heisman Trophy when he finished third in the balloting. He fell short in the voting, but compiled the figures to earn a spot on this list. Vick went 90-of-152 for 12 touchdowns with only five picks for a passing efficiency of 180.37 – the best by a freshman up until that point. He led Virginia Tech to a clean 11-0 record and an appearance in the national championship, a first in Hokies history.
7. Tony Dorsett (1973 – Pittsburgh)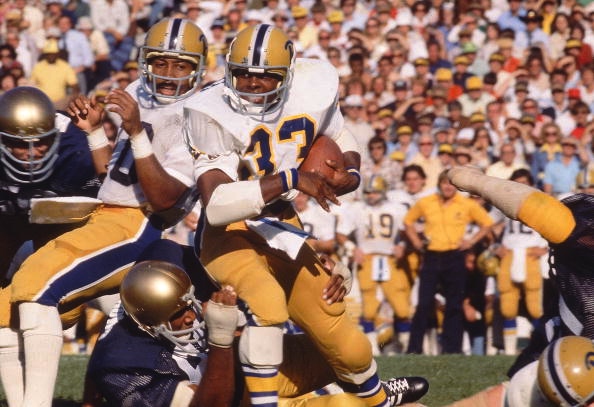 Dorsett had the rare distinction of winning consecutively a college championship and the Super Bowl. He showed his chops early in his career when he rushed for 1,586 yards in his freshman year at Pittsburgh, enough to gain All-American honors in 1973. It was the first time a freshman had been awarded the honor since 1944.
8. Michael Crabtree (2007 – Texas Tech)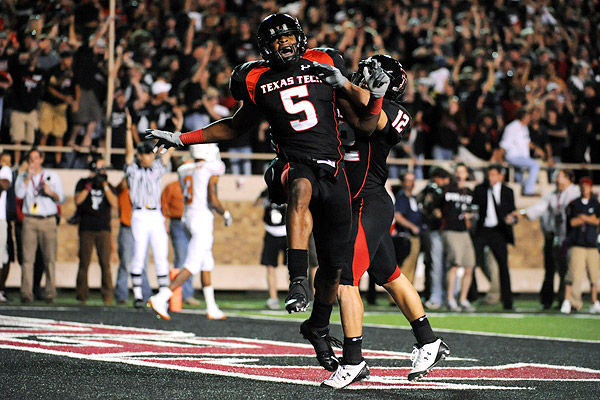 The current San Francisco 49ers star was a highly regarded wide receiver back in college and his promising talent showed in his first season for the Red Raiders. His name appears multiple times in college football record books after setting freshman numbers of 1,962 receiving yards, 134 total catches and 22 receiving touchdowns.
9. Sam Bradford (2007 – Oklahoma)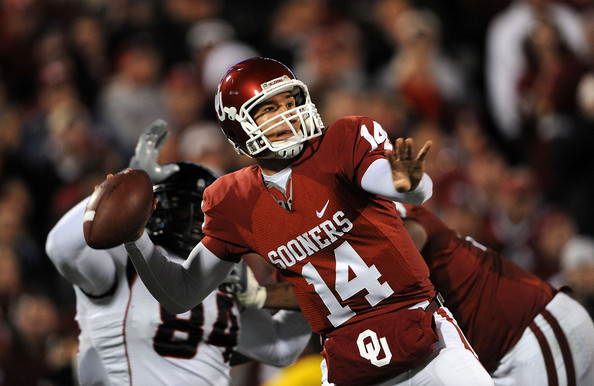 Bradford became the No.1 overall pick in the 2010 NFL draft after having adeptly piloted the Sooners' offense for three seasons. Of the three, his freshman season was the most remarkable, setting a rookie record for most touchdown passes with 36.
10. Ron Dayne (1996 – Wisconsin)
[sc:NCAA240banner ]
Dayne did not get to start for the Badgers until the fifth game of his freshman season at Wisconsin. Despite that handicap, Dayne would still go on to set a new record for most rushing yards in a season by a freshie, running for 1,863 yards. It has since been broken by Adrian Peterson, but that doesn't make Dayne's mark any less remarkable.
With the Heisman ceremony happening this weekend and college bowl games still to come, there's still plenty of opportunities to place your bets on this season's NCAAF lines. That said, a new set of futures odds will be on their way as well once the season is under wraps.
2,594 total views, 2 views today
Comments
comments