The Wizards brought out their broom sticks to sweep Toronto in the first round of the playoffs. Washington now has the tough proposition of facing the Eastern Conference-best Atlanta Hawks, who needed six games to defeat lowly Brooklyn.
Can the Hawks fly high in their return to Philips Arena? Read on for everything you need to know heading into this heated Eastern clash. For more on NBA Playoffs action, check out our complete previews for the Grizzlies vs. Warriors and Bulls vs. Cavaliers.
[sc:NBAArticles ]
Washington Wizards vs. Atlanta Hawks Game 1 Preview
Series Scores and Schedule
Game 1 – May 3, 1:00 PM ET – Washington Wizards (+5) at Atlanta Hawks (-5); total 198.5 – view all NBA lines
Game 2 – May 5, 8:00 PM ET – Washington Wizards at Atlanta Hawks
Game 3 – May 9, 5:00 PM ET – Atlanta Hawks at Washington Wizards
Game 4 – May 11, 7:00 PM ET – Atlanta Hawks at Washington Wizards
Game 5* – May 13, TBD – Washington Wizards at Atlanta Hawks
Game 6* – May 15, TBD – Atlanta Hawks at Washington Wizards
Game 7* – May 18, 8:00 PM ET – Washington Wizards at Atlanta Hawks
*If necessary
Betting on the Washington Wizards
Paul Pierce didn't want to "go through customs no more." The Wizards granted his wish, dominating Toronto to a 125-94 decision at home in Game 4. Pierce scored 14 points on 5-of-7 shooting, but his contributions lie deeper than his performance on the court. The former champion (with the Celtics in 2008), has showed his younger teammates how to win in the playoffs.
[sc:NBA240banner ]Bradley Beal led the team with 23 points despite shooting just 5-of-15 from the floor. He leads the Wizards with 20.8 points per game in the playoffs thus far. Beal has been all over the floor for Washington, averaging 5.3 rebounds, four assists and 1.5 steals per game. He should be a valuable contributor at Atlanta, especially after he had his biggest game on the road in the first round series.
Beal scored 28 points on 12-of-21 shooting (2-of-5 from three-point range) at Toronto in Game 2. Washington won that game by 11 points as five-point underdogs. He had plenty of help from John Wall, who had 26 points and a whopping 17 assists. Marcin Gortat was a force in the paint, adding 16 points and eight rebounds.
Wall has been a force against Atlanta. He averaged 21 points and 9.8 assists in four meetings to lead Washington. Beal, Gortat and Pierce all averaged in double-digit scores in the regular season series against Atlanta.
The Wizards won just one of four games (0-3-1 ATS) against the Hawks in the regular season. But they've played much better in the playoffs. They lost all three games against Toronto in the regular season before completing the first round sweep (4-0 ATS).
Betting on the Atlanta Hawks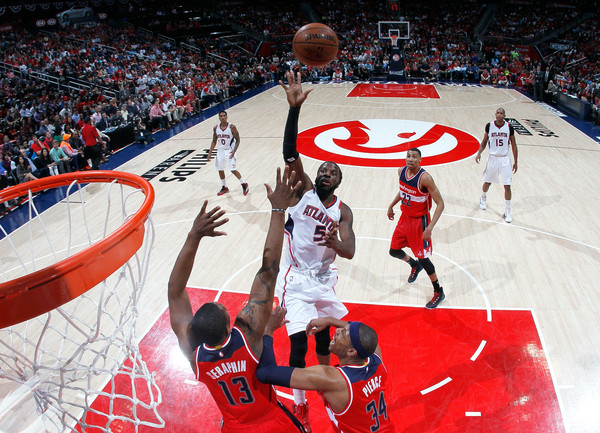 The Atlanta Hawks have finally woken up. A slow start in the playoffs had the Hawks going 2-2 (0-4 ATS) in the first four games against lowly Brooklyn. But they turned it around in Games 5 and 6, the latter of which was a 111-87 blowout.
Kyle Korver sizzled in the series-clinching victory, pacing the Hawks with 20 points on six three-pointers. He made three straight before missing a shot from downtown. DeMarre Carroll also had 20 points on 7-of-8 shooting (3-of-4 from beyond the arc). Paul Millsap and Al Horford gave the Hawks an inside threat. Millsap led with a game-high 25 points, while Horford added 18.
Having just one day in between games should be to Atlanta's advantage. The Hawks' sharpshooters are dialed-in and ready to go. The Hawks are 28-15-1 ATS after one day off, including the playoffs.
Atlanta should be even more dangerous should Jeff Teague find his scoring touch. He went scoreless in Game 6 against the Nets, but had 13 assists. Facing Washington should help him find his groove. Teague has averaged 21.7 points in three regular season games against the Wizards.
What could clinch Game 1 and the series for Atlanta is its incredible depth. The Hawks bench outscored Washington's a total of 174-108 in the four-game regular season series. Backup power forward Mike Scott averaged 13 points in four games against Washington in the regular season, while point guard Dennis Schroder scored 9.5 per game.
The Hawks have won nine of their last 10 at home against Washington but are just 5-4-1 against the spread.
Writer's Prediction
The Hawks (-5) continue firing away to take Game 1. Atlanta goes on to win the series in six games.
The NBA Playoffs are heating up. Create a betting account now and join in on all the fun.
[sc:NBA490banner ]
1,931 total views, 1 views today
Comments
comments