It's been another wild week around the world of sports, highlighted by the NFL playoffs and NBA basketball. So without further adieu, let the week's worth of wackiness commence.
*h/t's to Deadspin, @gifdsports, Bleacher Report and The Big Lead for GIFs and videos 
Weekly Sports GIF and Highlight Roundup
A Tale of Two Quarterbacks
We suspect there's no need to tell you what happened in the big Manning-Brady Bowl, but in case you missed it, let these GIFs of the two quarterbacks tell the whole story.
Here's Peyton Manning, beaming with pride as confetti in his team's colors rain down upon him.
And here's Tom Brady, giving himself one last high five/face palm before his season ends a little earlier than he's used to.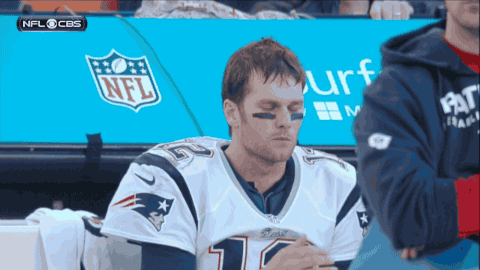 RICHARD SHERMAN STILL MAD BRO!
Richard Sherman saved the best for last in the incredible Seahawks-49ers NFC Championship Game. First he makes the decisive play of the game, tipping Colin Kaepernick's pass intended for Michael Crabtree to Malcolm Smith for the game-ending interception.
But then, in the post-game interview with Erin Andrews, Sherman — THE BEST! — delivers an epic interview for the ages bashing on that "sorry receiver" Crabtree. Enjoy (preferably with the volume not all the way up).
PG-360
Paul George won't be participating in the slam dunk contest this upcoming All-Star Weekend, but he'd absolutely get a perfect 50 if he pulled off his sweet dunk against the Clippers in New Orleans.
Austin Rivers Gets Abused
Doc Rivers better sleep by his son's side for a few nights, because little Austin is going to be having nightmares about the very bad thing the scary, bearded man did to him.
"Sir Lancealot"
Following in the footsteps of used car salesman Chris W. Bosh, Indiana Pacers guard Lance Stephenson — or should we say "Sir Lancealot" has taken to a more creative way to garnering NBA All-Star Game votes. He definitely has ours.
IN THE FACE!!
As if the insufferable heat isn't enough for the Australian Open ball children to endure, one unfortunate kid eats a nice fuzzy round one in the face (IN THE FACE!!) care of an errand Florian Mayer backhand. Took it like a champ, though!
Dwight Plays "Defense" on Durant
Kevin Durant is on fire this January. The NBA's leading scorer, who's averaging close to 37 PPG this month, probably isn't getting stopped when he's got a full head of steam going to the hole. Still, that doesn't quite excuse "Superman" Dwight Howard's help "defense".
Sessions Posterizes LeBron
GIFs or it didn't happen?
So, yeah. It happened.
The Kellen Winslow Incident
We go out on a truly bizarre note this week. Allow this video to succinctly summarize the incredible incident involving Jets tight end Kellen Winslow and "home-style meats".
3,301 total views, 1 views today
Comments
comments