The Southeast division is a tough one to top, given that it consists of the back-to-back defending NBA Champions, Miami Heat. Will the returning champs be as effective as they were last year? How will the other four teams stack up against up against them?
Preview of the Southeast Division Teams
Miami Heat
2012 Record: 66-16
It wasn't a walk in the park for the Miami Heat last season when they won their second straight NBA title.  After dispatching the Bucks and the Bulls in the first round and conference semifinals, respectively, the Heat were met by Indiana and San Antonio, both teams pushing them to Game 7s.
In a quest for a three-peat, the trio of LeBron James, Dwyane Wade, and Chris Bosh will be tested again heavily. James is sure to be his usual unstoppable self but Wade's health issues could be a major road block for Miami. Wade had to endure a bruised right knee and a swollen left knee during last season's playoffs which explains why he only put up a postseason scoring average of only 15.9 PPG.
[sc:NBA240banner ]Last season, Miami enjoyed high rankings in many statistical departments but that doesn't mean that the Heat don't need any help. The Heat were often out rebounded by their opponents in 2012. They were 18th in total rebounds (7.9 RPG), 23rd in defensive boards (29.9 per game), and third to the last in the NBA in offensive rebounds (8.5 per game). Having Chris Andersen underneath the basket just isn't enough.
To reinforce their interior, the team signed oft-injured former No. 1 overall pick Greg Oden although it seems that it will take some time before Miami gives him significant minutes in the rotation.
The Heat lost key contributor Mike Miller, who left for the Memphis Grizzlies during the offseason. However, Ray Allen exercised his player option and chose to return to South Beach. Coach Erik Spoelstra also hopes that Norris Cole and Mario Chalmers continue their impressive showing off the bench.
Miami opens up the season as the top favorites to win the NBA title. The Heat are priced +250 to defend their championship.
Bet on the Miami Heat at Top Bet Sportsbook.
Atlanta Hawks
2012-13 Record: 44-38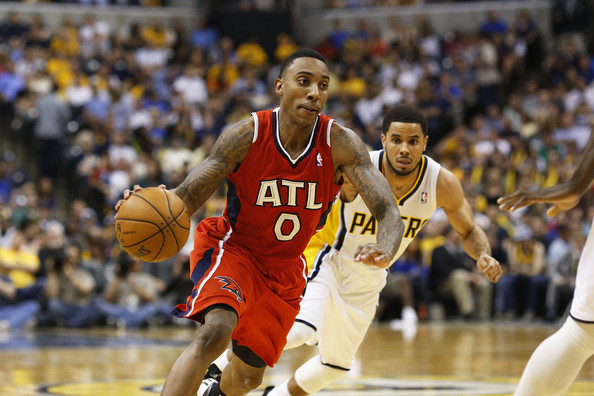 The Hawks stayed true to their good-but-not-great impression last season as they made the playoffs for the fifth straight time but failed to reach the conference finals in as many tries. They bowed out early in the playoffs succumbing to the Indiana Pacers in six games.
Atlanta finished as a sixth seed in last season's regular season with a 44-38 SU record. Against the spread, they owned a losing slate of 37-43-2.
Atlanta stared helplessly as Josh Smith walked away to free agency during the offseason. Along with Smith's departure could be the chance of the Hawks to extend their postseason streak appearance to seven. The hardworking Smith averaged 15.3 PPG and 8.0 RPG in 676 games as a Hawk.
The team patched the gaping hole in the roster left by Smith by luring Paul Millsap and Elton Brand to Atlanta. Millsap is a great pickup by GM Danny Ferry and he could form a formidable tandem with Al Horford.
[sc:NBA240banner ]By resigning Jeff Teague in the offseason, Atlanta is assured that their offense will be run by a familiar point guard. Atlanta is an underrated passing team and most people would not know that they are the second best team in the assist category last season with 24.5 dimes a game. Lou Williams is another key piece in the backcourt but is still recuperating from an ACL injury.
Whether this changes would be enough for Atlanta to sneak right into the playoffs again remains a question that should be answered little by little as the season progresses. The Hawks are currently priced a high +3000 to win the Eastern Conference championship and an even higher +7500 to get its franchise's first ever NBA title this coming season.
Bet on the Atlanta Hawks at Top Bet Sportsbook.
Washington Wizards
2012 Record: 29-53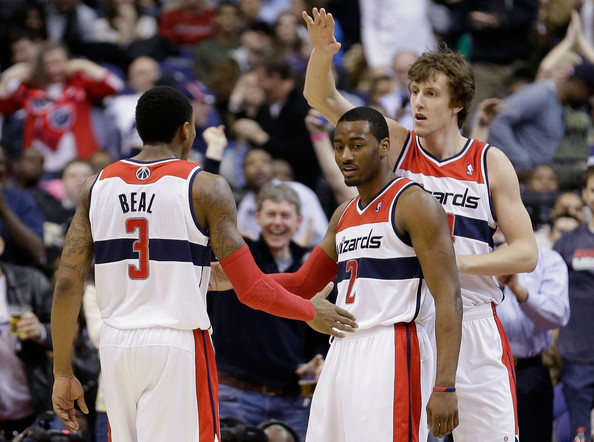 Again, the Wizards failed to record a winning season since drafting John Wall as their first overall pick in 2010. Apart from that, they also failed to win at least 30 games since 2008, the last season where they made the playoffs. All that could change in the upcoming 2013-2014 NBA season. And it could come during the last year of coach Randy Wittman's contract.
On paper, the Wizards' 29-53 SU record last season can easily turn off anyone who hears that Washington is bound for a considerable improvement this year. However, much of Washington's misfortunes can be attributed to the absence of Wall who missed a total of 33 games last season to injury.
Now that he's healthy, this might be time that Wall finally pulls the Wizards out of the rubbles. It's a tall order but Washington gave him an $80 million extension in case he needs extra motivation. The front office has also done its job of surrounding him with a sizeable supporting cast, too, starting off with backcourt partner Bradley Beal, who averaged 13.9 PPG last season.
[sc:NBA490banner ]
During the draft, the Wizards used their third overall pick to select Otto Porter. Porter failed to showcase his true potential in the Summer League because of injury, particularly to his hamstring. He will reportedly be playing off the bench early in the season but expect him to be a starter as the season deepens.
If the Wizards intend to put itself into the playoff picture, then they will need Nene Hilario to stay healthy. Hilario and Emeka Okafor, though not a top-tier frontline combination, is still a solid one. Hilario only played 61 games last season and prior to that only played 11 games for the Wizards in the 2011.
The Wizards are far from being a scary good team in the East but that is not to say that they don't have the capability to send shockwaves across the conference.
Bet on the Washington Wizards at Top Bet Sportsbook.
Charlotte Bobcats
2012 Record: 21-61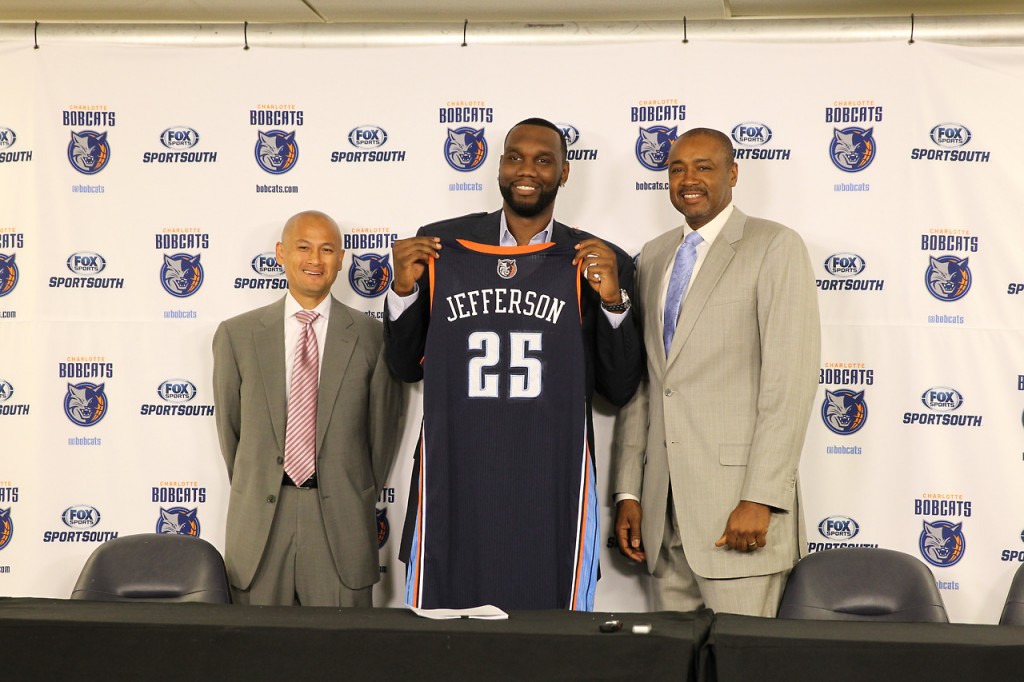 You can only find the Charlotte Bobcats hanging around the top of an NBA list when teams are alphabetically arranged. Other than that, you'll most likely find them dwelling in the bottom of many statistical rankings in the league. However, hope springs eternal for the Bobcats who have won only 21 games last season.
In search for an anti-dote to these blunders, the Bobcats fired head coach Mike Dunlap and replaced him with Steve Clifford. Clifford was a former assistant for the Los Angeles Lakers and hopes that the experience he got from one of the winningest clubs in the league would serve him well.
As shown by their statistics last season, the Bobcats need improvement both on offense and defense. Charlotte was 26th in scoring (93.4 PPG), 27th in rebounding (40.3 RPG), and second worst in points against, allowing opponents to burn them for 102.7 PPG.
Signing Al Jefferson to a lucrative three-year contract worth $41 million is one solution the Bobcats front office has done to address their mediocre frontline. Jefferson averaged 17.8 PPG and 9.2 RPG last season in Utah. Jefferson's presence inside for the Bobcats would mean that they now have the ability to intimidate opposing teams inside, whereas in the previous season, only center Byron Mullens averaged at least 10.0 PPG and 6.0 RPG.
Charlotte has never had a player of Jefferson's quality and Clifford will be tasked to find a way on how to best utilize him.
But the frontline improvement of Charlotte doesn't end at Jefferson. During the draft, the Bobcats used their fourth overall pick to select Cody Zeller, a seven-foot center out of Indiana University. Zeller has been described as a great team player that comes with a very high basketball IQ. Sounds like a player that the Bobcats really needs in their long climb to respectability.
Bet on the Charlotte Bobcats at Top Bet Sportsbook.
Orlando Magic
2012 Record: 20-62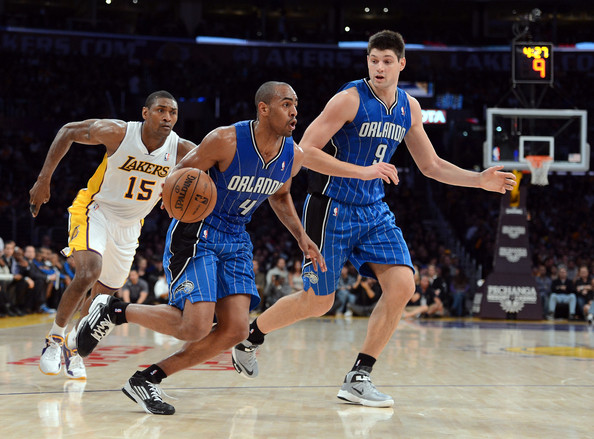 Magic fans were treated to something new last season. Something they haven't tasted in the last six seasons prior to the departure of Dwight Howard. And that is a losing record. After making the playoffs each season since 2006-2007, the Magic were shot back to the depths of futility after posting the league's worst record of 20-62 SU.
It was Orlando's lowest winning output since the franchise gained entry into the league in 1989 where they finished with only 18 wins.
Somehow, in the clutter of losses, general manager Rob Hennigan can still find comfort in the three youngsters that has shown tremendous potential. Nikola Vucevic, Maurice Harkless and Tobias Harris all had their share of moments last season giving off a sense that the future is bright for the squad. Among those three, Vucevic was the most impressive. Someone Orlando can lean on the next season.
Vucevic played heir apparent to Howard by hauling down 11.9 RPG. It was the second best rebounding average in the league only lagging behind then Lakers' center and Magic predecessor Howard who has 12.4 RPG. Vucevic was also just as ferocious on the offensive glass with 3.5 ORPG, good for sixth in the league.
Glen Davis is uncertain whether he could start the season healthy but in case he's not ready, Orlando's power forward position can make use of its depth with Harris and newly acquired Jason Maxiell. Maxiell brings in not only experience but also could serve as a mentor to the younger guys in the Magic's frontline.
Another one to watch out for is Magic rookie Victor Oladipo. As early as now, pundits have been labeling Oladipo as this season's top rookie of the year candidate. The former Indiana Hoosiers swingman was tasked by Orlando to play point guard during the Summer League and so far, he has been impressive. He will ease in the Magic's rotation as a shooting guard but expect him to man the point any given time.
[sc:NBA490banner ]
Bet on the Orlando Magic at Top Bet Sportsbook.
2,346 total views, 1 views today
Comments
comments