The UCLA Bruins improved to 10-3 SU overall in their second season under head coach Jim Mora in 2013, but their 6-3 SU record last year wasn't enough to seal a second consecutive Pac-12 South Division title. However, they did defeat the Virginia Tech Hokies at the 2013 Sun Bowl to end their season on a high.
With their dynamic quarterback returning to orchestrate an explosive offensive units, the Bruins will be gunning to be a major force in the Pac-12 this season. Read on for everything you need to know about the UCLA Bruins for the upcoming season and don't miss our complete 2014-2015 college football picks and predictions as well as our breakdown of the race for the Heisman Trophy.
[sc:NCAAFArticles ]
2014 UCLA Bruins Season Preview
Key Player – QB Brett Hundley
Quarterback Brett Hundley has all the tools his team needs on offense. Hundley is the complete offensive package, who can pass, rush or even catch the ball himself. A perfect illustration of his all-around ability came in last season's game against Utah, where he became the first player in Bruins history to pass for, run for and catch a touchdown in a single game.
[sc:NCAA240banner ]Last season, Hundley led the team in both passing (3,071) and rushing yards (748), and accounted for 36 touchdowns (24 passing, 11 rushing a one receiving). The junior quarterback, who is expected to put up some more impressive offensive numbers this season, is +1,600 to win the 2014 Heisman Trophy.
Strength – Offense
Hundley will be leading a team with one of the deepest pool of receivers in college ball, led by standouts Devin Fuller and Jordan Payton. Fuller caught the ball 43 times for 471 yards, while Payton had 38 receptions for 440 yards last season. The two wide receivers will be two of the more experienced players for UCLA in the coming season as they enter their senior year.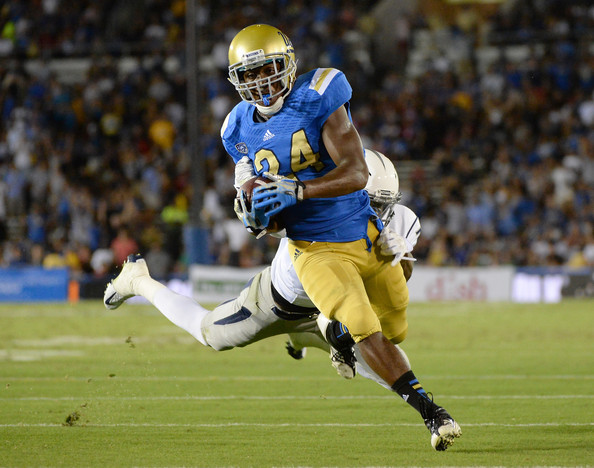 The running game should be big for the Bruins with Paul Perkins (573 yards) and Jordon James (534 yards). Perkins showed tremendous potential last season during his freshman season as he led the Bruins running backs in rushing yards. James, on the other hand, is returning from injury and will use his experience as a senior to help guide his team.
If the two running backs can't rush the ball effectively themselves, quarterback Hundley can surely run the ball himself as he showed numerous times last season, when he led the team in rushing yards.
The UCLA Bruins are +1,400 to win the 2015 National Championship.
The college football season can even be more thrilling with the wonders of sports betting. Create a betting account now and enjoy an explosive football season.
Weakness – Offensive Line
The Bruins' offensive line needs works. They ranked 11th in the Pac-12 in sacks allowed with 36.0 and 94.0 tackles for loss (lost 332 yards) in 2013. Hundley's passing game could've produced more for his team had he been protected better.
Most of the team's offensive linesmen are coming back this year to keep the offensive line intact. Their experience could be the difference in a win or two for the Bruins in 2014.
Key Game – October 11 vs. Oregon Ducks
If the UCLA Bruins want to be taken seriously as a Pac-12 power, then they'll need to take out one of the conference's big boys in the Oregon Ducks. The Ducks, who possess one of the most potent offenses in the nation, will be led by quarterback Marcus Mariota, who ranked fourth in the Pac-12 for passing yards (3,665 yards).
Last year, Oregon dominated UCLA, 42-14, at the Autzen Stadium. However, UCLA will have its home crowd behind the team this year, which may be enough to inspire them to a huge conference win.
Writer's Prediction
The UCLA Bruins have a manageable schedule ahead of them, but will fall against the top teams they meet. UCLA goes 9-3 SU in the regular season falling to Stanford, Oregon and Arizona State.
[sc:NCAA490banner ]
2,296 total views, 2 views today
Comments
comments