All eyes will be on the Kentucky Speedway as NASCAR brings the Sprint Cup Series to the track on June 28. The best-of-the-best NASCAR drivers will once again put their skills to the test on the rough track in an attempt to rack up the points for the Sprint Cup Championship.
There are just 10 more races before the Chase for the Sprint Cup. Will the championship favorites hold the spotlight, or will drivers from the middle-of-the-pack rise to steal it? Read on for a complete preview highlighting the favorites, high-value picks and long shots for this high-octane race below and check out our complete NASCAR Quaker State 400 odds to get into the action.
Meanwhile, the World Cup is about to begin the knockout round. Stay updated with the latest games by reading the latest World Cup game previews here.
[sc:MultiSportArticles ]
NASCAR Quaker State 400 Preview
Favorites: Jimmie Johnson, Brad Keselowski and Kyle Busch
Jimmie Johnson (+350) is the biggest favorite in this race. He's won three of his last five Sprint Cup Series races, and has been in the top 10 in his last 16. However, he has never won at the Kentucky Speedway, making it one of only a handful (Chicagoland, Homestead-Miami and Watkins Glen International Speedways) he hasn't conquered. Nevertheless, he showed an ability to adapt when he finally finished first at the Michigan International Speedway after failing to win the track in his previous 24 starts.
[sc:NASCAR240banner ]Brad Keselowski (+800) is another favorite in the Quaker State 400 having a stellar season so far. He has three top-five finishes and four top-10s in his last five races.
It should also be noted that Kentucky is one of Keselowski's best tracks. He finished first at the Kentucky in 2012, which sent him on a hot streak to win that year's Sprint Cup Championship in just his third full-time season. Keselowski also won the Nationwide Series race at Kentucky last year, but came up short at the Sprint Cup after being involved in a seven-car wreck.
Still, expect him to finish at least in the top five, if he doesn't win the race altogether.
Another driver worth keeping an eye on on Sunday is Kylse Busch (+1,200). Busch has one win, along with two top-fives and three top-10s at the track. He's also excels at the Kentucky, having the second-best Driver Rating and Fastest Laps Run at 125.2 and 104 respectively at the raceway.
High-Value: Kyle Larsen and Austin Dillon
Sprint Cup Series rookie Kyle Larson (+2,500) should not be overlooked. He is one of the best drivers at intermediate race tracks this season. In his first race at Kentucky, Larson finished seventh as part of the 2013 Nationwide Series.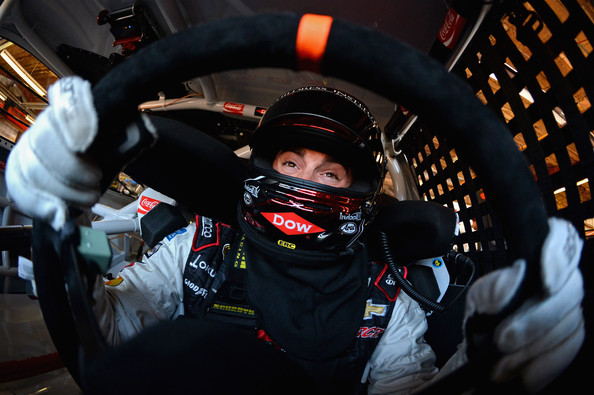 Austin Dillon (+8,000) is another high-value pick to win the Quaker State 400. Because of his dirt racing background, he has done well on rough tracks like Kentucky. In his eight previous starts at the track, he has two wins, four top-fives and six top-10s. His first win in the Nationwide Series came at the Kentucky June 6th, so he will be attacking confidently this time out.
Long Shots: Danica Patrick and AJ Allmendinger
Danica Patrick (+20,000) is a long shot to win the Quaker State 400 at Kentucky, but she should not go unnoticed. Taking the wheels of faster cars this season has her consistently finishing in the top 20. On June 6, she raced  in the top 15 for the whole evening at Kentucky Speedway, eventually finishing 12th after climbing as high as fifth.
AJ Allmendinger (+20,000) has not been great this year. His average starting position is 19.7, while his average finishing position is 18.7. Finishing just one place over his starting position isn't impressive and doesn't warrant much recognition. However, Allmendinger has three career starts at Kentucky finishing once in the top-10.
Writer's Prediction
Austin Dillon feels most at home at rough tracks like the Kentucky Speedway. His experience on the surface will be enough to steal the spotlight and come away with a handsome payout for those who bet his +8,000 line. Create a betting account now and get into the action this weekend.
[sc:Nascar490banner ]
2,077 total views, 1 views today
Comments
comments