There are just four teams left standing as the NFL playoffs move on to the conference championship games, both of which will be played on Sunday, January 24th. At this point, no one's a "sleeper" anymore, especially when all four teams are either a No. 1 or No. 2 seed. These are without question the very best of the best teams this season.
[sc:NFL-AFC250 ]But two teams are still going to be considered as having lower chances of winning, even though they have every shot at taking down their favored opponents. Let's breakdown those two title games and make the case for (and against) those sleepers heading their respective matchups.
Meanwhile, check out our complete previews of the Pats vs. Broncos and Cardinals vs. Panthers.
[sc:Football ]
Sleepers in the 2015-16 NFL Conference Championship Games
New England Patriots at Denver Broncos (+4) (3:05 PM ET)
Why the Broncos will win: Peyton Manning has yet to throw a touchdown in the 46 pass attempts he's had since reclaiming the quarterback spot from Brock Osweiler, but he's making enough plays to get by.
[sc:NFL250 ]The running game has also helped ease the pressure on Peyton offensively. It was arguably the biggest reason why the Broncos came away with a 30-24 win over the Pats in Week 12. The Broncos gashed the Pats for 179 yards and three touchdowns on the ground.
The Denver defense, of course, is the best unit on the team. It finished No. 1 in both overall and weighted DVOA, which meant it was excellent from start to finish. If any defense can disrupt the Pats' rhythm offensively, it's the Broncos and their formidable pass rushers.
Home-field advantage will also help, as always. The Broncos are 16-4 in their last 20 games at Mile High.
Why the Broncos will lose: The Broncos had their share of problems stopping a Steelers team missing both Antonio Brown and DeAngelo Williams and had a limited Ben Roethlisberger. They might have even more trouble slowing down a Pats offense that will have the trio of Rob Gronkowski, Julian Edelman and Danny Amendola back together. Edelman and Amendola missed their meeting earlier this season.
Manning also doesn't inspire too much confidence, especially if he needs to throw more than he should. If the Pats can jump ahead to a big lead early, it remains to be seen whether Manning (and his clearly limited arm) has what it takes to lead his team back.
Writer's Prediction: The Broncos (+4) lose a tight contest, 24-21, but just about cover the spread.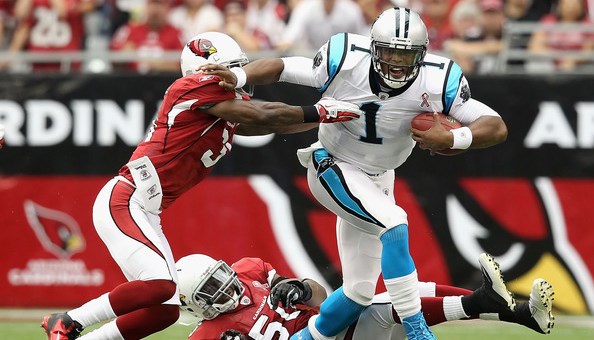 Arizona Cardinals (+3) vs. Carolina Panthers (6:40 PM ET)
Why the Cardinals will win: Don't be fooled by the Cardinals' unconvincing last two games. They are still a very dangerous team, and could be the most explosive offense left standing. They have a seemingly endless supply of weapons, particularly in the passing game, who can reel off big plays even against Carolina's top defense.
Arizona's own defense is quite outstanding, and has the ability to take away not only one, but possibly even two of the things the Panthers do well offensively.
The Cards are the No. 2 run defense per DVOA this year, and could be able to slow the Panthers down on the ground. They're also No. 7 in the defending tight ends, which will come in very handy against Greg Olsen, Cam Newton's security blanket in the passing game.
Why the Cardinals will lose: As good as the Cardinals have been, the Panthers might just be better. Did you see how easily Carolina carved up a 31-0 lead against a very dangerous Seahawks team? Newton is playing on another level at quarterback at the moment, and his ability to make plays with his legs is always a big weapon.
The Panthers also have home-field advantage, which they have used to great effect in recent history. They went a perfect 9-0 (7-2 ATS) at home this season, and are 12-0 (8-4 ATS) dating back to last year.
Writer's Prediction: The Cardinals (+3) put up a valiant effort, but ultimately lose 30-27.
Create a betting account now and cash in on all the conference championship action.
[sc:NFL-NFC620 ]
1,708 total views, 1 views today
Comments
comments