The 2015 Tour de France has completed 16 stages already but the toughest stretch of the event is just about to begin, as the riders are set to face the Alps challenge. Stage 16 hasn't resulted into major shakeups atop the general classification, with Chris Froome still on top. But with the intimidating Alps in the background, will Stage 17 be the start of a drama-filled windup of the tour?
If you prefer a different kind of race, then head over to our preview of the Formula One 2015 Hungarian Grand Prix.
[sc:MultiSportArticles ]
2015 Tour de France Preview
Schedule
| Stage | Date | Course | NBC Sports Network (TV Schedule) |
| --- | --- | --- | --- |
| 17 | July 22 | Digne-les-Bains – Pra Loup | 8:00 AM ET |
| 18 | July 23 | Gap – Saint-Jean-de-Maurienne | 8:00 AM ET |
| 19 | July 24 | Saint-Jean-de-Maurienne – La Toussuire | 7:00 AM ET |
| 20 | July 25 | Modane – Alpe d'Huez | 7:00 AM ET |
| 21 | July 26 | Sèvres – Paris | 3:00 AM ET |
[sc:Other240banner ]Are you a cycling fan? If you are, then you've probably  referred to NBC Sports Network as your best friend over the past couple of weeks. NBC viewers will continue to get feeds of the event for the remaining five stages. That includes the network's coverage of Stage 17, which is scheduled to start at approximately 8 AM ET.
Expect NBC to improve further on their brilliant coverage as the tour prepares for its final stages, especially with the network receiving great numbers. In fact, the 2015 Tour de France on NBC has been averaging 336,000 viewers through the first 15 stages. It's the highest figure posted since 2010, Lance Armstrong's Tour de France encore.
Upcoming Stages
| Stage | Date | Type | Course | Distance |
| --- | --- | --- | --- | --- |
| 18 | July 22 | Mountain | Gap – Saint-Jean-de-Maurienne | 186.5 km |
| 19 | July 23 | Mountain | Saint-Jean-de-Maurienne – La Toussuire | 138 km |
| 20 | July 24 | Mountain | Modane – Alpe d'Huez | 110.5 km |
Stage 18
Following the stiff challenge of Stage 17, riders will have to be ready to face yet another mountainous terrain in Stage 18, which runs 186.5 km long. The stage begins from Gap and ends at Saint-Jean-de-Maurienne. This stage comes with plenty of hairpins, including 18 consecutive ones. Perhaps the most anticipated one is that at Montvernier, just 10 km from the finish line.
Stage 19
At 138 km, Stage 19 is the second shortest of the seven mountain stages. Riders, however, should beware of the numerous challenging tests the course that runs from Saint-Jean-De-Maurienne to La Toussuire-Les Sybelle offers. This stage features a number of climbs, including the ones that begin at the foot of Col du Chaussy and at the tough side of Croix-de-Fer. And of course, there's also the stage's last ascent that leads to the finish line at La Toussuire.
Stage 20
Stage 20 is the penultimate stage and the final mountain type route of the tour, so expect it to be an exciting one. The peloton departs Modane and will have to traverse a relatively short course of only 110.5km. Rather than tackling the col du Galibier pass, though, riders have to pass through the col de la Croix de Fer pass again, albeit from another slope.
Looking to profit from the biggest sporting events in the world? Create a betting account now and win big on heart-thumping sports action.
Yellow Jersey Favorites
Chris Froome
Froome is a man on a mission, as it appears it would take more than a bag of urine thrown at his face to stop the Britsh from winning the 2015 Tour de France. Despite finishing outside of the top 10 in Stage 16, Froome remains seated at No. 1 in the general classification with a three-minutes 10-second cushion between him and current second placer, Nairo Quintana.
Nairo Quintana
Speaking of Quintana, it's now time for the Colombian hotshot to show why he's one of the best climbers in the world. After expressing his excitement for the Alps stages, Quintana has clearly didn't do enough in Stage 16 to put pressure on Froome, as he's still over three minutes behind the Brit. Hope is still there for Quintana, but he'll have to put on a great show come Stage 17.
Sleeper
Alberto Contador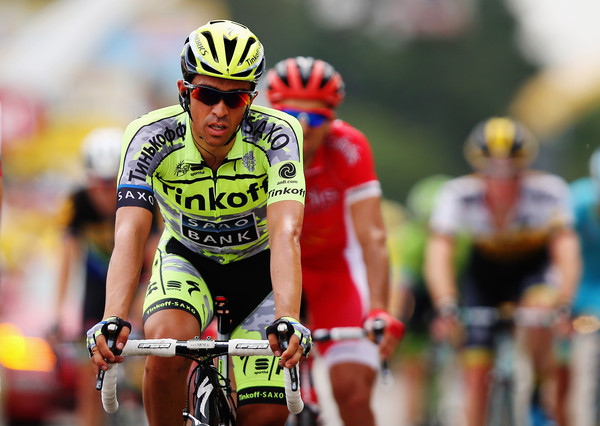 Contador has no plans of going silently into the dark. In a recent interview, the Spaniard expressed his intention to go all out in the remaining stages of the tour. Of course, he'll have to back those words up to reduce the sizeable 4:23 lead of Froome. Currently in fifth place in the general classification, Contador needs to be at his best moving forward if he is to capture the third Tour de France title in his career.
Tejay Van Garderen
Like Quintana and Contador, Van Garderen didn't help himself much in Stage 16 as he finished in the same bunch that included Froome. That said, Van Garderen remained in contention for at least a third-place finish in the tour after Stage 16, as he' still at third place, 3:32 back of first place.
Writer's Prediction
Froome remains at first place, while Van Garderen overtakes Quintana for second place.
[sc:Other490banner ]
1,673 total views, 1 views today
Comments
comments