---
A new season of NASCAR, a new set of sponsors, rules and regulations.
2017 will have one of the most exciting and unpredictable seasons in stock-car racing, given how NASCAR has drastically altered this year's format of its premier series – Monster Energy Drink's massive sponsorship notwithstanding. Then again, most if not all of the circuit's top drivers are back in action, so we should expect a good number of the sport's biggest names to have stellar campaigns.
And with that, let's take a look at a handful of drivers worth keeping an eye on this year and their respective chances to win the Monster Energy NASCAR Cup Series title at the end of the season.
---
Most Recent Articles
---
2017 Monster Energy NASCAR Cup Series Futures Odds
Favorites
Kevin Harvick (+500)
He may not be dominantly winning races like NASCAR's legends of past, but it's hard to argue against the fact that Kevin Harvick is the most consistent driver in the scene today.
Last season, the former Sprint Cup Series champion had another spectacular campaign, having four wins, an average finish inside the top 10, and more than 1,300 laps led. And although Harvick failed to reach the Championship 4 for the first time since NASCAR introduced the elimination format of the Chase, you're still hard-pressed to find another driver that has the potential to win every race on the calendar.
Jimmie Johnson (+650)
Already a lock in the NASCAR Hall of Fame, Jimmie Johnson has simply refused to ride off into the sunset quietly. The ageless 41-year-old is NASCAR's reigning champion, having defied father time once more with his four wins and 15 top-10 finishes in 2016.
Johnson's not getting any younger, though, and there are plenty of young upstarts ready to become the next face of the sport. However, with seven titles and counting, we don't expect good ol' Jimmie to take his foot off the pedal for the foreseeable future just yet – maybe not until he breaks the record with eight Cup Series titles won.
Sleepers
Denny Hamlin (+1,400)
Denny Hamlin may not be getting a ton of attention compared to the likes of Harvick and Johnson, but it wouldn't be wise to sleep on the Joe Gibbs Racing product at all.
22 top-10 finishes and an average finish of 11.8 are both career bests for Hamlin, and he was also that close in advancing to the championship round of the previous campaign. He hasn't had four victories in a single season since 2012 too, so we should expect more big things from the Tampa native this 2017.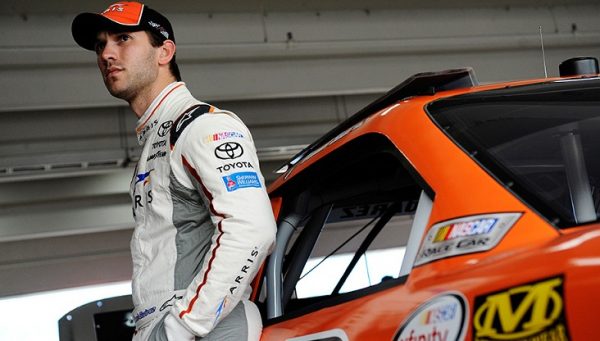 Daniel Suarez (+1,400)
Defending Rookie of the Year Chase Elliott has gotten a ton of press from his big debut, and it seems as if 25-year-old Daniel Suarez is well in line to become the next young Cup Series sensation.
Suarez won the Xfinity Series championship last year to become the first Mexican-American to win a NASCAR touring series title, making him an immediate draw to Hispanic viewers. Suarez also has good company from Joe Gibbs Racing such as Hamlin, Kyle Busch and Matt Kenseth to show him the ropes of the Cup Series, so don't be surprised if he finds instant success in his maiden season as the heir apparent to the recently-retired Carl Edwards.
Long Shot
Ryan Blaney (+5,000)
It's too early to tell if this is indeed Ryan Blaney's year, despite being just 23 years of age and ending up with top-15 finishes in half of his starts last year.
What's hurting Blaney's projection for this season is that his team, Wood Brothers Racing, has to go through hoops just to qualify for races as opposed to the other NASCAR heavyweight teams that are automatically included in every race. And even though Blaney and Co. managed to qualify for every race in 2016, having only two podium finishes (both third-placers) the entire year simply won't cut it against the rest of the top-heavy field either.
Complete List of Odds
| Driver | Odds | Driver | Odds |
| --- | --- | --- | --- |
| Kevin Harvick | +500 | Jimmie Johnson | +650 |
| Kyle Busch | +700 | Joey Logano | +750 |
| Martin Truex Jr. | +800 | Brad Keselowski | +900 |
| Chase Elliott | +1,000 | Matt Kenseth | +1,000 |
| Dale Earnhardt Jr. | +1,000 | Denny Hamlin | +1,400 |
| Daniel Suarez | +1,400 | Clint Bowyer | +1,800 |
| Kyle Larson | +2,000 | Kurt Busch | +2,500 |
| Erik Jones | +3,000 | Kasey Kahne | +4,000 |
| Austin Dillon | +4,000 | Ryan Blaney | +5,000 |
| Ryan Newman | +7,500 | Field (any other driver) | +1,000 |
Create a betting account now to start placing stakes on the newly revamped NASCAR Cup Series this instant!

2,194 total views, 1 views today
Comments
comments