The Atlanta Hawks moved to within a victory of the Eastern Conference Finals after a dramatic 82-81 win on Wednesday night. Al Horford provided the late game heroics in Game 5 as the Hawks took another big step towards their quest to lift their second NBA title.
All is not lost though for Washington. The Wizards were just a defensive stop away from grabbing a 3-2 lead and they would want nothing more than to force a winner-take-all Game 7 this coming Friday. Read on below for a preview of this pivotal Game 6.
Keep tabs on all of the NBA postseason action. Head on over here for our preview of the Western Conference Game 6 matchup between the Golden State Warriors and the Memphis Grizzlies.
[sc:NBAArticles ]
Atlanta Hawks vs. Washington Wizards Game 6 Preview
Series Scores and Schedule
Game 1 – May 3, Washington Wizards 104 at Atlanta Hawks 98
Game 2 – May 5, Washington Wizards 90 at Atlanta Hawks 106
Game 3 – May 9, Atlanta Hawks 101 at Washington Wizards 103
Game 4 – May 11, Atlanta Hawks 106 at Washington Wizards 101
Game 5 – May 13, Washington Wizards 81 at Atlanta Hawks 82
Game 6 – May 15, 7:00 PM ET, Atlanta Hawks (+2.5) at Washington Wizards (-2.5) – view all NBA lines
Game 7* – May 18, 8:00 PM ET, Washington Wizards at Atlanta Hawks
* If necessary
Betting on the Atlanta Hawks
The Atlanta Hawks have four All-Stars this season, and yet we can't tell who that one superstar is that can take over the game. In Game 5, Al Horford stepped up and became the kind of superstar the Hawks desperately need.
Not only did Horford manage to grab the offensive rebound and score the game-winning basket, he also put up some spectacular numbers for Atlanta. Horford finished the game with team-highs of 23 points, 11 rebounds, five blocks and no turnovers.
[sc:NBA240banner ]Atlanta also has to be impressed with their defensive effort in Game 5 against the Wizards. They held Washington to just 37% shooting from the field, with 11 steals and 13 blocks as a team.
With John Wall expected to start for the Wizards in Game 6, starting point guard Jeff Teague and his backup Dennis Schroder must command the Hawks' offense more efficiently. Teague and Schroder combined for a total of 11 turnovers in Game 5.
Another pressing concern for the Hawks heading into Game 6 is their poor perimeter shooting. Atlanta went just 5-for-22 from downtown in Game 5. Their sharpshooter Kyle Korver shot just 1-of-5 from beyond the arc, with his lone three-ball coming in with a little under five minutes remaining in the game.
Atlanta is 6-3-1 ATS in its past 10 games against Washington.
Create a betting account now and put your NBA playoff predictions to the test!
Betting on the Washington Wizards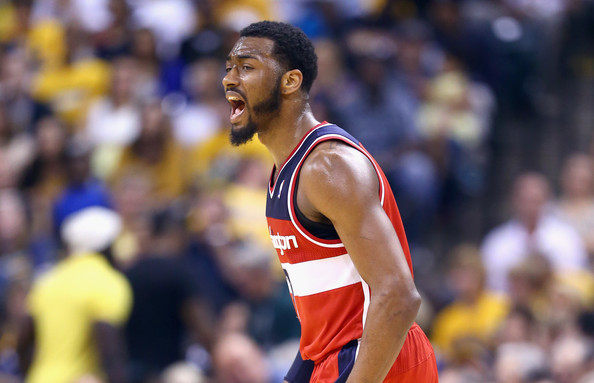 Paul Pierce wanted to break the Atlanta fans' hearts once more, and with a three-pointer with 8.3 seconds left in the game, he almost did. Unfortunately for the Washington Wizards, Al Horford and the Atlanta Hawks would have the final say in the outcome.
Pierce's shot put Washington up 81-80, in what could have been another dagger in Pierce's storied NBA postseason career. However, that three-pointer would be one of only four makes from downtown by the Washington Wizards in the game. Like Atlanta in this game, Washington had a tough time connecting from deep. The Wizards must make full use of their outside shooting from their wingmen in Pierce, Bradley Beal and John Wall for them to stand a chance in Game 6.
Speaking of John Wall, how shocked were we that he suited up for Game 5? Even more of a surprise was that Wall played as if he wasn't bothered by the fractures in his left hand and wrist.
Wall didn't put up gaudy numbers in Game 5 but was efficient nonetheless, finishing with 15 points on 7-of-16 shooting, seven assists and four steals. Oh, and he put up those numbers by playing 37 tough minutes.
With Wall active in the lineup, the Washington Wizards have no reason to doubt that they can still win the series against Atlanta. Washington's offense must go on overdrive though and outmatch the Atlanta defense, as the Wizards have not won a game in this series where they scored less than a hundred points.
The Wizards are 8-2 ATS in their past 10 games.
Writer's Prediction
John Wall puts on a show in front of the Washington fans, as the Wizards (-2.5) win, 109-103, to force a Game 7 back in Atlanta.
[sc:NBA490banner ]
2,465 total views, 2 views today
Comments
comments