Great hoops from the pros as well as the amateur ranks tonight. The Grizzlies look to continue their charge up the standings, while the Blazers need to bounce back from a big loss.  In the NCAA, the still-shorthanded Spartans hope to avoid their first losing streak of the season against the hungry Hawkeyes.
[sc:BettingArticlesShortcoder ]
Sports Betting Preview for January 28
Top Stories in Sports Today
NBA – Durant Drains Dagger for 8th Win
Kevin Durant's 41 points, including the go-ahead jumper with 1.5 seconds left, fueled the Oklahoma City Thunder's 111-109 come-from-behind win over the Atlanta Hawks. The Thunder have now won 8 straight games.
NBA – Raps Rob Nets
A Patrick Patterson steal and go-ahead jumper sealed a close 104-103 win over the Brooklyn Nets. The loss snaps Brooklyn's five game winning streak
NCAAB – Duke Drubs Pitt
Jabari Parker and Andre Dawkins combined for 41 of Duke's 80 points as the Blue Devils cruised to an 80-65 victory over Pittsburgh. Duke has now won five straight games.
Top Bet Games to Bet On
NBA – Memphis Grizzlies vs Portland Trailblazers (10:00 PM ET)
The Portland Trailblazers will be glad to return home after three straight road game losses. All three came against likely Western playoff teams (the Rockets, Thunder and Warriors). LaMarcus Aldridge had his worst game since January 2 as he tallied only 10 points on 2-14 shooting against the Warriors. Portland is an impressive 6-0 SU in their last 6 home games.
Odds: Grizzlies (+5) vs Blazers (-5); O/U: 196.5
[sc:NBA240banner ]Their next opponent, the Memphis Grizzlies, are intensifying their chase for that final playoff spot in the West. A 7-1 SU streak in Memphis' last 8 games has catapulted them to within just 2 games of the 8th-placed Mavs. Not surprisingly, their great run has coincided with the return of reigning DPOY Marc Gasol, who will likely be matched on Aldridge. The Grizzlies are yet to concede more than 100 points since Gasol's return two weeks ago.
NCAAB – Michigan State vs Iowa (7:00 PM ET)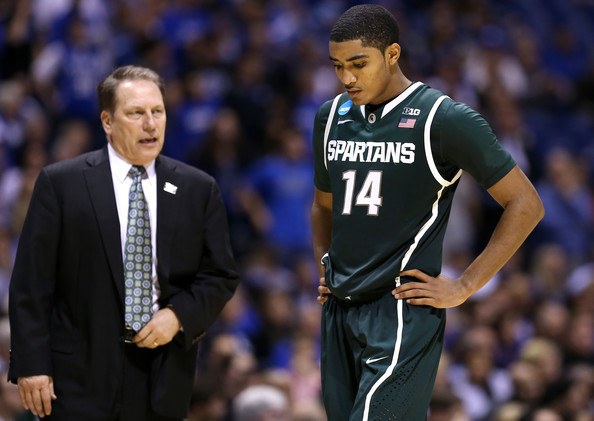 Michigan State lost its first conference game of the season last Saturday to state rivals Michigan. The Spartans weren't able to overcome the losses of starters Branden Dawson and Adreian Payne, who is still doubtful for tonight's game. Gary Harris stepped up with 27 points, but the rest of Spartans will need to chip in offensively if they hope to avoid a first losing streak of the season. Michigan is 7-0 SU in its last 7 road games.
Odds: Michigan State (+6) vs Iowa (-6)
Iowa was also a recent victim of Michigan, but they immediately bounced back with a 76-50 thrashing of Northwestern. Armed with the 5th best offense in the nation (85.3 PPG), the Hawkeyes now have a great opportunity to claw back their 1.5 game deficit on the second placed and shorthanded Spartans in the conference. Iowa is 6-0 SU in its last 6 home games.
For the most comprehensive list of NFL, NCAAF, MLB, and NHL game odds and betting lines, plus other sports, visit Top Bet's sportsbook.
[sc:NCAAB490Banner ]
1,365 total views, 1 views today
Comments
comments