---
The 2017 Monster Energy NASCAR Cup Series will take the action to famed Indianapolis Motor Speedway this week for the Brantley Gilber Big Machine Brickyard 400.
With the playoffs looming on the horizon, drivers will definitely be amped to put out their best stuff in Indy. Let's take a look below at the names worth keeping tabs on.
---
Most Recent Articles
---
2017 Brickyard 400 Betting Preview
*view all 2017 Monster Energy NASCAR Cup Series futures odds here
Favorites
Kyle Busch
Simply put, there's no other driver from this week's field who's had as much success at Indianapolis than Kyle Busch, who's currently priced at +550 to win the Cup Series championship this year.
The Joe Gibbs racing standout came out victorious in his last two trips to The Brickyard. Busch also finished no worse than second in four of his last five trips and has an on-going streak of seven-straight top 10s on the course.
Kyle Larson
From the old Kyle to the young Kyle we go, as 24-year-old Kyle Larson is also considered one of the favorites to win on Sunday.
Larson only has three starts at The Brickyard as a pro, yet he's finished in the top 10 in all three of those appearances, and his average finish of 7.0 is tops amongst all active drivers. Throw in back-to-back runner-up finishes entering this week's race to give him eight second-place finishes and two wins this 2017, and you'd really be hard-pressed to ignore the Cali kid as your pick this week.
Sleepers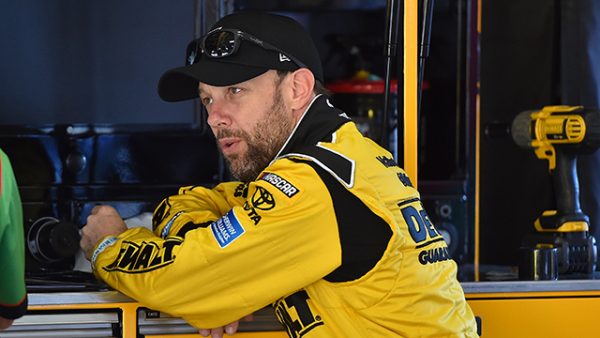 Matt Kenseth
Unlike fellow teammate Kyle Busch, Matt Kenseth has only come close to winning the Brickyard 400 in the past, having finished as the runner-up of the race on three occasions. The 45-year-old veteran is certainly consistent on this week's course at that, with eight top-five finishes in 17 career starts at The Brickyard.
Kenseth almost won his first race of the season last week at New Hampshire if not for tire troubles, so you know he'll be licking his chops to finally seal the deal this weekend.
Denny Hamlin
Speaking of New Hampshire, it was Denny Hamlin who took home the checkered flag this past week to guarantee him a spot in the playoffs.
The Tampa native is on a roll, bagging four top-four finishes in four of the last five races of the season. Hamlin's recent outings at The Brickyard aren't too shabby either, as he has three consecutive top-five finishes and a total of five over his last eight starts on the track.
Long Shot
Kasey Kahne
It's now or never for Hendrick Motorsports' Kasey Kahne, who desperately needs a win after plummeting from the 16th to the 22nd spot in the drivers standings following a string of nine-straight finishes outside of the top 15.
Kahne took home third place at the Brickyard 400 in 2013 and sixth in 2014, so he's had some pretty impressive performances in Indy under his belt. On the other hand, No. 5 also failed to crack the top 15 of the race over the last two seasons.
Writer's Prediction
Larson emerges victorious for his second win of the season.
Create a betting account now to start placing stakes on all the fast-paced NASCAR Cup Series action this instant!

2,633 total views, 1 views today
Comments
comments