The wait is almost over. After taking the Kentucky Derby and the Preakness Stakes, American Pharoah is now one win away from becoming the first Triple Crown winner since 1978. But despite being the big -110 favorite to win the Belmont, years of history suggest that the odds are actually stacked against American Pharoah breaking the 37-year Triple Crown drought.
So in anticipation of the potentially historic race, read on below as we take a look at five factors going for or against American Pharoah in his quest for for that elusive Triple Crown.
Don't forget to check out our coverage of the Belmont Stakes with our complete race preview here, as well as our look at the potential sleepers here.
[sc:MultiSportArticles ]
Can American Pharoah Win the Triple Crown?
Length of the Track
[sc:Other240banner ]American Pharoah proved his class over the 1 ¼-mile track at Churchill Downs, winning the Kentucky Derby by a length. He then stamped his dominance even more emphatically in the much shorter Pimlico track by running away with the Preakness by seven lengths.
But the three-year old has never had to deal with a 1 ½-mile track like the one he'll be racing on at Belmont Park. To be fair, none of his rivals have either. The length of the track isn't a disadvantage in itself, but it just might prove to be one for American Pharoah, in large part due to the next two factors in play.
Fatigue
They sure don't make horses like they used to. It might sound like an old-timer pining for the good ol' days, but it's true. Today's thoroughbreds are used to racing just once every month or so.
But a prospective Triple Crown winner like California Chrome last year or American Pharoah needs to race three times in just five weeks. That definitely takes a toll on the horses, who aren't accustomed to racing that often.
It'll be quite an ordeal, then, for a fatigued American Pharoah to take on such a lengthy track and come away victorious.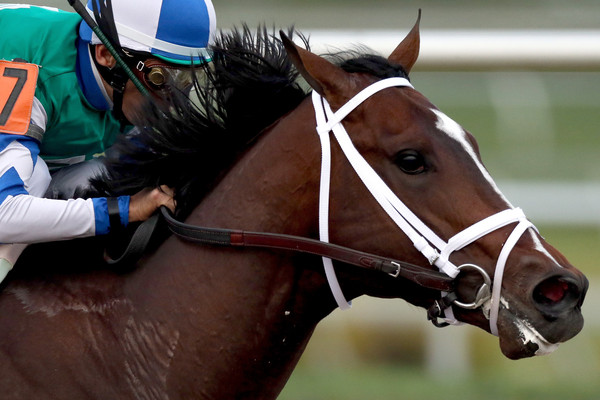 Fresher Competition
And compared to him, his rivals will be significantly fresher. Steve Coburn railed against this huge disadvantage during his horse California Chrome's Triple Crown run last year, and he sort of has a point.
American Pharoah will be surrounded by horses that have skipped one or both of the previous two legs of the Triple Crown. His top rivals at Belmont, Frosted (+500) and Materiality (+600), could also hold a key advantage as both sat out the Preakness after running in the Kentucky Derby.
Madefromlucky didn't feature in the first two races, much like Tonalist, who ended California Chrome's Triple Crown dream last year. Madefromlucky is +1,800 to end that dream for American Pharoah this time around.
The "It" Factor
But American Pharoah might just be the horse capable of rising above all of those factors against him.  The oddsmakers sure think so, pricing him at -110 to win at Belmont.
Secretariat owner Penny Chenery and Affirmed jockey Steve Cauthen also know a thing or two about what it takes to win the Triple Crown, and they both agree that American Pharaoh might just have "it."
American Pharoah has already shown he can perform even in imperfect conditions. He closed very strong in the Kentucky Derby after getting held up in a crowd. And in the Preakness, he managed to avoid the pitfalls of starting in the dreaded No. 1 post and proceeded to blow the competition away.
A Triple Crown Winner is Overdue
37 years is a long time to wait for a Triple Crown winner. 13 horses have been right on the cusp of the Crown since Affirmed last won it, and all have failed. They weren't capable of overcoming the distance, the fatigue and the somewhat unfair disadvantage of racing against much fresher horses, but that doesn't necessarily mean that no one ever will again.
There's bound to be a genetic outlier that finally bucks that unfortunate trend, and American Pharoah could be that anomaly. At the same time, the law of averages also has to come around for jockey Victor Espinoza and trainer Bob Baffert, who are making their third and fourth cracks at the Triple Crown in their storied careers respectively.
Put it this way: if the Kansas City Royals, the infamous owners of a 29-year postseason drought in baseball, could come one win from winning the World Series last October, then surely anything is possible.
Ready for the big race at Belmont Park? Create a betting account now and be a part of horse racing history.
[sc:Other490banner ]
1,981 total views, 1 views today
Comments
comments