Only three races remain before the the NASCAR Sprint Cup Series postseason begins, and the regular-season action picks right back up this week in Watkins Glen, New York for the Cheez-It 355 at The Glen.
Drivers had a tough outing this past weekend from rain-drenched Pocono, so each of them will aim for a much better performance at this week's race. Who should we keep tabs on for our betting prospects? Let's find out below.
For more worthy candidates to choose from, check out our sleeper picks as well right after this.
---
Cash In on the Best Online Sportsbook Offers Now at TopBet!
---
2016 Cheez-It 355 at the Glen Betting Preview
Favorites

Kyle Busch
Week after week, Kyle Busch just continues to deliver one solid finish after another. The Joe Gibbs Racing standout has five top-10 finishes in his last six starts, which includes a win The Brickyard a couple of weeks ago for his season-leading fourth victory of the season.
Busch could very well add another 'W' to his name this week at Watkins Glen, as he ended as the runner-up on this track in last year's race. After a relatively meek ninth-place finish from stormy Pocono this past Sunday, you can bet that the reigning Sprint Cup Series champion will be out to burn rubber in impressive fashion once more.
Joey Logano
Last Sunday's race at Pocono is something that Joey Logano would rather forget sooner than later. The former Rookie of the Year spun out of control after getting bumped by Chase Elliott (more on him later) late in the race and had to settle for a dismal 37th-place finish.
Still, Logano is one driver that you can rely on to bounce back tremendously. Counting that unfortunate finish from last weekend, No. 22 still has eight top-10 finishes over the last 10 races. Even better is the fact that Logano's the reigning champ at Watkins Glen and has three-straight top-10 finishes on the course to date.
Sleeper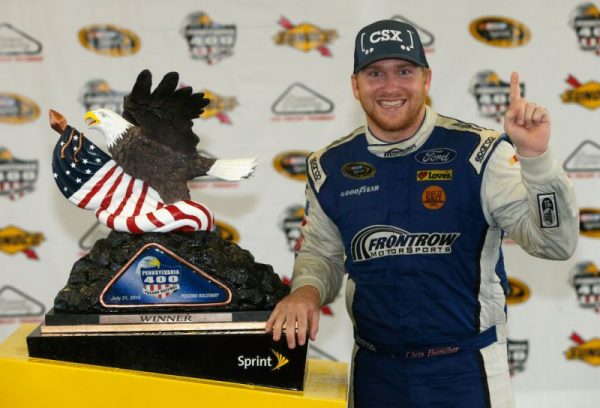 Chris Beuscher
Regardless of weather conditions and other external factors, any win is still a quality win in the Sprint Cup Series, and 23-year-old rookie Chris Beuscher will take his 138-lap victory at Pocono this past Sunday with utmost pride.
Beuscher virtually came out of nowhere to steal the Pennsylvania 400 from the field's top contenders for his stunning maiden victory in the big leagues. Having that win in his pocket puts Front Row Motorsports' new sensation in terrific position to qualify for The Chase's playoffs.
The path towards clinching one of the five remaining playoff slots will be an uphill battle, as Beuscher would still need to finish at least in 30th place after three more races in the regular season to count his victory from Pocono as an automatic qualifier for the postseason. He's currently on the bubble at 31st-place, so count on the surprising Texas native to give it his all again this week at Watkins Glen.
Long Shot
Chase Elliott
The desperation has begun to sink in for another young driver in Chase Elliott, who made a push for a knockout finish at Pocono only to end in a disastrous accident with fellow racer Joey Logano. And with his 33rd-place finish from that race, the 23-year-old upstart has now failed to notch a top-10 finish in all six previous races.
Elliott currently sits in 13th-place in the Sprint Cup standings, but his playoff hopes could be crushed if he can't reel off superb finishes in the next three races. Without any experience yet at The Glen and with a mean streak of tough luck going for him right now, don't expect Elliott to recover mightily this week, let alone finish atop the Cheez-It 355 for his first-ever Sprint Cup Series victory.
Writer's Prediction
Joey Logano bags his second win of the season.
Create a betting account now to win big from all the fast-paced NASCAR action in a flash!

2,896 total views, 1 views today
Comments
comments