---
So many changes have been made for the 2017 NASCAR season, like how the premiere series has a new main sponsor (hence the former Sprint Cup Series now being dubbed as the Monster Energy NASCAR Cup Series) and how the playoff and points system have been altered to promote both winning and simply consistent drivers.
Then again, some of the sport's traditions remain the same, such as the annual running of the Daytona 500. With all the major revisions set to be applied to the famed track this February 26th, you can be certain that the results from the race will be more unpredictable than it has been in years past. And with that, let's take a closer look below at the drivers worth keeping tabs on in less than a couple of week's time.
---
Most Recent Articles
---
2017 Daytona 500 Betting Preview
Favorites
Dale Earnhardt Jr. (+750)
Last year, beloved NASCAR veteran Dale Earnhardt Jr. failed to win a race during the entire season for the first time since his 2013 campaign.
While the 42-year-old star of Hendrick Motorsports has seen his glory days well behind him, many people – including the oddsmakers – do believe that he still has some Daytona magic left in his tank. After all, Earnhardt is the current leader in wins (four), top-5 finishes (13) and top-10 finishes (19) on the course amongst all active drivers.
Given NASCAR's new race format, Earnhardt could very well signal a career renaissance as early as this month with another spectacular victory in the Sunshine State.
Brad Keselowski (+750)
Hot off a resurgent 2016 is Brad Keselowski, who ended up tied with three other drivers for the second-most wins during the season (four) and ranked third overall in number of laps led.
Another edge that the Michigan native has entering Daytona is that he's the last driver to win on the track at the Coke Zero 400 last July. And considering that he was just happily wed on February 10, expect Keselowski to adjust to his personal life and NASCAR's recent changes with relative ease and be fully inspired to pull off back-to-back wins on the course.
Sleepers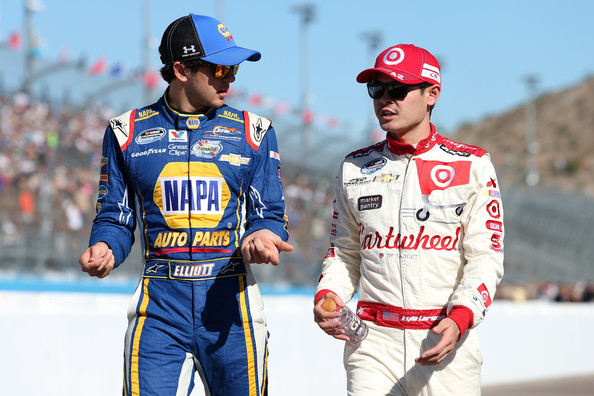 Chase Elliott (+1,400)
With his first full season as a pro in the books, expectations are even higher now for Chase Elliott. Although the reigning Rookie of the Year has yet to taste actual victory in the Monster Energy NASCAR Cup Series, his 17 top-10 finishes and two poles won from 2016 is still nothing to scoff at.
By the way, one of Elliott's pole finishes was at last year's Daytona 500. In fact, he now holds the record for the youngest to win pole at Daytona International Speedway. Having said that, we wouldn't be surprised at all if the 21-year-old upstart's first-career premier Cup Series victory will be won on NASCAR's most prestigious race track.
Kyle Larson (+1,800)
Unlike Elliott, Chip Ganassi Racing's own young protégé, Kyle Larson, managed to secure his maiden major victory last year. The 24-year-old Cali kid's third full season at the Monster Energy NASCAR Cup Series indicates that he's a true contender on the circuit from here on out, having secured a career-best 10 top-5 finishes last year.
Furthermore, Larson seems to have gotten a good grasp of Daytona's ins and outs as well, having posted two-consecutive top-10 finishes in his last couple of starts on the course.
Long Shot
Paul Menard (+4,000)
For 13 years, Paul Menard has steadily been a part of the Cup Series action as a feisty underdog. However, it's about time to accept that the 36-year-old's finer days are in the rear view.
Menard only has three top-10 finishes to his credit from last season, and he also hasn't secured a top-15 finish at Daytona since 2012. And to take things back a little bit further, his first and only win in the former Sprint Cup Series was at the Brickyard 400 in 2011.
Writer's Prediction
Keselowski (+750) finally wins his first-ever Daytona 500.
Create a betting account now to start placing stakes on the newly revamped NASCAR Cup Series this instant!

2,635 total views, 1 views today
Comments
comments