---
The Chase is nearly over. The 2016 NASCAR Sprint Cup Series is now on its final stop of the year in Homestead for the 2016 Ford EcoBoost 400. Joey Logano, Jimmie Johnson, Carl Edwards, and Kyle Busch are the four drivers left in the running for the championship. Busch won last year to clinch the title. Can he go back-to-back, or can favorite Jimmie Johnson claim his record-tying 7th Sprint Cup crown?
Read on below for our look at the odds of the top three favorites, as well as a couple more drivers who can contend for the checkered flag.
---
Cash In on the Best Online Sportsbook Offers Now at TopBet!
---
2016 Ford EcoBoost 400 Betting Preview
Favorites
Jimmie Johnson (+400)
Sprint Cup title No. 7 is well within Johnson's grasp. The No. 48 driver has finished just 11th in 38th in his last two races, but that was because he had already won in Martinsville. Johnson also won in Charlotte, a 1.5-mile intermediate track just like Homestead.
Homestead is one of the few tracks where Johnson has yet to record a win, but with the title on the line, he will no doubt be the driver to beat. Apart from being the overall favorite to win the race, Johnson is also the +200 favorite to win the championship.
Kyle Busch (+500)
Defending champ Kyle Busch still has a big say in matters, though. Busch came in second to Joey Logano in Phoenix last week, the third race in a row where Busch has finished in the top five. Busch has also been a picture of consistency in the Chase. Apart from a crash at Talladega, Busch has finished in the top 10 in the other eight Chase races, and the top five in six.
Busch, you may remember, won last year's race in Homestead to clinch the 2016 Sprint Cup title, and has proven time and again that he can come up huge in the clutch.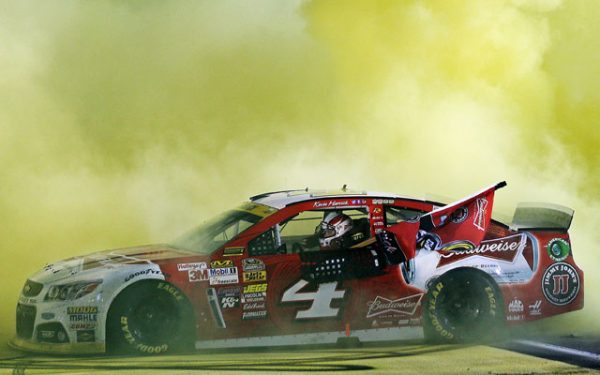 Kevin Harvick (+600)
Harvick was eliminated from title contention last week as he could only finish fourth in Phoenix. But that doesn't mean he can't – or won't – go out and look to end his season strong. Harvick has finished first or second in Homestead in the past two years. His win in 2014 clinched the Sprint Cup title.
Apart from his success in Homestead, Harvick has been very good on 1.5-mile tracks in general. His average running position of 9.44 during intermediate track Chase races is third behind Busch and Martin Truex Jr.
Sleeper
Chase Elliott (+1,200)
Elliott's excellent rookie season is still lacking a win, but Homestead will be another good opportunity for the youngster to enter Victory Lane for the very first time.
Elliott has been very good on intermediate tracks this year. Four of his 10 top five finishes this season have come on those types of tracks. That includes a 3rd-place finish in Chicago in the opening Chase race, and a 4th-place finish in Texas a couple weeks ago.
Long Shot
Alex Bowman (+2,500)
Bowman has proven to be a worthy driver of Dale Earnhardt's No. 88 car. The 23-year-old has been especially impressive during the Chase with three top-10 finishes in just seven starts. Two of those top-10 finishes happened to come on intermediate tracks, which is why Bowman should definitely not be counted out to win in Homestead.
Writer's Prediction
Johnson (+400) does it again. No. 48 dominates in Homestead to take title No. 7.
This is it, you're last chance to wager on the 2016 NASCAR Sprint Cup Series this season. Create a betting account now and cash in on all the final race of the year.

2,136 total views, 1 views today
Comments
comments