France scored a massive upset over the 2014 FIBA World Cup host, Spain, to take one step closer to the championship, and perhaps eliminate the one team who could have challenged the Americans. Standing in France's way is Serbia, who are hungry to avenge their razor-thin loss to the French in the group stage.
As discussed in our 2014 FIBA World Cup sleepers picks, the Serbians are a force to be reckoned with. Do they have what it takes to take on the reigning EuroBasket champion France? Read on as we give you our take on this explosive semifinal match and check out our preview of the other semifinal – U.S. vs Lithuania – for a complete look at the tournament's final action.
[sc:MultiSportArticles ]
France vs. Serbia 2014 FIBA World Cup Semifinal Betting Preview
Where: Palacios de los Deportes, Madrid
When: Friday, September 12, 4:00 PM ET
Line: France (+2) vs. Serbia (-2); total 140.5 – view all 2014 World Cup lines
Betting on France
No Tony Parker? No problem. Thomas Heurtel gladly took the reins as France ousted the highly favored Spain from the tournament on Wednesday. Heurtel scored nine of his 13 points in the final frame and also finished with four assists.
[sc:Other240banner ]In the meantime, Boris Diaw exploded to lead France with 15 points (nine coming from beyond the arc), while Nicolas Batum had a block to go along with his nine points and four assists. France is looking like a far better team than the one dominated by Spain 88-64 in the group stage. They'll face one final hurdle before a potential matchup with the tournament favorites, USA, in the final.
France will once again face Serbia, who they defeated in a gritty group stage game. While their first meeting was a battle of big men, their impending semifinal clash may tell a different story altogether. The two sides will go toe-to-toe with an intriguing back court battle between Heurtel and Serbia's Milos Teodocic. Whoever wins the point guard battle will likely decide the match, and Heurtel is coming in hot especially after his excellent performance against Spain.
Meanwhile, France will need Diaw to get hot early. The San Antonio Spurs forward was handily shut down for the early in their first game against Serbia before scoring four points in the fourth quarter. Having Diaw converting early will help avoid another nail-biting game.
France has a 5-2 lead in head-to-head matchups against Serbia across all competitions.
Missing some basketball action in the NBA offseason? Create a betting account now and enjoy the best of international basketball at the FIBA World Cup.
Betting on Serbia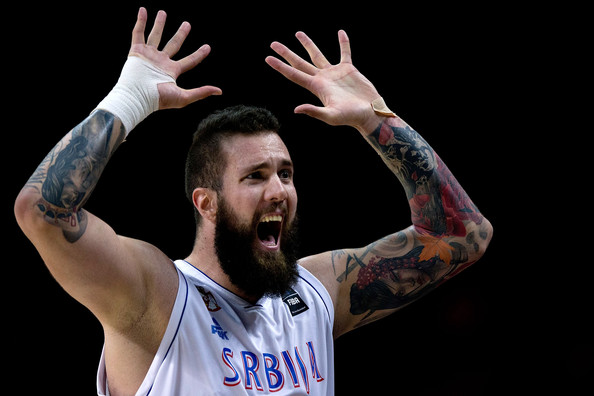 The Serbians recorded an upset in style as they destroyed a strong Brazilian side 84-56 on Wednesday. The biggest star of the game, Milos Teodocic, finished with 23 points and four assists on 5-of-9 shooting while shooting a perfect 10 for 10 from the free throw line. Meanwhile, Bodgan Bogdanovic was also a live threat as he went 5-for-9 to score 12 points.
Teodocic will keep the French defense on their toes as he is adept at both driving to the hoop and draining shots from beyond the arc. Meanwhile, Miroslav Raduljica may see some extended playing time after playing only 20 minutes against Brazil.
With France preoccupied against Teodocic's backcourt presence, Raduljica should find himself alone in the paint for some easy conversions. In his biggest game in the tournament, Raduljica terrorized France in the paint for 21 points and seven rebounds in their group stage game.
If Serbia wants to enjoy the same success they had in the first matchup, they'll need to limit Diaw's production again. Serbia will also need to force France to take outside jumpers. The French are one of the tournament's worst at converting three pointers, having gone 49 of 155 thus far.
Spread bettors will have to take note that five of Serbia's losses to France have come in single digit deficits of four or less.
Writer's Prediction
The run ends here for France. Serbia (-2) avenges their early defeat to France to go on to the championship game.
[sc:Other490banner ]
2,234 total views, 5 views today
Comments
comments