Roger Federer's legacy is already secured. The 33-year-old has won a record 17 Grand Slam titles and is regarded by many as the greatest tennis player ever. The Swiss maestro has a fantastic chance to add more to his greatness if he can string together three more victories this week and capture his sixth U.S. Open title amidst a field that is weaker than usual in contemporary men's tennis.
Still, it won't be easy as he next faces the ever dangerous Gael Monfils in the last eight. Can Monfils produce another giant-killing and bring down the former world No. 1? Or will Federer's poise shine through once again? Read on for a preview of this quarterfinal match and while you're at it see our breakdown of the bigger quarterfinal between Novak Djokovic and Andy Murray.
[sc:MultiSportArticles ]
Gael Monfils vs. Roger Federer, 2014 U.S. Open Men's Singles Quarterfinals Preview
Where: USTA Billie Jean King National Tennis Center, New York
When: Thursday, September 4
Line: Gael Monfils (+270) vs. Roger Federer (-350) – view all Men's Singles U.S. Open Lines
Betting on Gael Monfils
Gael Monfils marked a personal piece of history on Tuesday afternoon when he recorded his first-ever win at Arthur Ashe Stadium. The Frenchman upset seventh-seed Grigor Dimitrov in straight sets, 7-5 7-6 (8-6) 7-5.
[sc:Other240banner ]It was a highly emotional match, with the 20th-seed Monfils inexplicably losing his cool in the second set when he was up a set and a break over Dimitrov. After he was broken back by Dimitrov, the Frenchman started a heated argument with the umpire that eventually boiled over to the game. Even with the meltdown, Monfils was able to keep his poise in the second set as he survived a Dimitrov set point to win the set via a tiebreak.
Despite the theatrics, Monfils is playing some fabulous tennis in this year's U.S. Open. Through his first four matches, the Frenchman still has not lost a set and has blasted 153 winners.
His serve has improved as well in his last two matches, dishing out 11 aces against the 12th-seed Richard Gasquet in the third round before unleashing 14 in his last match against Dimitrov. He also had his highest first serve percentage in the tournament against Dimitrov, nailing 66 percent of his first serves.
He will have to be more composed though against Federer as the Swiss national holds a 7-2 edge in their nine career meetings. But Monfils can take heart in the fact that he did score a victory over Federer in the Shanghai Masters last year, where he pulled off a tough 6-4 6-7(5) 6-3 win.
Create a betting account now and cash in on all the U.S. Open tennis action.
Betting on Roger Federer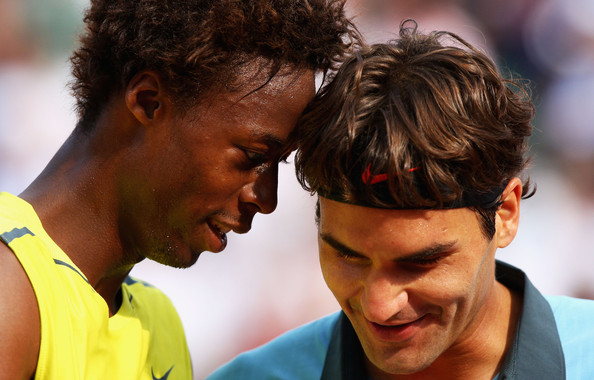 Roger Federer booked his 10th U.S. Open quarterfinal appearance in 11 years when he easily dispatched Roberto Bautista-Agut in straight sets, 6-4, 6-3, 6-2. Federer was in vintage form as he totally dominated the 18th-ranked Spaniard in just one hour and 56 minutes to seal his third Grand Slam quarterfinal of the season.
The win also gave Federer his 71st career victory at the U.S. Open which ties him with Pete Sampras and Bill Tilden for the fifth-most match wins in tournament history. He has the chance to go third when he faces the enigmatic Gael Monfils next in the quarterfinals.
Ever since he teamed up with erstwhile tennis great Stefan Edberg, Federer has become more aggressive with his gameplay with the Swiss star attacking the net more often these days. In his match against Bautista-Agut, Federer came to the net 52 times and was successful in 35 of them.
A healthier Federer in 2014 has enabled him to execute this strategy to full effect. In an interview with ESPN after the game, Federer praised the advantages of his volley attack. He said, "Usually we don't see two volleys any more in today's game – either it's a volley winner or the point is over with an approach shot. When I don't come in, they think I might be coming in, so you plant a seed in their head."
His strategy appears to be working just fine in this year's U.S. Open as Federer has breezed past his opponents in the first four rounds, losing just one set, against Marcel Granollers in the third round. Through four matches, Federer has unleashed a total of 170 winners. With that being said, he will still have his work cut out for him in the next round when he faces Monfils in the quarterfinals.
Federer had to battle hard against Monfils in their round of 16 clash at Cincinnati last month, eking out a gritty 6-4, 4-6, 6-3 win over the Frenchman. This was the fifth hard court meeting between the two with Federer leading their battles on the hard surfaces, 3-2.
Writer's Prediction
Federer will defeat Monfils and reach his ninth U.S. Open semifinal.
[sc:Other490banner ]
2,332 total views, 1 views today
Comments
comments