The NFL win totals is one of the most popular prop bets in the NFL. To avid sports fans, these lines spurn endless arguments about whether teams will surpass or not its expected number of wins.
To bettors, it's more than just that. NFL win totals betting is an opportunity for them to look for value and make money. So what is the NFL win totals, and what are some of the factors to be considered when betting on it? Read more about betting on NFL win totals below, and if you're curious what we think might happen in the upcoming NFL season, check out our win total predictions.
[sc:Football ]
A Guide on How to Bet on NFL Win Totals
What are NFL Win Totals?
[sc:NFL240banner ]The NFL win totals is a type of bet where bettors try to guess if the number of games a team wins in a given season will be over or under the line set by sportsbooks during the preseason. The defending Super Bowl champion Seattle Seahawks have a win totals line of 11.0, which means bettors will wager whether Pete Carroll's bunch will win more or less than 11 of the 16 games they play.
If a bettor places a bet on the "over," the Seahawks must win 12 or more games for the bet to win. Conversely, a bet on the "under" would require the defending champs to win 10 games or less. If the Seahawks win exactly 11 games, the result is a "push," which voids the bet and refunds the bettor's money.
A win total line can be set with a half point as well, like 10.5. In this case a "push" isn't possible, as there is no way for a team to win a half game (ties do not count as half wins, just in case you were getting any ideas). Therefore, 11 or more wins are needed for the "over" and 10 wins or less for the "under".
There's a lot to consider when you're evaluating different win total lines, including offseason roster changes, injuries, and strength of schedule, aside from the obvious: the quality of play you expect a team's players bring to the field, game-in and game-out.
Let's take a look at a few of the factors you should weigh when laying your preseason win total bets.
Roster Changes
In a single offseason, a team's roster can change dramatically, and these changes can have a dramatic effect to that team's dynamics. As with any transaction, the goal of teams acquiring new players is to improve.
However, there's no guarantee that they will, and it's up to the bettors to do their research about how trades and new signings will affect a given team. It's important to read up on experts' analysis and breakdowns of roster changes to have a broader perspective of what to expect on any team's performance in the coming season.
Injuries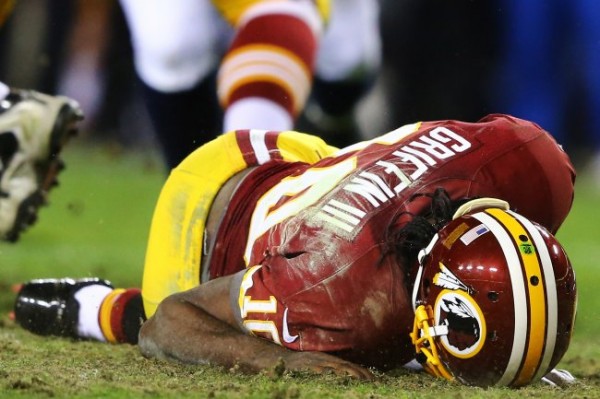 Obviously, bettors should be smart enough to know the health status of players, especially the stars. Case in point: the 2013 Washington Redskins.
In 2012, the Washington Redskins rode the phenomenal play of then rookie Robert Griffin III to go from 5-11 SU the previous season to a 10-6 SU record. RGIII definitely had the public excited on the future of the Redskins.
Sportsbooks clearly noted the immense expectation the public was putting on the team, which you could tell when they released an 8.5 regular season wins total line for the Redskins in 2013. Then, RGIII missed a number of games to heal from an ACL injury, leaving Redskins' over bettors pinning most of their hopes on backup QB Kirk Cousins to deliver the goods.
With RGIII playing only 13 games (and when he was on the field he wasn't 100% healthy) the Redskins finished with a disappointing 3-13 SU record, well below the 8.5 win total line.
Strength of Schedule
It's not just about how strong or weak a team is. It's also about how good the teams are on its schedule.
Look at the records of the teams who play the squad you might bet on. How did they do last year? If the team is playing scrubby, losing teams from the season before for weeks before playing a playoff contender, that alone could increase their number of potential wins. Conversely, a team with a schedule filled with playoff-bound heavyweights will likely be in for a rough ride, perhaps costing it a game or two.
The NFL schedule can sometimes be unfair, too. Last season, the Denver Broncos had the softest schedule despite being among the favorites to win the Super Bowl XLVIII, thanks to a perceived lack of competition in the AFC West. The result was the Broncos easily cleared their regular season wins line of 11.5 with a 13-3 SU record.
This season's version of the Broncos team is Indianapolis. Playing in the AFC South is a gift that will keep on giving for the Colts this coming season – at least, that's what the team's strength of schedule suggests. The Colts own the lowest SOS percentage in the NFL with a .430 mark, largely because none of their division mates finished higher than .438 last season. The Colts have a win totals line of 11.5.
The Public
It's common for the public to lean on betting on the over. One of the public's many follies in betting on regular season win totals is that they base their expectation more on intangible factors, mostly on how good they feel about a team. They mostly see the good side of a team, failing to recognize its weaknesses. Worse, they try to rationalize that the team's strengths compensate for its shortcomings. And it's all because they love the team.
So stay patient out there. When the public makes its move, chances are that sportsbooks will shift their lines. Once they have, bet on the under of a popular team, whose lines may be bloated to balance the action.
For all that there is a lot to consider, betting on win totals can be a great way to stay engaged with an NFL season and add some interest to teams or divisions you might not otherwise follow. Create a betting account now and get into the action now with a slate of win total bets that will keep you jumping off the couch all season long.
[sc:NFL490Banner ]
2,272 total views, 1 views today
Comments
comments