March Madness sleepers – and by sleepers, we mean lower-seeded teams (around No. 5 and below) that unexpectedly go far in the tournament – come in all shapes and sizes. There's really no completely defined set of qualities that encompasses the make-up of that much coveted sleeper, but history has shown that teams with one or two key traits/assets have gone on to make deep tournament runs.
Let's take a look at five of the most common indicators of tournament success, and see which team/s in this year's prospective field has what it takes to bust some brackets as a March Madness sleeper.
Can't wait to fill up that bracket? Then get your copy of our printable March Madness bracket here and be ready to find your own sleepers – hopefully, with the help of our analysis below – on Selection Sunday.
[sc:MarchMadness ]
Five Factors of a March Madness Sleeper
1. Underachieving talent
Whether because of injuries or some issues with the playing system, a team (most likely from one of the power conferences) can underperform during the regular season and still make the tournament, but will be a lower seeds than previously anticipated.
[sc:NCAAB240banner ]Last year's Kentucky is the poster child of such a team. The Wildcats had a stacked roster and tons of expectations, but went a disappointing 29-11 during the regular season, which saw them drop to a No. 8-seed. However, all their talent eventually clicked during the tourney as they went all the way to the championship game.
Texas and North Carolina could be prime candidates for such a run this season. The Longhorns have undeniable talent in their ranks, especially in the frontline, and will be a tough matchup for any higher seed. Meanwhile, UNC could be a more dangerous team now that star guard Marcus Paige is finally hitting top form after an injury-riddled season. The Tar Heels are priced at +2,500 to win the national title.
2. A very good head coach
Superior coaching can be a great equalizer in the college game, where a decision to do quick full-court press or a timely switch to a zone defense can stymie even the most talented of teams. An excellent coach can make those key tactical decisions and adjustments that are so critical during the tournament, where just about every play counts.
In today's game, there aren't many coaches greater than Michigan State's Tom Izzo. While this year's less talented Spartans will likely be a low seed, Izzo's presence on the sideline and proven tournament track record make them a tricky proposition for any higher seed. Izzo's Spartans have reached the Sweet 16 in five of the last six years.
3. Star power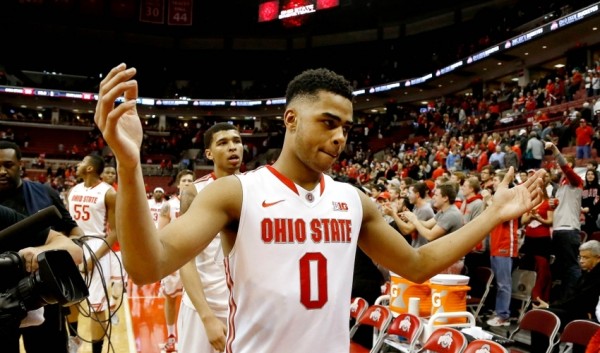 But not even the best coaches can do much of anything if they come across a star that goes supernova in a given game. Hearken back to Davidson in 2008 or Butler in 2010, as future NBA stars Stephen Curry and Gordon Hayward led their flawed and less talented mid-major teams to unexpected tournament runs. And who can forget last year's Shabazz Napier-inspired UConn team that won the title as a No. 7-seed?
This year, watch out for Ohio State's fabulous freshman, D'Angelo Russell, to possibly play 2-3 games where he basically carries the Buckeyes to victory. Russell did a little bit of everything – he averaged 19 points, five rebounds and five assists – during the regular season for an otherwise ordinary Ohio State team that will likely be a No. 8 seed or possibly lower.
4. An elite and/or unique playing style
With little to no time to properly scout an opponent during the tournament, a lower-seeded and under-the-radar team that plays a specific style incredibly well can often hold the element of surprise over their favored opponents. The 2011 VCU team that went all the way to the Final Four as a No. 11 seed is the classic example with its suffocating "Havoc" style.
While Davidson's style isn't as unique, its incredible offensive prowess is definitely elite. While this year's Wildcats don't have a Steph Curry-type talent, they are still ranked No. 4 in points per game (80.6 PPG) and No. 6 in adjusted offensive efficiency, which is a couple spots higher than undefeated Kentucky.
Coach Bob McKillop's squad is deadly from the perimeter (fourth in the nation in threes made and eighth in percentage) and it doesn't beat itself (committed the fourth-least turnovers), so opposing teams will have the unenviable task of having to match Davidson point for point.
Is free-scoring Davidson poised for another Cinderella run? Create a betting account now and stand to gain some serious cash with the tournament's sneaky sleepers.
5. Well-rounded on both ends
A legendary coach or an NBA lottery-bound superstar is all well and good, but it also pays to have just a rock solid team – and we stress the word team – from top to bottom. That's pretty much the formula which unheralded and star-less mid-majors like 2011 VCU, 2013 Wichita State and last year's Dayton team used for their deep tourney runs. They were decent on both ends of the floor and they got timely contributions up and down their roster.
Northern Iowa is this year's flashy mid-major name, but don't sleep on Louisiana Tech. The Bulldogs have an explosive backcourt duo that averages 30 points per game, and the top six players on their rotation contribute six or more points per game. They also have a dominating defensive presence inside with Michale Kyser, whose three blocks per game is top ten in the nation.
The Bulldogs are an astronomical +100,000 to win the national championship, but they should have much better odds to at least make a possible run at the Sweet 16.
Writer's Prediction
Although no one will exactly be "sleeping" on them mainly because of their brand name, look for both North Carolina and Michigan State to play well above what their seeding suggests in order to make a deep run in the tournament.
[sc:NCAAB490Banner ]
1,691 total views, 1 views today
Comments
comments