From the being at the top of the pecking order to becoming easy prey, Tiger Woods hardly resembles the man that we've come to know and love (or loathe, depending on who you ask).
Formerly a dominant presence on the courses where he prowls and maims through his competition, the 14-time Major championship winner has devolved from being the alpha male overshadowing the ambush of golfers to an average Joe having to scrape for seconds. It's a bitter pill to swallow, but it's safe to say that Woods' career as an elite competitor is through.
Read on as we justify Tiger's free-fall and why another comeback to the top of the golfing world is highly unlikely. He'll have another crack at another prestigious title shortly, though, over at The Open Championship. Head on over to our preview of that tournament here to see how Woods would fare at the Old Course of St. Andrews.
[sc:MultiSportArticles ]
Woods' Downward Spiral into Mediocrity
Crutching Tiger…
Most of Tiger Woods' inability to bounce back to the top of the PGA rankings can be attributed to his health issues. After couple of surgeries done to his back between the middle of 2014 and earlier this year, Woods has yet to regain his championship form that made him an unstoppable force for well over a decade.
[sc:Golf240banner ]Since his return from his first major surgery at the Quicken Loans National in June 2014, Woods has not had a top-10 finish and has been cut from three tournaments, including two of three majors. His best finish so far in that span has been 17th place – at the Hero World Challenge and at the Masters.
One could also make the argument that at his weathered age of 39, a decline in Woods' performance was inevitable. Bleacher Report's feature on the issue raised a good point by saying that a lot of the legends of golf's past tended to take a dip in their production at around Tiger's current age – with the likes of Nick Faldo at the age of 39, Tom Watson at 35 and Ben Hogan at 41.
Bodily limitations can easily be overcome, as a lot of athletes in much more physically demanding sports have fought through or recuperated well from a myriad of other injuries and maladies. But even if we were to say that Tiger has gotten his health back up to 110%, his recovery is only one half of his uphill climb back to the top of the food chain, which leads us to…
…Hidden Mindset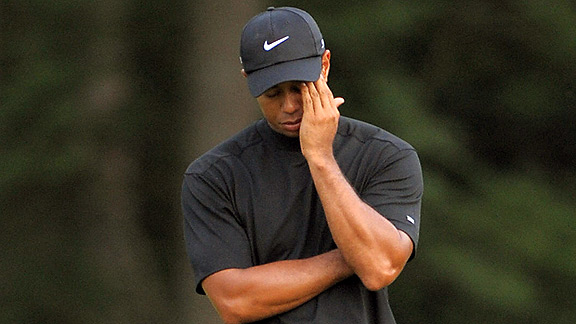 Mind and body harmony is what Tiger must achieve. Apart from having to deal with his aching back, it seems as if his focus on winning has progressively waned as well.
Who could really blame him? Tiger has reached the summit of golfing mountain and has camped out there longer than any golfer in the modern era. Perhaps for once, Woods is actually relishing the fact that he no longer has to live up to lofty expectations. His accomplishments already trump all of the active golfers' feats, so what else does he have to prove?
It just so happens that the media's spotlight continues to shine on him, and there's no way around it. Everybody has just been so used to Woods' commanding presence in the PGA, that any slide in his game will be heavily scrutinized.
And it's also not as if the winner of 106 professional events isn't capable of overcoming mental adversity in the face of the general public. Remember Woods' nasty and highly-publicized break-up with his ex-wife Elin Nordegren back in 2011? Yes, Tiger fell from the game and the masses' graces, but he helped himself back up to the peak of the PGA's rankings by March of 2013 and stood as king of the hill once again for a little over a year.
There's no better time than the present for him to prove his doubters wrong. Winning the upcoming British Open – where he is priced at +1,800 to win the event – will certainly do wonders in getting his game and his thirst for victory back on the right track. That is, if the other golfers in St. Andrews don't have plans of winning the tournament themselves. It's a really foolish notion, though, simply because…
Those Other Cubs with Clubs
Frankly, the PGA has seen a surge of talent in recent years. Tiger's no longer the head honcho, and the playing field is more leveled now because of his regression and the litter of other aspiring professionals that have emerged. We would even go as far as saying that golf is now better than ever given that each tournament is wide open for the taking, and Tiger's pervasive winning shadow looming over each outcome has finally faded away.
Just take a look at some of the golfers breaking new ground at the PGA. We have Jordan Spieth, who's looking to become the first player to win the first three Grand Slam events of the year since Ben Hogan back in 1953. Rory McIlroy is currently sidelined with an injury of his own, but has held the title of World No. 1 since August of last year.
We haven't even mentioned the likes of former World No. 1 Adam Scott (who claimed the throne from Woods in May of last year), perennial top-10 finisher Dustin Johnson, and many more young and hungry competitors in fold. Even 65-year old and eight-time majors champion Tom Watson is still in the mix and plans to go out with a bang for his swan song.
It's about time for Woods to face the music. He had already done his part in catapulting the sport of golf to new heights, and has achieved countless milestones along his way. A graceful exit from the greatest golfer who ever lived should not be far from happening, as a new chapter in golf's rich history has got to be written, even if Woods will no longer play the role of the leading man.
Still believe that Tiger has it in him to make a comeback this season? Create a betting account now to find out and possibly win big by backing one of golf's greatest players of all time.
[sc:Golf490baner ]
2,145 total views, 1 views today
Comments
comments