English football's two most dominant clubs of the late 90's and early 2000's will renew hostilities when Manchester United welcomes Arsenal to Old Trafford this Sunday.
Arsenal will enter this year's clash in United's more accustomed place — at the top of the standings. After losing their first league game of the season, the Gunners have won eight out of nine and are five points clear of second placed Chelsea. [sc:Soccer240banner ]
Aaron Ramsey has been Arsenal's standout performer so far this season. The Welsh midfielder is currently the Gunners' leading scorer with 6 goals and 4 assists.
On the other side, the defending champions got off to a sluggish start under new manager David Moyes as the Red Devils lost three of their first six league games. United have rallied to win three of their last four but they are still down at eighth, eight points adrift of leaders, Arsenal.
Former Gunner Robin van Persie (otherwise known as "Judas") has already knocked in 6 goals so far, and despite the offseason unrest Wayne Rooney has been in fine form with 5 goals and 3 assists. The Red Devils have won five of their past six meetings at Old Trafford.
From the fans to the managers to the players, the Arsenal-United rivalry has a long history of animosity. These five moments in particular have stayed long in our collective memory.
Man U vs. Arsenal Rivalry: Top 5 Moments
1. The Brawl
The Arsenal-United rivalry predates the inception of the Premier League. Back in 1990, a 21-man brawl erupted between the two clubs after United's Brian McClair and Denis Irwin kicked Arsenal fullback Nigel Winterburn, who was on the ground defenseless. The melee resulted in United being deducted one point while the Gunners lost two.
2. Battle of Old Trafford
Arguably Arsenal's greatest ever side was "The Invincibles," who finished the 2003-04 season undefeated as they claimed a third Premier League title. However, "The Invincibles" may never have been had United's star striker Ruud van Nistelrooy scored a crucial penalty in their encounter at Old Trafford.
He hit the bar and missed, to the delight of Martin Keown and other Arsenal players who celebrated wildy around van Nistelrooy after the final whistle as United teammates tried to defend their teammate. Keown, along with four other teammates as well as two United stars were all disciplined for their part in the scuffle.
3. Battle of the Buffet/Pizza-gate
United did end Arsenal's 49-match unbeaten run eventually the following year and this time van Nistelrooy did convert his penalty as United went on to win 2-0.
But the result was once again mired in controversy and incidents after the full time whistle. After tempers boiled over in the players' tunnel, certain food (pizza, mostly) was alleged to have been thrown at knighted Manchester United manager Sir Alex Ferguson by a then-unknown Arsenal player (later confirmed to be Cesc Fàbregas).
The British press memorably dubbed it as the "Battle of the Buffet."
4. First Title Clincher, 1998
Gunners boss Arsene Wenger claimed his first championship in English football back in 1998. A pivotal result en route to usurping the title from defending champions United was Arsenal's 1-0 win at Old Trafford thanks to a Marc Overmars goal.
5. Man U: 8 – Arsenal: 2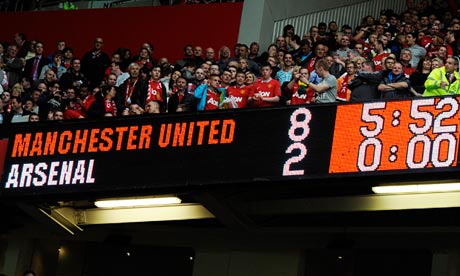 In August 2011, Manchester United produced the most one-sided victory in the rivalry's Premier League history with an 8-2 annihilation of Arsenal at Old Trafford. Wayne Rooney scored a hat-trick while Ashley Young bagged two goals for United. Robin van Persie scored one of Arsenal's consolation goals.
[sc:Soccer490banner ]
The rivalry is set to reignite this Sunday as Manchester United look to get back on track against Arsenal. Back your favorite team up and place your bets over at Top Bet Sportsbook.
2,987 total views, 1 views today
Comments
comments