Thank God it's Friday. Thank Him, too, for giving us baseball. Here are five of the best baseball games to bet on today.
The Toronto Blue Jays and the Milwaukee Brewers are both in a tailspin, while teams like the Tampa Bay Rays and the Detroit Tigers are surging toward the All-Star break. With all MLB teams now down to their last few games before the Midsummer Classic, will there be changes in the trends of these teams? Or will their winning/losing ways continue? Read more about the best games to bet on baseball tonight below.
Down south in Brazil, meanwhile, the World Cup is also about to conclude, with only two games left in the tournament. See our full preview of the World Cup final between Germany and Argentina here, and the third place match, which features host Brazil and Netherlands here.
[sc:MultiSportArticles ]
MLB Picks and Predictions for Friday, July 11, 2014
New York Yankees vs. Baltimore Orioles (7:05 PM ET)
Line: New York Yankees (+106) at Baltimore Orioles (-116); total: 9.0 –  see all MLB lines
[sc:MLB240banner ]The banged-up pitching staff of the New York Yankees turns to Hiroki Kuroda (6-6, 4.20 ERA) as they take on the heavy-hitting Baltimore Orioles. The O's beat the Washington Nationals last night, 4-3, to notch their fifth victory in six games. During that stretch, the O's have scored 22 runs to improve their July output to 49. The Yankees, however, have won both of their last two games against Baltimore when Kuroda starts. Furthermore, the Yankees are 3-0 in their last three trips to Camden Yards.
Writer's Prediction:  Kuroda keeps Orioles' batters in check as Yankees win.
Toronto Blue Jays vs. Tampa Bay Rays (7:10 PM ET)
Line: Toronto Blue Jays (+122) at Tampa Bay Rays (-132); total: 7.0 –  see all MLB lines
The Blue Jays are 5-1 in their last six games against the Tampa Bay Rays, with the last three coming at the Trop. Mark Buehrle (10-6, 2.60 ERA), tonight's starter, started that game as the Jays won, 9-6. The Rays on the other hand are the second hottest team (behind the O's) in the American League East division. They're 7-3 in the last 10 games. Dueling off with Buehrle is Chris Archer, who keeps a 2-0 slate with a 2.22 ERA in five career starts against the Blue Jays.
Writer's Prediction:  Tampa Bay gets the win.
Create a betting account now and start making baseball betting a profitable venture.
Detroit Tigers vs. Kansas City Royals (8:10 PM ET)
Line: Detroit Tigers (-113) at Kansas City Royals (+103); total: 7.5 –  see all MLB lines
With the way the Detroit Tigers are swinging their bats, Anibal Sanchez (5-3, 3.18 ERA) should be feeling confident coming into tonight's game against the Kansas City Royals. Detroit put up a hitting clinic last night, hammering the Royals, 16-4. The Tigers are 4-1 in their last five games when Sanchez starts.
In addition, Sanchez receives a better run support of 4.80 per game compared to the Royals' Danny Duffy (5-8, 2.86 ERA), who is pitching great, but gets only 3.2 RS/G. Duffy has not allowed more than two runs in four of his last five starts, in which he went 2-3 with the total going under 4-1.
Writer's Prediction: Detroit beats the Royals.
St. Louis Cardinals vs. Milwaukee Brewers (8:10 PM ET)
Line: St. Louis Cardinals (+115) at Milwaukee Brewers (-125); total: 7.5 –  see all MLB lines
Despite a 1-9 record over their last 10 games, the Milwaukee Brewers amazingly are still No. 1 in the National League Central division. However, Milwaukee can't afford to be swept in their series against the St. Louis Cardinals, which begins tonight, if they plan to head into the All-Star break as the division leader. The Brewers are 3-1 in their last four games against St. Louis. The Cards, who are hot on the heels of Milwaukee, are 7-3 in their last 10 games in Milwaukee.
Writer's Prediction:  Milwaukee stops their bleeding, wins over St. Louis.
Oakland Athletics vs. Seattle Mariners (10:10 PM ET)
Line: Oakland A's (+106) at Seattle Mariners (-116); total: 6.0 –  see all MLB lines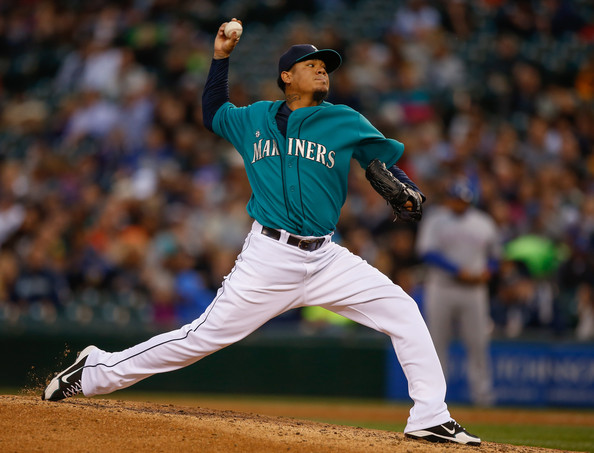 Jeff Samardzija (3-7, 2.74 ERA) got a taste of what it's like to be backed by an awesome offense in his Oakland Athletics' debut, and in return gave the A's a fantastic performance. Samardzija pitched seven innings of four-hit baseball and allowing only one earned run in the A's 4-2 win over the Toronto Blue Jays last July 6. He'll pitch tonight against the Seattle Mariners, whom the A's have defeated thrice in four meetings at Safeco Field.
Samardzija figures to be in a tough pitching matchup, though, as former Cy Young winner Felix Hernandez (10-2, 2.11 ERA) is on the mound for the Mariners. Seattle is 3-0 in Hernandez's last three starts against Oakland. They are also 3-0 in the Venezuelan's last three starts overall.
Writer's Prediction:  Oakland wins in low-scoring match.
[sc:MLB490banner ]
1,573 total views, 1 views today
Comments
comments