Preview of the NBA Atlantic Division:
BOSTON CELTICS
2012-13 RECORD: 41-40
After a disappointing 2012-13 season which ended with a first-round exit to the New York Knicks in six games, Danny Ainge and the Boston Celtics decided that it was time for a change.
The first to go was head coach, Doc Rivers. After protracted negotiations for a possible blockbuster trade, the Celtics finally allowed Rivers to join the Los Angeles Clippers and received a future first-round pick as compensation.
Soon to follow were Paul Pierce and Kevin Garnett. Initially reported to be included in the Rivers trade to LA, the two and Jason Terry were eventually traded to the Brooklyn Nets for Gerald Wallace, MarShon Brooks, Kris Humphries, Keith Bogans, Kris Joseph and first-round draft picks in 2014, 2016 and 2018.
With the painful departures out of the way, the Celtics began the equally painful process of rebuilding. First once again was the head coach. Brad Stevens, the renowned college coach who led Butler to two NCAA National Championship games, was the surprise appointment of Ainge to oversee this process.
In the draft, Ainge traded for the 13th pick, Gonzaga forward Kelly Olynyk, who showed promise in Summer League. He will likely compete for playing time with last year's first-round pick Jared Sullinger when he returns from back surgery. [sc:NBA240banner ]
With Pierce and Garnett gone, the reins of the team will be placed squarely on the hands of Rajon Rondo, who is still recovering from a torn ACL suffered last season. Jeff Green and Avery Bradley will be asked to carry the mantle until Rondo's return.
Boston will need serviceable minutes from veterans Wallace, Humphries and Brandon Bass in the frontline as the Celtics are without a legitimate starting center. Stevens must also coax points from Jordan Crawford and MarShon Brooks for a Celtics team that was a lowly 24th in Offensive Rating even with Pierce and Garnett.
BROOKLYN NETS
2012-13 RECORD: 49-33
In their first season in Brooklyn, the Nets went 49-33, the franchise's most games won since 2006. They claimed the 4 seed in the Eastern Conference, but even with the home court advantage they still lost to the lower seeded Bulls who were without Derrick Rose in seven games.
This offseason, they were provided an opportunity to get better, and owner Mikhail Prokohorov seized it. The Nets acquired future Hall of Fame forwards Kevin Garnett and Paul Pierce and reserve guard Jason Terry in a blockbuster trade with the Boston Celtics for Gerald Wallace, MarShon Brooks, Kris Humphries, Keith Bogans, Kris Joseph and first-round draft picks in 2014, 2016 and 2018.
Pierce and Garnett will join Brook Lopez, Joe Johnson and Deron Williams to form the Nets' formidable starting line-up. Despite their age, Pierce and Garnett are still very much capable of being contributors.
[sc:Other240banner ]Pierce, 35, averaged close to 19 points and 6 rebounds in 33 minutes last season as he carried the Celtics when Rajon Rondo went down to injury. While he has proven he still can, Pierce probably won't be asked to carry a major burden offensively, especially with the presence of Williams and Johnson in the perimeter.
Garnett, now 37 and diminished physically, will derive most of his value on the defensive end, where he was the invaluable focal point for the Celtics since 2008. Garnett shouldn't be expected to score or play heavy minutes given his advancing years.
Backing up Garnett and the rest of the starting line-up will be Andray Blatche, Reggie Evans, Andrei Kirilenko and Jason Terry.
The addition of Pierce and Garnett has made the Nets fashionable picks in the East. They are -160 favorites to take the Atlantic Division from their New York neighbors and +1000 to win their first NBA Championship.
The person tasked to lead this team to playoff success is recently retired, former Nets legend Jason Kidd. Kidd's appointment is obviously a major gamble for this team that expects to contend for the title.  How he performs and how this veteran team responds to him are arguably the biggest unknowns for the Nets this year.
PHILADELPHIA 76ERS
2012-13 RECORD: 34-48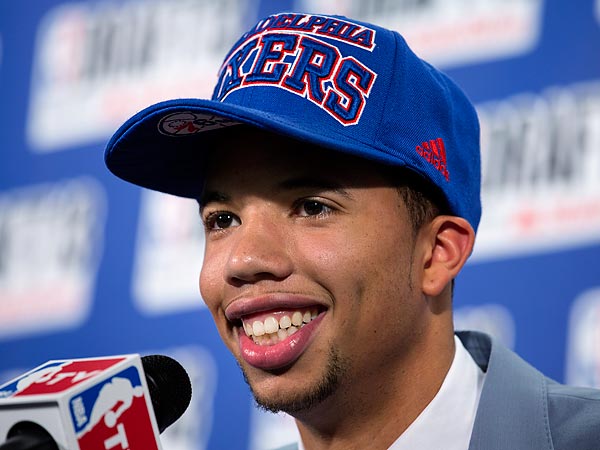 After making the playoffs in each of the last two seasons, the Philadelphia 76ers regressed under head coach Doug Collins' third season, finishing ninth in the East at 34-48. A major factor in the Sixers' poor play was the season-long absence of Andrew Bynum, whom the Sixers acquired in the trade which sent Dwight Howard to the Lakers. Collins resigned as coach in April.
Enter new Sixers GM Sam Hinkie. Before heading to Philadelphia, Hinkie was Daryl Morey's vice president in Houston and is one of the advocates of advanced statistics and analytics in the NBA.
Hinkie made an immediate impact on the franchise during his first draft, trading away All-Star point guard Jrue Holiday to the New Orleans Hornets for the Hornets' no. 6 pick, which became Nerlens Noel, and a 2014 first round pick. And with their own pick, the Sixers selected 6-foot-6 point guard Michael Carter-Williams 11th overall.
Obviously, this move signals that Hinkie has both eyes looking toward the future instead of the present. But what exactly does the present look like for Philadelphia?
Evan Turner and Thaddeus Young figure to be the Sixers' top scoring options, and neither averaged over 15 points last season. With Jason Richardson's season in doubt because of a knee injury, there aren't any other legitimate offensive threats on the team.
Noel is also recovering from his knee injury and could be out until after the All-Star break. And with no Holiday, Carter-Williams will have sufficient minutes to develop from his very first game.
New head coach Brett Brown, a long-time San Antonio assistant, will have his hands full keeping the Sixers competitive this season. But with the front office focused on the big picture, perhaps the opposite of winning would be more beneficial for the franchise in the long term.
NEW YORK KNICKS
2012-13 RECORD: 54-28
After years of futility, the New York Knicks finally turned in a season worthy of their status and resources. The Knicks won their first Atlantic Division crown since the 1993-1994 season and clinched the 2-seed in the East. They defeated the Boston Celtics in the first round of the playoffs before bowing out in six games to the Indiana Pacers.
Carmelo Anthony's brilliant play was instrumental in the Knicks' success. Melo led the league in scoring at 28.4 points per game as he embraced playing the small-ball four under head coach Mike Woodson.
Speaking of Woodson, he also deserves praise for his work with the team.  New York ranked 3rd in Offensie Rating under Woordson's system, which revolved around Anthony and elite three-point shooting. The Knicks made and attempted the most three-pointers last season, with the fifth-best percentage.
Woodson also derived great production from last year's Sixth Man of the Year JR Smith, who re-signed in the offseason. Smith was New York's second option on offense, averaging 18 points per game off the bench.
The Knicks' main offseason additions were Metta World Peace and Andrea Bargnani. World Peace will likely be the primary back up of Anthony as he is also capable of playing either forward role, and Bargnani will provide even more perimeter shooting and spacing.
The main concern for the Knicks going forward will be injuries. Tyson Chandler was banged up for most of last season and with Marcus Camby and Rasheed Wallace now gone, the Knicks have no depth at center. Any injury to Chandler, their linchpin on defense, could prove catastrophic.
Amar'e Stoudemire is also a perennial injury concern. Amar'e averaged 14 points in limited minutes upon his return last season, but he looked far from the dominant beast that averaged 25 and 8 in his first season in New York only three years ago.
The reigning division champs are only +170 to retain the Atlantic crown, and +2,500 outsiders to win the NBA Championship this year.
TORONTO RAPTORS
2012-13 RECORD: 34-48
The most noteworthy part of another disappointing Toronto Raptors season was the team's trade for Rudy Gay in a three-team deal in early January. The Raptors sent Jose Calderon to the Detroit Pistons while Ed Davis went to the Memphis Grizzlies.
The trade was the last major move of GM Bryan Colangelo before he was replaced by his former assistant GM, Masai Ujiri. Ujiri's first move was to ship former first overall pick Andrea Bargnani to the Knicks for Marcus Camby, Steve Novak, Quentin Richardson and draft picks.
In terms of assets, the Raptors have three good wing players in Gay, DeMar DeRozan and Terrence Ross and a promising young center in Jonas Valanciunas.
Gay averaged close to 20 points per game in his 33 games with Toronto last season. If he is not traded, he figures to be the Raptors' primary scoring option, and could spend time at power forward to accommodate DeRozan and Ross.
[sc:NBA490banner ]
Until Gay's arrival, DeRozan was the team's leading scorer at 18 points per contest. DeRozan just recently signed a contract extension and at 23 years old, the talented wing could be a valuable trade piece for Ujiri.
Ross, the eight overall pick in 2012, played sparingly in his rookie season but showed with his flashes of athleticism why he was taken so high. With a full year under his belt, Ross is expected to improve the consistency and effort of his play.
After sitting out last season while his buyout was being sorted, Jonas Valanciunas averaged 9 points and 6 rebounds in less than 24 minutes in his rookie season. Valanciunas had a promising summer, as was named Las Vegas Summer League MVP. More growth is expected of the fifth overall selection in 2011, who is expected to be a major part of the organization's future.
The Raptors had no picks in this year's draft due to a previous trade that sent Kyle Lowrie to Toronto. This might prove to be another long season of basketball in Canada as they await improvement.
2,351 total views, 3 views today
Comments
comments