It's almost the end of the 2015 college football regular season, which means it's time to take a look at this year's contenders for the 2016 National Championship. A collection of unbeaten teams make up most of the favorites to win the national title, headlined by the defending champions the No. 1 Ohio State Buckeyes.
Read on as we take a look at the top five favorites to win the national championship. You can also check out our feature for the top Heisman Trophy hopefuls this season right after this.
[sc:NCAAFArticles ]
The Top 5 Favorites to Win the National Title
Ohio State Buckeyes
Out goes Cardale Jones and in comes J.T. Barrett as Ohio State's starting quarterback. The Buckeyes may have an even better offense with Barrett taking over as the team's premier signal-caller. He's been a threat off the bench with seven total touchdowns (two passing, five rushing) over the past two weeks alone.
[sc:NCAA240banner ]Ohio State plays much differently with Barrett under center, with better red zone and third-down productions to give the offense a spark. The sophomore quarterback has a red zone completion percentage of 83.3, more than 50 percentage points higher than Jones. With Barrett starting at quarterback, Ohio State should be able to improve on their 48th-ranked red zone conversion rate in the FCS.
Barrett inherits a pretty manageable schedule ahead at least for the first three weeks from here on out. But ending the season against No. 7 Michigan State and then a road game against No. 15 Michigan, back-to-back, is a tough order for any team, even for the nation's finest.
The Buckeyes are +250 to win the national championship.  

Baylor Bears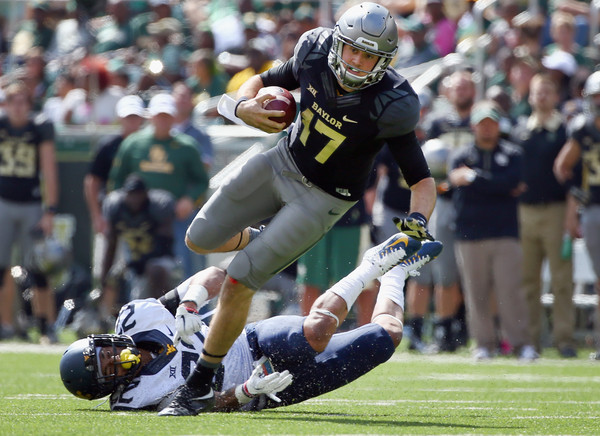 How about 'em Bears? No. 2 Baylor has been absolutely fantastic this season with a big one-two punch of quarterback Seth Russell and running back Shock Linwood.
Russell leads the nation with his 27 touchdowns, 11.7 yards per pass attempt and a 210 passer efficiency this season. Meanwhile, Linwood remains Baylor's feature back in a rushing offense that ranks second in the nation with 348.7 yards per game. The combination of Russell hurling passes downfield and Linwood breaking tackles for big runs has resulted in the nation's best scoring offense (a staggering 64 points per game).
This offense will have a very tough stretch to end the season, though. The Bears face three-straight ranked teams in No. 17 Oklahoma, No. 14 Oklahoma State and No. 4 TCU all in November. A loss to any one of those teams would be devastating for their chances of making the College Football Playoff.
The Bears are +400 to win the 2016 College Football National Championship.
Alabama Crimson Tide
The No. 8 Alabama Crimson Tide may have one loss this season, but they got back into the conversation for a berth in the College Football Playoff with quality wins over No. 8 Georgia in Week 5 and No. 9 Texas A&M in Week 7. Quarterback Jake Coker hasn't been as solid, though, with just 1,376 yards passing thus far this season. But running back Derrick Henry has been able to pick up the slack with 901 yards rushing and 12 scores.
The Tide can solidify their spot in the College Football Playoff with a victory in a crucial game against No. 5 LSU in Week 9. Alabama has allowed the least rushing yards in the SEC this season (496), which will prove crucial in the Week 9 showdown against LSU's Heisman-worthy back in Leonard Fournette. The Tide could also lean on their SEC-best total defense in general, which has allowed just 271.9 yards of offense per contest.
The Tide are +600 to win the national championship.
LSU Tigers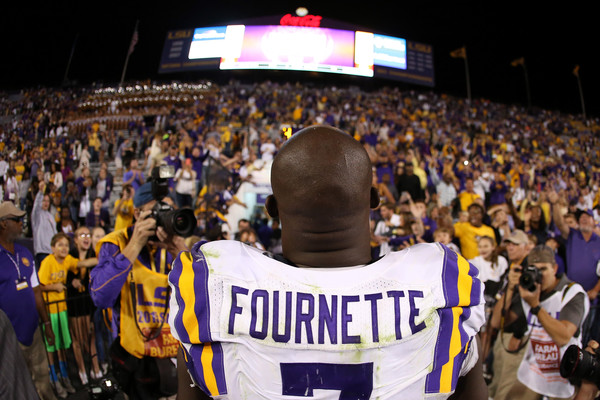 No one could stop sensational running back Leonard Fournette. Not even then No. 8 Florida in Week 7, who have allowed just 3.5 yards per carry this season. Fournette continued his stellar season with 180 yards rushing and two scores against Florida. He now leads the nation in rushing yards (1,202) and touchdowns (14).
However, what could hurt LSU in its bid for a College Football Playoff berth is its passing offense. The Tigers rank 121st in the nation with just 135.3 passing yards per game. Not having a solid plan in the air to fall on, should Fournette struggle, may eventually be the team's undoing.
The Tigers are +800 to win the national championship.
Michigan State Spartans
The Michigan State Spartans may be banged up, but they keep finding ways to win. Because in the end, winning is the be-all and end-all of making the College Football Playoff, right? Quarterback Connor Cook has been very solid this season with 1,672 yards and 13 touchdowns. He's relied a lot on senior wide receiver Aaron Burbridge (702 yards and four touchdowns) to get the offense going.
Cook will have to be at the top of his game if he's to take a victory at Ohio State later this season. A win over the Spartans' Big Ten rivals could hand them a ticket to a playoff berth. What could also eventually lead Michigan State to the College Football Playoff is its stellar defense. They have the third-most takeaways (12) in the Big Ten. With that in mind, their chief division rival in Ohio State, meanwhile, has the fourth-most turnovers (13) in the conference this season.
The Spartans are +1,000 to win it all this season.
Create a betting account now and get in on the juiciest college football futures odds.
[sc:NCAA490banner ]
1,582 total views, 1 views today
Comments
comments