World No. 1 Novak Djokovic is quite familiar playing in the U.S. Open semifinals; he's featured in one each year for the better part of a decade now. This year, though, he faces an unfamiliar opponent in Japanese No. 10-seed Kei Nishikori, who will be appearing in his first-ever Grand Slam semifinal.
Nishikori, a player we tapped as a sleeper prior to the tournament, has endured some grueling battles just to reach this stage. Will he have enough left in the tank to trouble the Djoker? Read on for more on this men's semifinal showdown.
[sc:MultiSportArticles ]
Novak Djokovic vs. Kei Nishikori, 2014 U.S. Open Men's Singles Semifinal Preview
Where: USTA Billie Jean King National Tennis Center, New York
When: September 6, 2014
Line: Novak Djokovic vs. Kei Nishikori – view all Men's Singles U.S. Open Lines
Betting on Novak Djokovic
Novak Djokovic finally dropped a set in this year's tournament, but he was able to recover sufficiently to oust Andy Murray, 7-6 (1), 6-7 (1), 6-2, 6-4 and reach his eighth consecutive U.S. Open semifinal.
[sc:MLB240banner ]Djokovic was quite visibly the fitter player by the end of his four-set quarterfinal with Murray, which was a big key in his victory. He should enjoy a similar advantage against Nishikori, who has needed the maximum number of sets in back-to-back matches and should be physically, not to mention mentally, exhausted. The World No. 1 should be the much fresher of the two, having played just one extra set more than needed to reach this stage.
And it's almost not worth mentioning the Serb's advantage in terms of experience in the late stages of a Grand Slam event. If Nishikori shows any physical or mental weakness as Murray did, expect Djokovic to pounce on the Japanese with similar results.
Just about the only plausible situation which could see Djokovic lose to a diminished Nishikori involves the Serb contributing in his own downfall. But in his three prior matches before the quarterfinal against Murray, Djokovic committed less than 20 unforced errors.
Moreover, Djokovic has broken his opponents' serve seven times in four of his five matches this tournament, which has allowed him to gain early advantages. Another quick break of serve may also break the resolve of the tired Japanese to fight, and could lead to an easy win.
Create a betting account now and cash in on all the exciting tennis action.
Betting on Kei Nishikori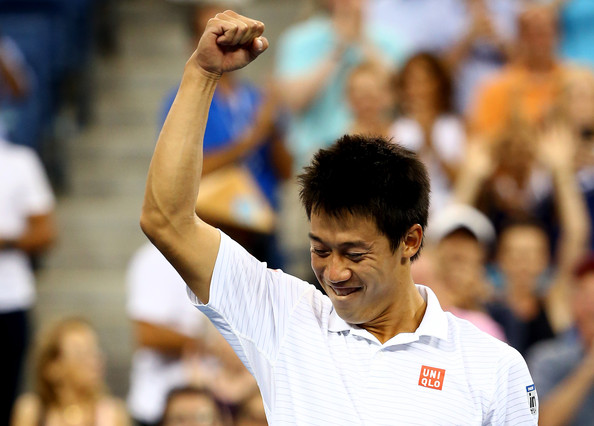 Kei Nishikori will boldly go where no male Japanese tennis player in over a century has gone before – the semifinals of the U.S. Open. However, advancing even further will be a very tall task for the Japanese No. 1.
Nishikori needed a grueling five sets – 3-6, 7-5, 7-6 (7), 6-7 (5), 6-4 – to outlast the third-seeded Stanislas Wawrinka of Switzerland in the quarterfinal. This match came hot on the heels of another five-set war with Milos Raonic in the last 16. In those two matches alone, his total time on court reached over nine hours and 30 minutes.
That's a lot of sets for a player who has had some well-documented injury problems recently. This season alone, Nishikori had to retire from the Madrid Masters final, and withdrew in their supposed semifinal matchup with his upcoming opponent, Djokovic, in Miami earlier in the year.
Playing consecutive five-setters isn't exactly the most ideal preparation to go up against the top player in the world in Djokovic. But Nishikori defied the odds in beating Wawrinka, becoming the first man to win after having his previous match finish after 2 a.m. in the U.S. Open. And if Nishikori somehow pushes it to five sets yet again, take note that he's 9-2 lifetime in five-set encounters.
Writer's Prediction
Nishikori finally runs out of steam, which allows Djokovic to steamroll to the final in straight sets.
[sc:Other490banner ]
1,594 total views, 1 views today
Comments
comments