The 2016 NASCAR Sprint Cup Series returns to the famed Pocono Raceway in Long Pond for one last time this season for another installment of the Pennsylvania 400. Which drivers are in good shape to bag another victory as the season approaches the pivotal Challenger Round of The Chase? Let's find out below.
For a few more drivers worth keeping tabs on, check out our sleeper picks for this week's race right after this.
---
Cash In on the Best Online Sportsbook Offers Now at TopBet!
---
2016 Pennsylvania 400 Betting Preview
Favorites
Kyle Busch

Fresh off a commanding victory at The Brickyard this past weekend, Joe Gibbs Racing's Kyle Busch is entering Long Pond in sizzling-hot form. He's now secured four top-10 finishes in his last five starts – two of them were podium finishes that includes last week's win – after suffering quite a lull from mid-May to mid-June.
Busch's consistency on the tracks should be back to normal, as he now has a season-best 11 top-5 finishes. The Las Vegas native even has a win at Pocono from last season, albeit that it was at the Pocono Mountains 150 in NASCAR's Camping World Truck Series circuit.
Kevin Harvick
With just one win this 2016 season, you'd have to wonder how Kevin Harvick has remained at the summit of the Sprint Cup Series driver standings up until now. Well, he has the most top-10 finishes over the rest of the field (16), with seven of them coming from his last eight races.
Pocono is the one track where the 40-year-old Harvick has not had a Sprint Cup victory yet, but that could all change this week given his recent performances on this course. The former Sprint Cup Series champion has five top-15 finishes in his last six trips to Pocono, with back-to-back runner-up finishes (2014 Pennsylvania 400 and 2015 Axalta 400) and a solid ninth-place finish just this past June.
Sleeper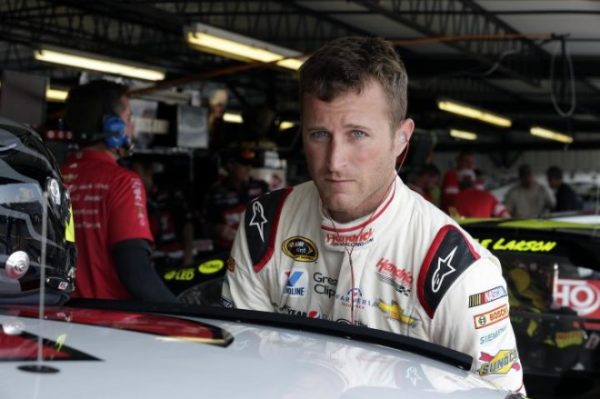 Kasey Kahne
Sitting at 16th-place in the Sprint Cup standings and without a win for the season, 12-year veteran Kasey Kahne needs a stellar showing this week to improve his positioning in the rankings before the Challenger Round (NASCAR's playoffs for the top-16 drivers) begins on September 18.
Kahne should like his odds of winning another race in Pocono this week. He finished sixth at the Axalta 400 earlier this season, and also has a Pennsylvania 400 victory under his belt from 2013 along with another win on the track from back in 2008.
Long Shot
Austin Dillon
Like our sleeper pick in Kahne, Austin Dillon has not won a race this 2016. In fact, the 26-year-old hasn't acquired any victory at all since making his Sprint Cup Series debut in 2011. And yet, he's ahead of Kahne in the driver's standings at 12th-place, mostly thanks to his nine top-10 finishes for the year.
However, we shouldn't expect the Richard Childress Racing standout to win his maiden race this week. Dillon has not had a top-10 finish in five-career Sprint Cup Series trips to Pocono, and that includes his dismal 37th-place performance at the Axalta 400 this season.
Writer's Prediction
Harvick wins his second race of the season and further solidifies his state atop the Sprint Cup standings.
Create a betting account now to win big from all the fast-paced NASCAR action in a flash!

2,441 total views, 1 views today
Comments
comments