---
Last week, Ricky Stenhouse Jr. denied Dale Earnhardt Jr. of a win at Daytona. Many experts believed Daytona was the best place for Earnhardt to emerge victorious for one last time before calling it a career at the end of this year. However, given how this 2017 Monster Energy NASCAR Cup Series season is panning out, every driver on the field is just as capable of pulling off surprising results.
Will Brad Keselowski, the man who has dominated the Kentucky Speedway ever since the course was made eligible in the Cup Series circuit, prove that a having great success on a track is still king? Or will we have another upset of sorts in this year's installment of the Quaker State 400? Let's find out below.
---
Most Recent Articles
---
2017 Quaker State 400 Betting Preview
*view all 2017 Monster Energy NASCAR Cup Series futures odds here
Favorites
Brad Keselowski
Picking a unanimous favorite to win a race this 2017 hasn't been as easy as picking one for this week's Quaker State 400.
There's only been six editions of Cup Series races held at Kentucky, and Brad Keselowski won in half of those races. Not only does the 33-year-old have three wins on the track, he's also led the most laps here amongst all active drivers. In fact, his 483 laps led accounts for about one-fourth of the total number of laps since the race's inception.
If that wasn't enough, Kez has finished inside the top 10 in 14 of his 15 lifetime starts at Kentucky, which includes and mainly consists of races from his time in the Xfinity Series.
Kyle Busch
Joe Gibbs Racing's Kyle Busch joins Keselowski as the only driver to emerge triumphant at Kentucky on more than one occasion, having won in 2011 and 2015.
Busch is nearly as dominant as his rival from Penske as well, with top-10 finishes in five of his six trips in the Bluegrass State – four of them in the top five. To top it all off, his one "bad" performance on the track still resulted into a decent 12th-place finish from last year.
Sleepers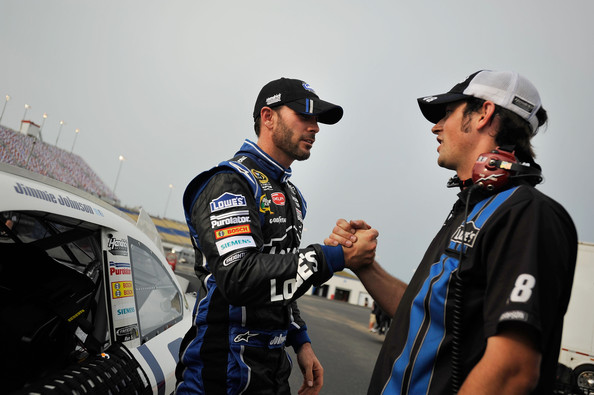 Jimmie Johnson
Ageless wonder Jimmie Johnson will go down as one of if not the greatest NASCAR driver in history. However, a win at Kentucky has eluded him until this very day.
It was unfortunate that Johnson crashed and burned in last year's edition of the Quaker State 400, as he was riding a five-race streak of top-10 finishes at the event. On the other hand, his one and only top-five finish at Kentucky was met in the inaugural Cup Series race on the track six years ago.
Still, the future Hall-of-Famer leads all drivers throughout NASCAR's history with 31 wins on intermediate tracks. Considering that Jimmy J leads this season's pack with three victories, a fourth win could very well happen this weekend and finally put an end to his woes in this week's track.
Denny Hamlin
In true sleeper form, Denny Hamlin has on-going momentum on his side to make up for not having won the Quaker State 400 yet. The Tampa native secured top-eight finishes in four of his last six starts and has placed no worse than 12th in eight of the last 10 races this season.
Hamlin's even had some measure of success at Kentucky, bagging a couple of third-place finishes in the six Cup Series installments on the track.
Long Shot
Erik Jones
Still in the hunt for a playoff spot is Erik Jones, who is second behind Joey Logano in the list of drivers looking in from the outside of the postseason bubble. He's also just 59 points behind Matt Kenseth – the Quaker State 400's only other victor outside of Keselowski and Busch – for the final playoff spot in the standings.
Sadly, being within striking distance of a playoff berth is not the same as being within striking distance of becoming a true Cup Series contender. In his first full season on stock car racing's grandest stage, Jones currently has only one top-five finish (third at Pocono last month) and just a total of four top 10s to show for.
Writer's Prediction
Busch ties Keselowski for the most number of wins at Kentucky.
Create a betting account now to start placing stakes on all the fast-paced NASCAR Cup Series action this instant!

1,734 total views, 1 views today
Comments
comments