It doesn't get any better than this. With Seattle's stunning overtime win over Green Bay Sunday night, the Seahawks became the first defending champion to make the Super Bowl in 10 years. It won't get any easier for Seattle, however, in Super Bowl XLIX, as standing in their way to immortality is the team that they are trying to duplicate – the New England Patriots.
A decade has passed since Bill Belichick and Tom Brady last tasted Super Bowl glory. With Brady approaching the twilight of his career, New England's dynamic duo would want nothing more than to grab another Vince Lombardi trophy.
In this battle between two champions, who will emerge victorious? Read on for a complete preview of this Super Bowl showdown and while you're at it, you can check out the experts' picks for the big game here.
[sc:Football ]
Seattle Seahawks vs. New England Patriots Super Bowl Betting Preview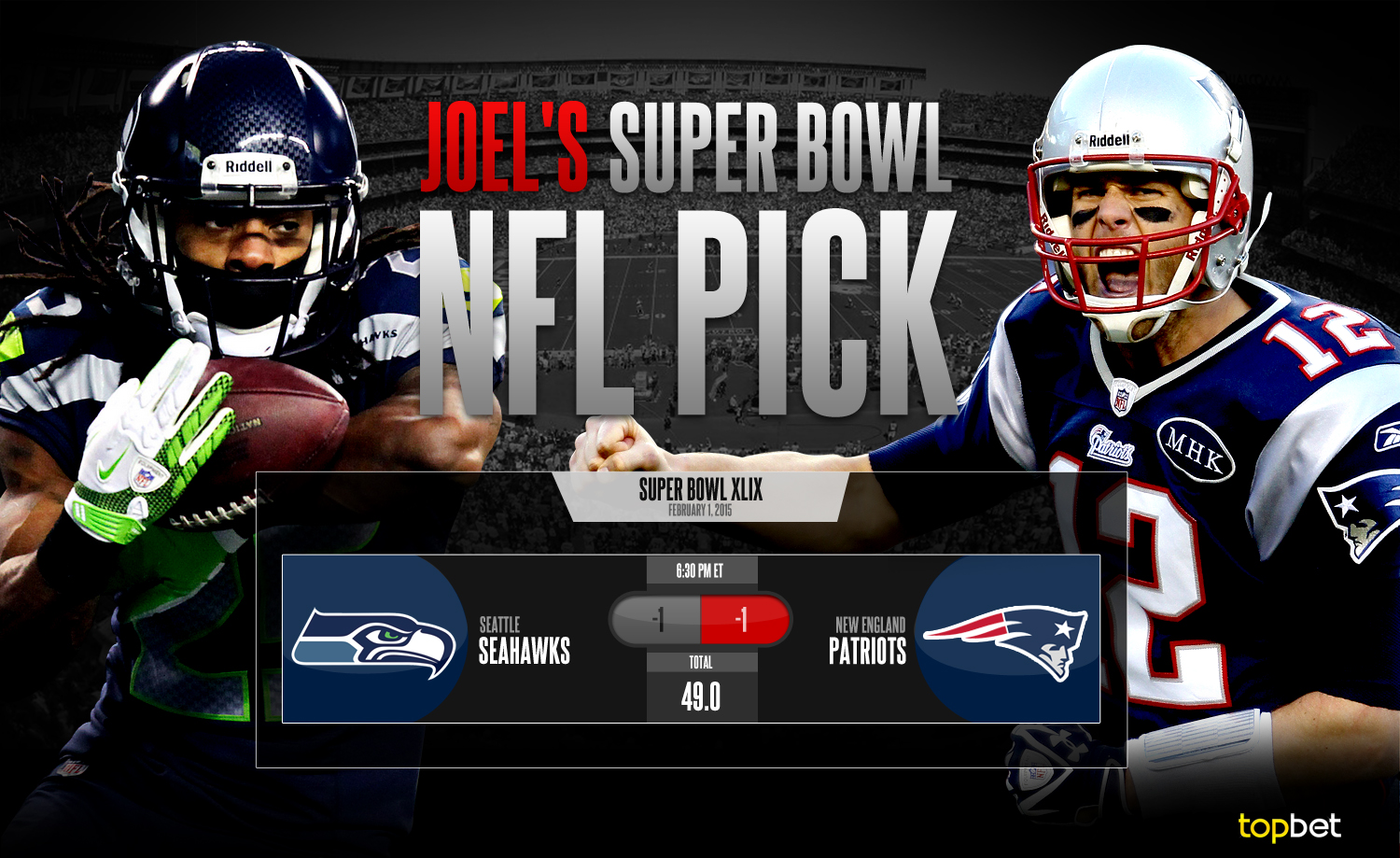 When: Sunday, February 1, 6:30 PM ET
Where: University of Phoenix Stadium, Glendale
Line: Seattle Seahawks (+1) vs. New England Patriots (-1); total: 49.0 – view all NFL lines
Betting on the Seattle Seahawks
Don't ever underestimate the heart of a champion.
[sc:NFL240banner ]Rudy Tomjanovich's immortal words once again rang true Sunday night as the Seattle Seahawks staged an improbable comeback against the Green Bay Packers in the NFC Championship game. Minutes away from relinquishing their hold on the Vince Lombardi trophy, the Seahawks dug deep into their bag of tricks, pulling off a remarkable 28-22 victory over the Packers in overtime to seal their second consecutive Super Bowl appearance.
Trailing 19-7 with about four minutes remaining in the game clock, it seemed like the defending champions were all but dead in the water. There's no quit though with this Seattle side as they recorded one of the greatest comebacks in the history of the NFL. Russell Wilson finally put a drive together with passes to Doug Baldwin and Marshawn Lynch and he finished the drive with a one-yard scoring run that helped cut the deficit to just five, 19-14, with 2:09 remaining.
Even with that score, the Seahawks still needed a touchdown to complete the great escape. With time winding down, Seattle elected to go for an onside kick. Miraculously, Packers tight end Brandon Bostick couldn't gather it and the ball fell to Seattle's Chris Matthews who recovered at the 50.
With momentum on their side, the Seahawks grabbed the lead with 85 seconds remaining as Marshawn Lynch powered his way to the end zone with a 24-yard touchdown run. Things got even better for the Seahawks as they stretched their lead to three points with Luke Willson hauling in Wilson's desperate pass in the ensuing two-point conversion.
That proved to be crucial as the Packers made a quick reply, with Mason Crosby converting on a 48-yard field goal try to send the game into overtime. Wilson made sure, however, that the Seattle's comeback will be complete as his 35-yard touchdown pass to Jermaine Kearse put the outcome beyond doubt.
Even with his late heroics, Wilson can ill afford another performance like this against the Patriots in two weeks time. Wilson completed just 14 of 29 passes for 209 yards with one touchdown and four interceptions against the Packers. It won't get any easier for him against the Patriots as he will face a New England side that limited Andrew Luck to just 126 passing yards with no touchdowns in the AFC Championship game Sunday.
If he struggles to get his passing game going once again, it is crucial for Seattle to unleash their ground attack against New England. One of the few positives in their game against Green Bay was the performance of Lynch who had a total of 157 rushing yards on just 25 carries.
Create a betting account now and put your Super Bowl pick to the test.
Betting on the New England Patriots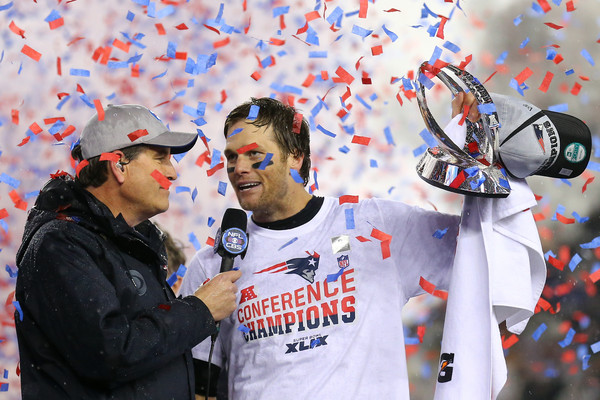 "I know we've had some ups and downs this year but right now we're up and we're going to try to stay up for one more game."
Those were the fighting words of Tom Brady after the New England Patriots provided a masterclass in their 45-7 destruction of the Indianapolis Colts in the AFC Championship game Sunday night. It's amazing to think that it has already been 13 years since a young Tom Brady led the New England Patriots to their first Super Bowl triumph against the St. Louis Rams back in 2002.
Yet here we are again, Brady on the precipice of another Super Bowl title. Brady was a force for the Patriots Sunday, completing 23 of 35 passes for 226 yards and three touchdowns with one interception. Records just keep on tumbling for Brady who passed Peyton Manning for most yards passing in the postseason with 7,017.
In addition to that, he also surpassed John Elway for most Super Bowl appearances by a quarterback (6). Brady will be the first to acknowledge that these records will mean nothing if they can't bring home the Vince Lombardi trophy come February. It won't be that easy for Brady and co., however, as standing in their way are the defending champions Seattle Seahawks.
Even though Green Bay dominated Seattle for almost the entire game, Aaron Rodgers had difficulties solving Seattle's Legion of Boom. He completed just 19 of 34 passes for 178 yards and a touchdown with two picks. A worrying concern, however, for Seattle's secondary is the injury to Richard Sherman who picked up an elbow injury against the Packers early in the fourth quarter.
With that being said, the Patriots' passing game is peaking at exactly the right time. They currently lead the league in passing touchdowns this postseason with seven to their name. They are second in the league in the passing department with the Patriots averaging 314.0 yards per game via the aerial route this postseason.
What makes this New England team so hard to beat now is that they have a highly-effective running attack to complement Brady's passing game. In the game against the Colts, LeGarrette Blount exploded for 148 yards and three touchdowns on just 30 carries. He will be in for a tough night, however, against the Seahawks' defensive line which has yet to allow a rushing touchdown in this year's playoffs.
Writer's Prediction
The Patriots edge past the Seahawks in a thriller, 28-24.
[sc:NFL490Banner ]
3,251 total views, 1 views today
Comments
comments