In the world of online sports betting, only a handful sites can compare to TopBet's user-friendly interface and massive number of betting lines being offered. From football to the Olympics, TopBet has got you covered with a platform that will ease your wagering experience.
Heer are a few tips and terminologies to get associated with before you take your action to a new level with the country's best virtual bookie.
---
Cash In on the Best Online Sportsbook Offers Now at TopBet!
---
TopBet's Sportsbook Interface & Betting Basics
Basic Sports-Betting Terms
The following betting terms will help you understand and maximize the wide number of betting opportunities for all major sports in the US:
Parlay Bet – A Parlay Bet is when you combine a certain number of betting lines into a single bet.
If Bet – An "If Bet" is quite similar to a Parlay bet, wherein the bets that are joined together are accompanied by an "If" clause instead.
Teaser Bet – A Teaser Bet allows you to make multiple wagers from more than just one particular sport while also having the option of modifying the spreads.
Spread – The Spread, or sometimes referred to as the Point Spread, is the number of points that the oddsmakers give to both teams in a particular game or event to even out the betting field.
Price – The Price is the odds of the favorite and the underdog when using the spread in a particular bet. The price also dictates the payout amount should you win the bet. For example: a Price of -105 means that a bet of $105 will grant a payout in the amount of $100.
Money – Better known as the Money Line, this type of bet indicates the odds of the favorite and the underdog in a straight-up bet regardless of the Spread. For instance, a -250 Money Line on a team means that a $250 bet would earn $100. In relation, a +250 Money Line can turn into to $250 in winnings for every $100 bet.
Over/Under – The Over/Under is a bet with regards to the combined point totals of both teams. You decide whether that total is higher or lower than the given Over/Under odds.
Bet Ticket – In TopBet, the Bet Ticket is where you place your bets by selecting the type of bet and the corresponding bet amount.
Parlay Challenge – In TopBet's Parlay Challenge, a certain number of set parlay cards will be posted every Tuesday for you to wager on. find out more about Top Bet's Parlay Challenge by clicking here.
How to Find Your Event's Odds & Lines
You can locate the Betting Lines section on the left-hand side part of TopBet's sportsbook page. There you'll find NFL, NBA, MLB, NHL, college football and many more sporting events that you can wager on.
Let's say you want to see the odds and lines for the Mets vs. Cardinals game. All you need to do is:
1. Select the type of sport or league in the Betting Lines section (outlined in green)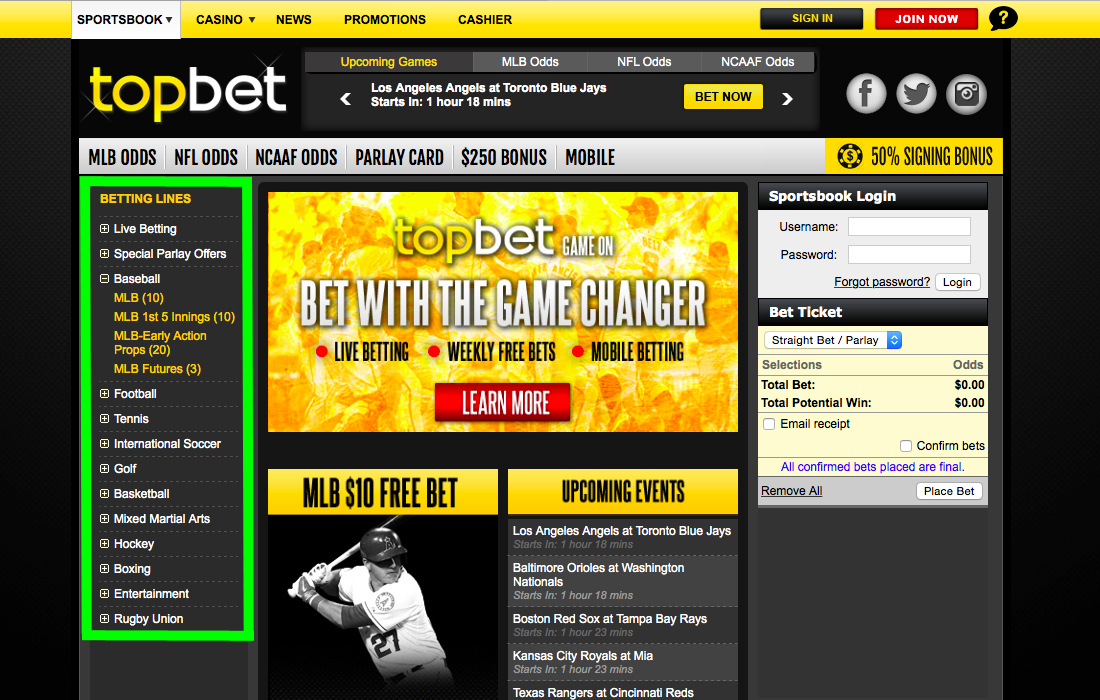 2. Choose the type of betting category you wish to bet on from the drop-down list under the sport of choice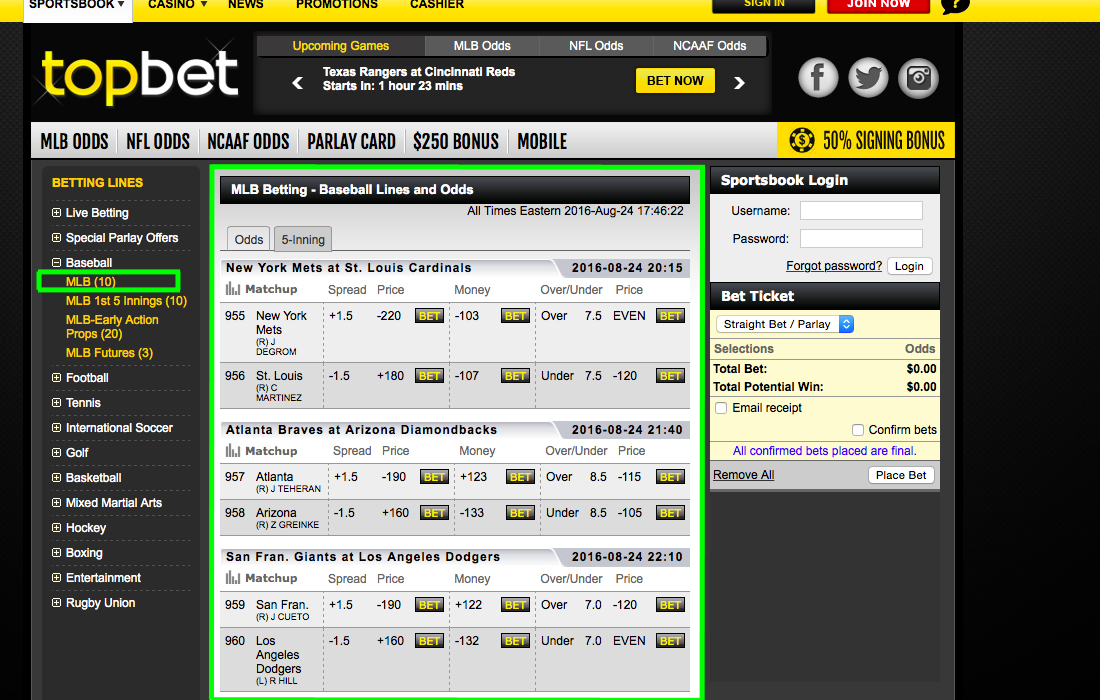 3. The available games or events, including its respective odds and lines, will be displayed right away.
TopBet's interface also allows the Betting Lines section to remain visible on all sportsbook pages. This makes it easier for you to navigate through different sporting events and leagues. It's even more helpful when you plan to place multiple bets like in Parlays or Teaser Bets.
How to Place a Bet
Newcomers to TopBet's site won't have much of a problem at all come the time that they want to place some actual stakes on the action. Here's a brief overview on how easy and simple it is to place a bet on TopBet's sportsbook page:
Straight Betting
For Single or Straight Bets, find the game or event that you'd like to bet on and refer to the Bet Ticket located on the right-hand side of the sportsbook page.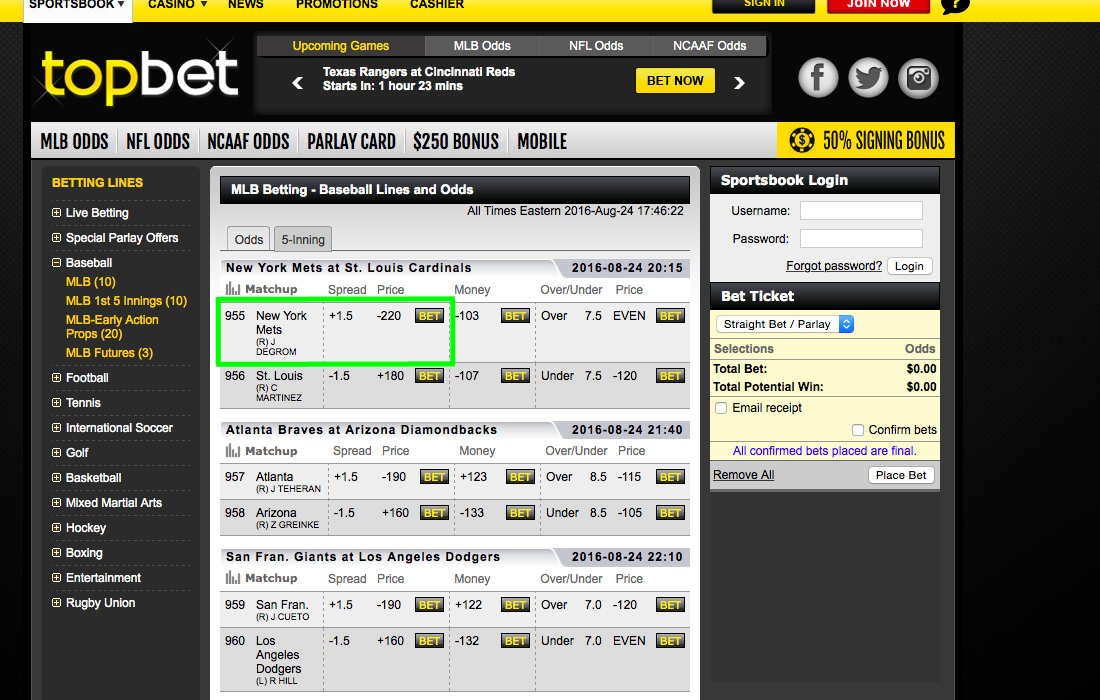 1. Select that particular game or event to bet on and click the "BET" button.
Let's say that you want to put $5 on the Mets' spread. Simply click on the BET button for the spread: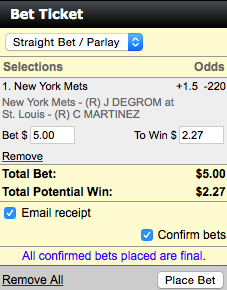 2. Now on your Bet Ticket, you can either put your preferred bet amount or how much you'd like to win from winning said bet. For this example, let's put $5 on the bet amount.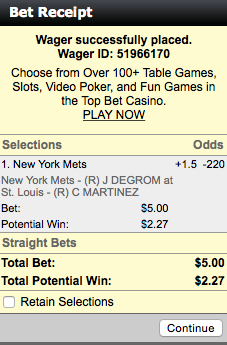 3. Mark the "Confirm Bets" checkbox prior to clicking the "Place Bet" button. Once your bet has been locked in, a notification of your bet status will appear on your Bet Ticket.
Parlay Betting
Placing a Parlay Bet on TopBet is just as easy and convenient as a single or Straight Bet. Let's say that you selected the following bets for your Parlay:
New York Mets +1.5 (-220)
Atlanta Falcons  +2.5 (-120)
1. Choose from the drop-down menu at t he top of the Bet Ticket to select which type of bet you want to make. In this case, let's make a Parlay Bet, which is also in the same option as the Straight Bet.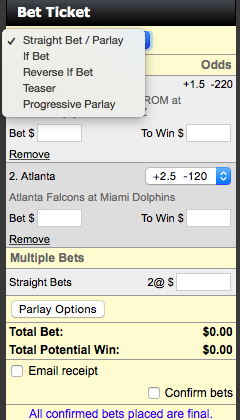 2. Click on the "Parlay Options" button.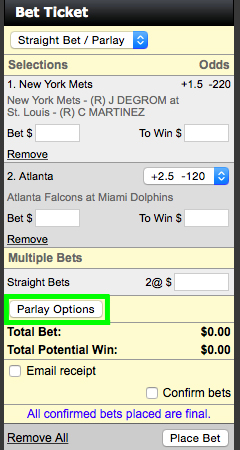 3. Once the parlay options are displayed, indicate your preferred bet amount on the field provided. For the 2-team parlay here, we're going to place $5.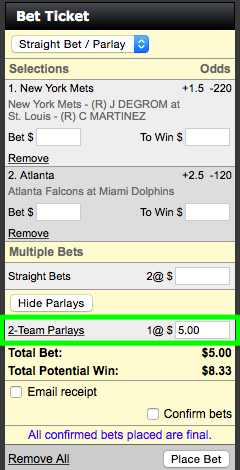 4. Mark the "Confirm Bets" checkbox before clicking the "Place Bet" button. Once the bet is punched in, a notification of your bet status will appear on your Bet Ticket.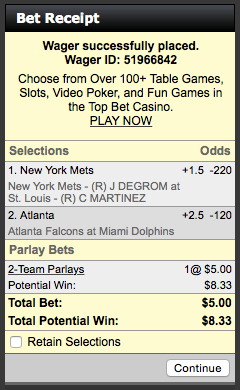 There you have it! It's as simple as that!
To start placing some stakes on your favorite sports, head on over to the TopBet sportsbook page and let the top-flight betting action begin! And if you want to try your hand at some online-casino thrills, go on and check out TopBet Casino as well.

2,292 total views, 1 views today
Comments
comments