Stan Wawrinka is breaking through on the biggest of stages. He won his first career Grand Slam title at the Australian Open in 2014 before winning this year at Roland Garros. The 30-year-old Swiss could make a case for a third Grand Slam title by making the semifinals of the U.S. Open. But standing in his way is the very powerful Kevin Anderson.
The South African is one of the strongest players on tour, and is riding plenty of momentum after beating third seed Andy Murray in the fourth round of the tournament. Read on for a "grand-slamning" quarterfinal matchup between these two powerful servers. If you're looking for more tennis action, check out our complete previews for Roger Federer vs. Richard Gasquet and Victoria Azarenka vs. Simona Halep.
[sc:TennisArticles ]
Stan Wawrinka vs. Kevin Anderson Preview
Where: Arthur Ashe Stadium, Flushing Meadows
When: Wednesday, September 9, 2:30 PM ET
Line: Stan Wawrinka (-160) vs. Kevin Anderson (+130) – view all U.S. Open Men's Singles lines
Betting on Stan Wawrinka
[sc:Other240banner ]Stan Wawrinka is having quite a year in the Grand Slams this season. He's reached the quarterfinals and semifinals of the Australian Open and Wimbledon, respectively, and walked away from Roland Garros win a tremendous win. The Swiss is entering this quarterfinal hot on the heels of a four-set victory over American Donald Young, firing 11 aces in winning 81 percent of his first serve points.
Wawrinka also had some success on the return, winning all four break point opportunities against another strong server. The Swiss has won 10 of 16 break point opportunities in his last two matches overall. Having a strong return game should help Wawrinka deal with Kevin Anderson's power.
Still, Wawrinka excels when he can dictate the game on serve. He has a total of 45 aces in his last three matches heading into this quarterfinal showdown against Anderson. But he struggles with his second serve, winning just 49 percent of second serve points.
What could hurt Wawrinka in this match is his sloppy play recently. He has 146 unforced errors in his last three matches. Unless he cleans up his game, the 30-year-old Swiss may miss out on a semifinal spot.
Wawrinka is 6-2 in his last eight matches on the hard court.
Think Wawrinka has what it takes to power his way to the semifinals? Create a betting account now and slam your way to big winnings in the U.S. Open.
Betting on Kevin Anderson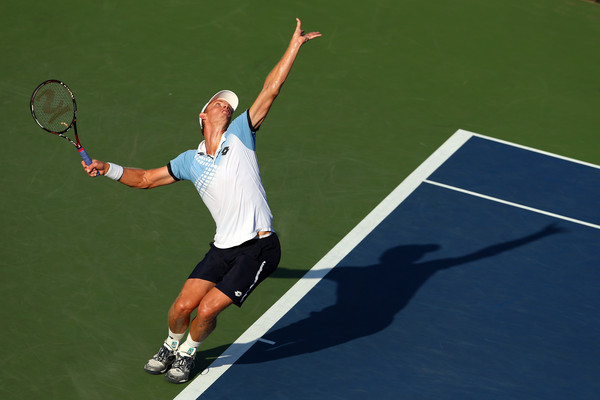 Kevin Anderson doesn't just serve powerful aces; he can also come up with some big victories. The South African is making his maiden voyage into the quarterfinals of the U.S. Open with a four-set victory over third-seed Andy Murray.
Anderson fired off a whopping 25 aces against Murray, while winning 79 percent of his first serve points. He also showed that he can deal with powerful opponents, breaking Murray's serve in four of nine opportunities. Breaking Wawrinka's serve should help Anderson seize control of the match.
The South African should also be pretty confident heading into this match. He's won his last four matches against Wawrinka, three of which were on hard courts. Anderson has 64 aces in those four wins. Winning 39 percent of his break point opportunities was also a big help.
The only thing that could hinder Anderson from another upset is fatigue. He played in over four hours in his victory over Murray, and he also played a five-set match in the first round of the tournament. Wawrinka, meanwhile, is still fresh coming into the quarterfinals, dropping just one set throughout the tournament.
Anderson is unbeaten in his last nine matches on the hard court.
Writer's Prediction
Anderson (+130) slams plenty of aces on the way to his first appearance in a Grand Slam semifinal.
[sc:Other490banner ]
2,268 total views, 1 views today
Comments
comments