The No. 4 TCU Horned Frogs just had a nail-biter, walking out as winners of a 55-52 shootout against the Texas Tech Red Raiders on Saturday. Injuries have decimated the preseason favorites to win the Big 12, but week-after-week, they still play well enough to get hard-fought wins. The Horned Frogs may have a breather this time around, taking on the 1-3 Texas Longhorns.
The Longhorns shouldn't be underestimated, though. They've been in some highly-competitive games, only to fall in the closing minutes like in their past two games. Can the Longhorns give TCU a challenge on the road, or will the Horned Frogs put on a dominant offensive display? Read on as we take dive into this Big 12 matchup.
Check out some of the best games to come this weekend of college football in No. 13 Alabama vs. No. 8 Georgia and No. 6 Notre Dame vs. No. 12 Clemson.
[sc:Football ]
Texas Longhorns vs. TCU Horned Frogs Preview
Where: Amon G. Carter Stadium, Fort Worth
When: Saturday, October 4, 12:00 PM ET
Line: Texas Longhorns (+15) at TCU Horned Frogs (-15) – view all NCAA Football lines
Betting on the Texas Longhorns
Overtime was within reach. But as fate would have it, the Texas Longhorns would botch a routine punt to hand the No. 24 Oklahoma State Cowboys the game-winning field goal. Texas punter Michael Dickson dropped a snap inside the Texas 10 and scrambled to get off a left-footed punt that went 10 yards.
[sc:NFL240banner ]The botched punt ruined what would've been the Longhorns' best defensive performance of the season. The defense had three takeaways and limited the Cowboys to 26 yards on 14 plays in the fourth quarter. Cornerback Holton Hill was fantastic, returning an interception 41 yards for a touchdown. Safety Dylan Haines also had a pick returned for 19 yards.
The two defensive backs could have chances to cause timely interceptions against TCU quarterback Trevone Boykin, who's thrown a pick in three of four games this year. But they'll need their offense to keep up with the Horned Frogs' high-powered offense.
Quarterback Jerrod Heard was a paltry 9 of 17 for 119 yards and an interception against Oklahoma State. But he's been a solid passer this season, averaging a little more than 10 yards per attempt. He has a pretty manageable TCU defense to dissect, one that's ranked 82nd in the nation with 236 yards allowed per game.
Heard will have a handful of capable wide receivers in Daje Johnson, John Burt and Armanti Foreman. The three wideouts are the only players with over 100 yards of offense (save for QB Heard) for the Longhorns this year. Of the three, Johnson is the only one with double-digit receptions (13), but has yet to pull in a touchdown.
For Texas to really dominate this game, they'll need to once again turn to their rushing offense. The Horned Frogs are allowing about 169 rushing yards per game and have already given up a whopping 10 rushing TDs. Quarterback Heard has been a solid runner himself, leading the Longhorns with 295 yards and three scores. Running back Johnathan Gray also has three touchdowns and 149 yards, while D'Onta Foreman has punched in two scoring runs.
The Longhorns are 1-5 ATS in their last six games.
Betting on the TCU Horned Frogs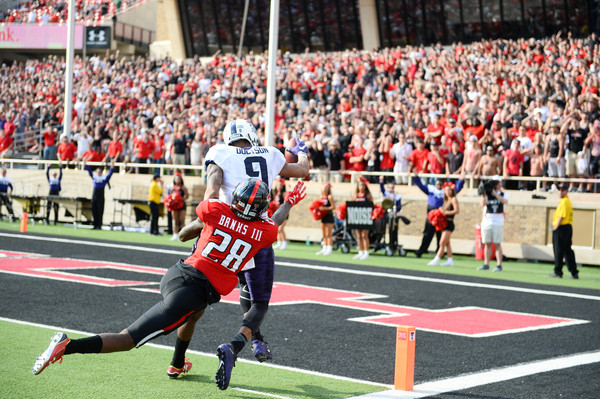 Let's first pay attention to TCU's loss of personnel in its banged-up defense. The Horned Frogs don't have their top pass-rusher in James McFarland and top coverman Ranthony Texada to injuries, as well as several key defensive players. As such, they ended up allowing 607 total yards of offense and seven total touchdowns against Texas Tech this past weekend.
The Horned Frogs' offense may just be able to cover for their defense, though. They're ranked second in the nation in total offense, averaging 637 yards per game. TCU may have needed a last-second improbable touchdown catch by running back Aaron Green in their 55-52 win against Texas Tech — Green caught a tipped pass intended for wide receiver Josh Doctson — but the offense was pretty solid from the get go.
Green finished with 162 yards and two touchdowns on 28 carries, while Doctson had 18 catches for 267 yards and three scores. Doctson has been pretty solid as he covered for the losses of Kolby Listenbee, Deante Gray and Emmanuel Porter — three of the projected top targets for Trevone Boykin this season. Listenbee and Gray didn't play on Saturday, while Porter had just one catch before getting injured.
All the offense goes through quarterback Boykin. He's one of the favorites to win the Heisman Trophy this year. He was solid against Texas Tech, completing 63 percent of his passes for 485 yards and four touchdowns. Boykin will have a favorable matchup against Texas' secondary, which allows 277 passing yards per game (107th in the league).
The Horned Frogs have won their last 10 games at home, going 9-1 ATS.
Writer's Prediction
TCU (-15) flexes its muscle as it blows out the Longhorns. Create a betting account now and cash in on plenty of thrilling college football games this season.
[sc:NFL490Banner ]
2,370 total views, 1 views today
Comments
comments